Guests of Honor
Yoshitaka Amano
Guest of Honor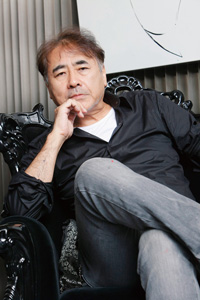 Yoshitaka Amano was born in 1952 in Shizuoka, Japan, the youngest child of a father who worked in the traditional Japanese lacquerware arts. Amano went pro straight out of junior high school, when at age 15 he began working at the legendary anime studio Tatsunoko, where his first job was training on the famous anime series Speed Racer. At age 17, he became the first person in the anime industry to specialize in character design, a task which had previously been done by directors or animators.
Well-known anime characters designed by Amano in the 1970s include the cast of Gatchaman, also known as Battle of the Planets—of whom superstar comics painter and Gatchaman fan Alex Ross (Kingdom Come) has said, "They belong among the pantheon of great characters." In the 1980s, Amano designed the main cast of Genesis Climber Mospeada, known to fans around the world as the third part of the TV series Robotech (Robotech: The New Generation). In 1985 Amano partnered with director Mamoru Oshii (Ghost in the Shell) and Hayao Miyazaki's early producer Hideo Ogata to create the feature-length The Angel's Egg, often considered the most personal of Oshii's anime films.
In the 1980s, Amano began to develop an independent career as one of Japan's most sought-after character and design illustrators, painting hundreds of science fiction and fantasy magazine book covers. Amano won the Seiun Award (often regarded as Japan's version of the Hugo Award) for Best Artist four years in a row beginning in 1983. His mysterious, atmospheric style attracted the creators of a new video game concept in 1987 called Final Fantasy, who hired Amano to give a distinctive artistic vision to the game. Amano would go on to design many of the characters, monsters, weapons, and vehicles of the first ten Final Fantasy games, visually influencing a worldwide fan base through the new frontier of video games, as he had earlier done through the medium of anime. He remains Final Fantasy's signature artist, having done promotional illustrations for every single game to date.
While remaining in high demand as a commercial illustrator, Amano entered the fine arts world beginning in 1989 with his first exhibition of original art in Tokyo, and in 1995 his first outside Japan, at the Biennale d'Orléans in France. In 1997 he made his New York art world debut with the exhibit Think Like Amano, and the following year worked with the Los Angeles Philharmonic to create the animated concert film 1001 Nights. A fan of US comic books since he discovered Neal Adams in the 1960s, Amano's New York exhibit led to his first work in American comics, when he was asked to create a poster for the 10th anniversary of Sandman, a project that put him in touch with Neil Gaiman, with whom he would collaborate on Sandman: The Dream Hunters; for Marvel, he would create Elektra & Wolverine: The Redeemer with Greg Rucka.
Maintaining studios today in Paris and Tokyo and travelling frequently to international exhibitions, in the 21st century Amano continues to take on commissions, while devoting the majority of his working time to personal projects. He has designed and illustrated projects for theater, ballet, fashion, and film. In 2013, Dark Horse Comics, which has released over 40 books illustrated by Amano, was the first in the world to publish Yoshitaka Amano's debut original novel, Deva Zan, containing dozens of accompanying paintings. Dark Horse is proud to honor the continuing legacy of one of the world's most influential Japanese artists through its upcoming English edition of Florent Gorges's Yoshitaka Amano: Beyond the Fantasy—The Illustrated Biography.
Clifford Chapin
Voice Acting Guest of Honor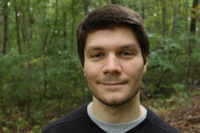 Clifford Chapin is a voice actor and director, best known for his work in anime and video games. Some of his prolific anime roles include Katsuki Bakugo in My Hero Academia, Conny Springer in Attack on Titan, Cabba in Dragon Ball Super, and Charles Grey in Black Butler. As for video games, you can hear Clifford as the voices of Toby the Destroyer from Battleborn, Michael from YIIK: A Postmodern RPG, and Kukulkan in Smite.
In addition to his voiceover credits, Clifford has also worked behind the scenes for Marvel Entertainment's publishing branch, as well as for several reality television series. In his downtime, he enjoys playing video games and reading comic books of every genre.
To keep up with all of Clifford's many antics, be sure to follow him on Twitter (@CliffordChapin) and "Like" his Facebook page: Clifford Chapin (Voice Actor).
Samurai Dan and Jillian
Martial Arts Guests of Honor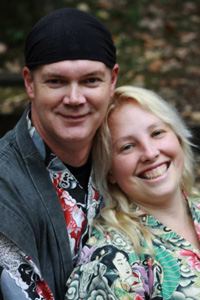 Dan Coglan, a.k.a. "Samurai Dan", and his wife, Jillian, are the acknowledged masters of marital… er, MARTIAL mayhem. This dynamic duo travels the civilized portions of the U.S., bringing their unique show to curious and horrified audiences alike.
In addition to their high-energy, mostly safe stage shows (where razor sharp blades and barbs fly) the couple teaches historical and hysterical panels on the way of the warrior. Offering a wide range of lectures and interactive workshops, Dan and his lethal love Jillian are guaranteed to provide con attendees fun and fulfillment.
Due to a supreme lack of filter, Dan also performs standup comedy, and lives to embarrass his wife onstage, in censored and uncensored settings.
A storyteller at heart, Dan is finishing his third horror novel, and offers insights into the creative process with panels for the aspiring writer as well.
Monica Rial
Voice Acting Guest of Honor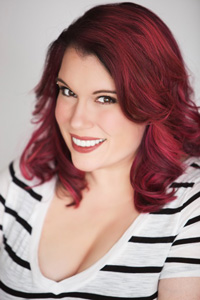 Monica Rial has been working in the anime industry for almost 20 years and she is currently listed as the most prolific anime voice actor in the US. She has lent her voice to over 450 anime including: Assassination Classroom (Kayano), Black Butler (Mey Rin), A Certain Magical Index (Index), Deadman Wonderland (Shiro), Fairy Tail (Mirajane), Fullmetal Alchemist: Brotherhood (May Chang), Hetalia (Belarus), Michiko & Hatchin (Michiko), My Hero Academia (Tsuyu), One Piece (Tashigi), Ouran High School Host Club (Renge), Panty & Stocking (Stocking), Saga of Tanya the Evil (Tanya), Seraph of the End (Krul), Soul Eater (Tsubaki), Watamote (Tomoko), Yona of the Dawn (Yona) and many more. You can catch her as Bulma in Dragon Ball Z Kai and Dragon Ball Super currently on Toonami. She voiced Jubilee on Aqua Teen Hunger Force and has also appeared in several video games including Fire Emblem Echoes, Smite, Tales of Berseria, Ms. Splosion Man, Borderlands 2 and The Pre-Sequel, Dungeon Boss, and Angry Birds 2. Be sure to come by and say hello!
Lucien Dodge
Voice Acting Guest of Honor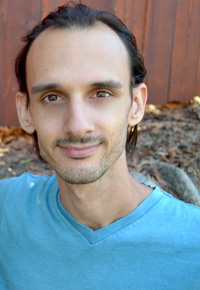 Lucien is a voice actor specializing in characters for animation, video games, commercials, and other media. His animé credits include Zoicite and Motoki Furuhata in the Viz Media dub of Sailor Moon and Sailor Moon Crystal, Waver Velvet in Fate/Zero, Takumu Mayuzumi in Accel World, Blue and various Pokémon in Pokémon Origins, as well as Chili on the regular Pokémon series, Amuro Ray in Gundam Origins, Norba Shino in Gundam: Iron Blooded Orphans, Sai Argyle in Gundam Seed, Yukio Hans Vorarlberna in Bleach, Ja'far in Magi: The Labyrinth of Magic and The Adventures of Sinbad, Kenji Miyazawa in Bungo Stray Dogs, Andrew Hanbridge in Little Witch Academia, Adolf K. Weismann and Tatara Totsuka in K, Jojirou Takajo in Charlotte, Kota Fujiki in God Eater, Metphies in Godzilla: Planet of the Monsters, as well as guest roles in Hunter × Hunter, Sword Art Online, Kill la Kill, Naruto: Shippuden, Aggretsuko, Doraemon, Glitter Force, Blood Lad, Seven Deadly Sins, Ajin, Gantz:O, and both the Tiger & Bunny TV series and movie The Beginning.
Video game credits include Dust in Dust: An Elysian Tail, Mega Gnar in League of Legends, Elliot Craig in Trails of Cold Steel, Leon in Fire Emblem Echoes: Shadows of Valentia, Sin Kiske in Guilty Gear Xrd, Hifumi Yamada in Danganronpa and Keebo in Danganronpa V3, Dr. Victor S. Court in Bravely Default, Pip in Paladins, and he can also be heard in Diablo III: Reaper of Souls, World of Warcraft: Legion, Tales of Berseria, Final Fantasy Explorers, Mad Max, Masquerada: Songs and Shadows, Mirror's Edge Catalyst, God Eater I and II, and Skylanders Giants and Swap Force.
He is also the voice of Robin in Batman: Mechs vs. Mutants, young Durotan in World of Warcraft's "Lords of War" series, Doctor Layrd in the animated feature film Deep, Junior in Hasbro's Hanazuki series, Nello in Ferrari World's Speed of Magic theme park ride, and Tom in the American version of Tree Fu Tom. He was also a featured voice on the feature film Logan. You can find out more about Lucien and his work by visiting his website at luciendodge.com.
KionCloud
Cosplay Guest of Honor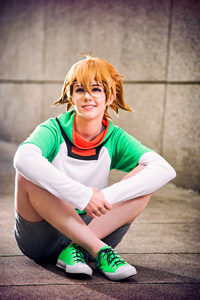 With a love for creativity and a passion for hands-on crafts, KionCloud found themself intrigued with the idea of cosplay when it was first introduced into their life. Kion began their own cosplay journey in the autumn of 2013 about a year after discovering the exciting new hobby.
They enjoy honing their skills in the many artistic aspects of cosplay encompassing making costumes, creating YouTube videos, as well as in-person performances in front of audiences. While attending several cosplay and Japanese cultural conventions throughout Washington and Oregon, Kion has participated in many live events including cosplay chess and several in-character panels. In addition to enjoying the various facets of cosplay they also strive to be a positive influence in the cosplay community and enjoy the interactions they have with their followers on social media platforms such as Instagram. KionCloud loves meeting and seeing new faces so don't hesitate to say hello!
J. Michael Tatum
Voice Acting Guest of Honor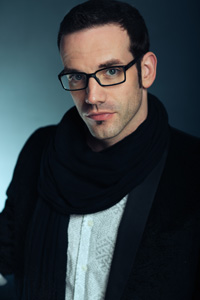 Nurtured on anime classics from the tender age of Star Blazers, et al, this reclusive actor/writer spent more years than he cares to remember in what might charitably be called free-fall before landing, mostly by accident, smack dab on the industry of his dreams. To this day, some believe the small crater made by the impact remains the source of his power.
Cast as Rikichi in 2005's Samurai 7, Tatum's inexplicable luck has held long enough to see his flag hoisted on a slew of dream roles, most notably Kyoya Ootori in Ouran High School Host Club, suave, demonic Sebastian Michaelis in Black Butler, France in the Hetalia franchise, Tomoe from Kamisama Kiss, and the equal parts maniacal/vulnerable Okarin Rintarou from Steins;Gate. More recently, Tatum can be heard in the epic My Hero Academia as Tenya Iida.
Other characters the man still can't believe he's had the crazy good fortune to play include: Doumeki in xxxHOLiC, Jiro Mochizuki in Black Blood Brothers, Isaac Dian in Baccano!, both God Eneru and Dalton in One Piece, Komui Lee in D.Gray-man, Dororo in Sgt. Frog, the titular loveable savage of Heroic Age, Ryosuke Takahashi in Initial D, Lawrence Kraft in Spice and Wolf, Zarbon in Dragon Ball Z Kai, and Scar in Fullmetal Alchemist: Brotherhood. His vocal "stylings", much to the chagrin of drama teachers everywhere, he's sure, have also been featured in Romeo × Juliet, Speed Grapher, Trinity Blood, Kenichi: The Mightiest Disciple, Black Cat, Nabari no Ou, Ghost Hunt, School Rumble, The Tower of Druaga, Aquarion, Tsubasa: Reservoir Chronicles, Shuffle, Shigurui, Glass Fleet, Mushishi, Soul Eater, along with feature-length films such as Vexille, Summer Wars, Dragon Age: Dawn of the Seeker, and Empire of Corpses, among many others. His video game credits include Sir Hammerlock from the Borderlands franchise, Julius Kresnik from Tales of Xillia 2, Mr. Foster from Killing Floor 2, Kelvin and Pendles from Battleborn, and fifteen playable characters from SMITE.
And as if being involved with so many awesome shows wasn't enough, in late 2007 the fluky so-and-so tempted fate by officially branching out into ADR directing and adaptive scriptwriting. His ADR directing credits to date include Aquarion, Jyu-oh-Sei, Romeo × Juliet, Big Windup, Rin: Daughters of Mnemosyne, and Shikabane Hime (Corpse Princess), while his writing credits include substantial work on Ouran High School Host Club, Heroic Age, Initial D, Blassreiter, Ga-Rei: Zero, Hero Tales, The Legend of the Legendary Heroes, Fractale, Deadman Wonderland, Steins;Gate, Assassination Classroom, Dragon Ball Z Kai, and Attack on Titan.
Ever the workaholic, Tatum is currently burning the midnight oil on a number of exciting projects due for release later this year. And before you ask, the "J" stands for… Well, it stands for whatever you'd like it to.
Uptown Cosplay
Cosplay Guest of Honor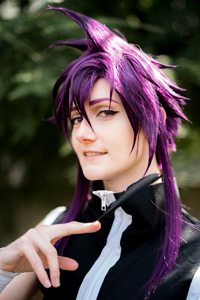 Uptown is a cosplayer that has become renowned for their highly successful character panels and award-winning lip sync battle performances. They host many main events and emcee at conventions around the Pacific Northwest and share their panels, reviews, and advice with their broad audience as a YouTuber and social media icon. Uptown has been creating their own costumes and styling wigs by hand since they began in 2012, and has cosplayed for events as many popular characters, most notably Chat Noir from Miraculous Ladybug, Viktor Nikiforov from Yuri!!! On ICE, Death the Kid from Soul Eater, and Shuu Tsukiyama from Tokyo Ghoul.
Justin Briner
Voice Acting Guest of Honor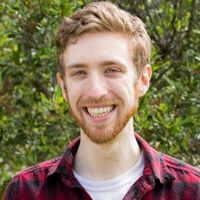 Justin Briner is a Dallas-based actor and singer known primarily for his work in anime and video games. Recently, he's started up the third season of My Hero Academia as Izuku "Deku" Midoriya. He can also be heard as Mikaela in Seraph of the End, Nova in Space Patrol Luluco, Yukito and Yue in Cardcaptor Sakura, Yoichi in Drifters, Ayanokoji in Classroom of the Elite, Alfonso in GARO: The Animation, Niko in Nanbaka, Ryota Mitarai in Danganronpa 3, Frate in 91 Days, Qwenthur in Heavy Object, Manato in Grimgar, Ashes and Illusions, and many more. Additionally, he has provided voices for games such as Dust: An Elysian Tail, SMITE, Regalia: Of Men and Monarchs, Cibele, and DreadOut. When not behind the mic, Justin enjoys reading, cooking, and playing video games (he is an unapologetic Hearthstone addict).
Keith Silverstein
Voice Acting Guest of Honor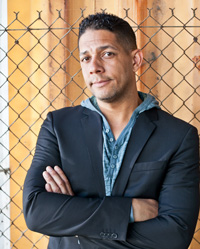 Keith Silverstein is a veteran voice actor with an impressive and diverse list of credits. He's the voice of Torbjorn in the smash hit game Overwatch, Hisoka on Toonami's Hunter × Hunter, Hawk Moth on the fan favorite Miraculous: Tales of Ladybug & Cat Noir, Speedwagon in JoJo's Bizarre Adventure, and most recently joined the cast of One Piece Film: Gold as mega-baddie Gild Tesoro!
He can also be heard as Vector the Crocodile in the Sonic the Hedgehog franchise. Resident Evil fans know him as HUNK. Street Fighter fans will recognize him as Gouken. To fans of Viz's new Sailor Moon he's the maniacal Professor Tomoe.
Not enough for you? Here are a few other titles under his VO belt: Persona 5, Skip Beat, Batman: Arkham Knight, Glitter Force, Bleach, K: Missing Kings, Magi, Tiger & Bunny, Persona Q, Skyrim, World of Warcraft, Soul Calibur, Doraemon, Skylanders, Naruto, AJIN, Call of Duty: Black Ops III, Sword Art Online, Gundam Iron-Blooded Orphans, Durarara!!×2, and Disney's Stitch!
Other notable credits include: Lupin the Third in Lupin the Third: Jigen's Gravestone, Kirby O'Neil in Teenage Mutant Ninja Turtles, and Char Aznable in Gundam The Origin.
For more info on Keith Silverstein visit his website at www.keithsilverstein.com, or check out Keith Silverstein Voice Artist on Facebook and @SilverTalkie on Twitter.
Lauren Landa
Voice Acting Guest of Honor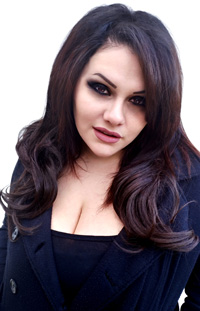 Born and raised in Los Angeles, California, Lauren first began acting at the age of 11 in the stage production of Annie, and continued with shows including Rodgers and Hammerstein's Cinderella, Bye Bye Birdie, and Comic Potential. She was Assistant Director for stage productions such as Stephen Sondheim's Merrily We Roll Along, Bat Boy: The Musical, as well as the Greek comedy, Lysistrata.
Within the world behind the mic, she is most known for roles such as the ninja beauty Kasumi in Dead or Alive 5; the sexy Litchi Faye Ling in the popular fighting game BlazBlue: Calamity Trigger, as well as its sequels, BlazBlue: Continuum Shift, Continuum Shift Extend, and Chronophantasma; the badass Kyoko Sakura in Puella Magi Madoka Magica; the enthusiastic Yan Leixia in Soul Calibur V; the deadly Little Queen in Tales of Graces; the valley girl racer in pink, Boiboi, in REDLINE; the adorable zombie Squigly in Skullgirls; kind-hearted Leia in Tales of Xillia; the innocent Chubo Sonken in Ikki Tousen: Great Guardians; the quiet Annie Leonhart in the hit anime series Attack on Titan; One in Drakengard 3; Nora in Noragami; and most recently, the voice of Sailor Neptune in the Viz dub of Sailor Moon and Nio in Riddle Story of Devil.
She has also had several other roles in anime and video games such as Leeza (Blazing Souls Accelate), Arf and Chrono Harlaown (Magical Girl Lyrical Nanoha), Kirche von Zerbst (Familiar Of Zero), Aegil, Cotton, and Sasha (Rondo of Swords), Lila (Summon Night: Twin Age), Rina (Luminous Arc 2), Yoko (Sakichi Sato's Tokyo Zombie), Syfy channel's anime adaptation Monster, and more!
Erica Mendez
Voice Acting Guest of Honor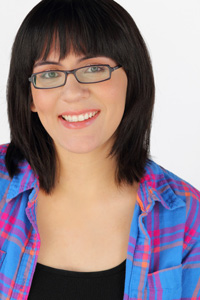 Erica is a Chicago-born voice actress who is currently living in Los Angeles. She has been a fan of animation and video games since she was very young. Not only does she still watch/play them… but she gets to bring characters to life in them. She has been very fortunate to play some fan favorite characters, such as: Ryuko Matoi in KILL la KILL, Gon Freecss in Hunter × Hunter, Aladdin in Magi: The Labyrinth of Magic, Yuuki Konno in Sword Art Online II, Sailor Uranus in the new Viz Media dub of Sailor Moon, Akko in Little Witch Academia, Diane in Seven Deadly Sins, Nico Yazawa in Love Live!, and Mash Kyrielight in Fate/Grand Order.
You can also hear her in OK K.O.! Let's Be Heroes, Fate/Apocrypha, Your Lie in April, Anohana, Erased, Glitter Force Doki Doki, Gosick, Gundam: Iron-Blooded Orphans, Gundam SEED (2017 dub), Yuki Yuna is a Hero, A Lull in the Sea, Tales of Berseria, Fire Emblem Warriors, Fire Emblem Heroes, Puyo Puyo Tetris, Danganronpa: Ultra Despair Girls, Danganronpa V3, Fairy Fencer F, Street Fighter V, Dead or Alive 5 Last Round, Akiba's Beat, Trails of Cold Steel II, Dust: An Elysian Tail, Pac-Man and the Ghostly Adventures, and more.
Voice acting isn't the only way she keeps herself busy. She has also ventured into the land of script adaptation and has done work on Little Witch Academia, Sailor Moon SuperS, and Fate/Apocrypha.
Visit ericamendezvoice.com to check out her full list of credits. She has no intention of slowing down, so you can keep up with Erica's role announcements and incoherent rambling by following her on Twitter: @tsunderica
Jād Saxton
Voice Acting Guest of Honor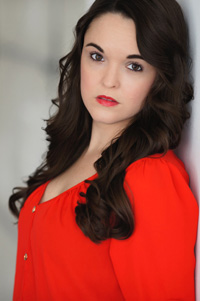 Jād (jade) Saxton is a voice actor and ADR director with over 150 roles in anime and video games. She is best known for her roles as Kanna in Miss Kobayashi's Dragon Maid, Carla in Fairy Tail, Yuki in Wolf Children, Young Nico Robin in One Piece, Koneko in High School DxD, Hatchin in Michiko & Hatchin (Toonami), Faris in Steins;Gate, Haruna in Is This a Zombie?, Sena Kashiwazaki in Hagani, Adélie in Space Dandy (Toonami), Mira in Dimension W (Toonami), Nona in Death Parade, and Akatsuki in Log Horizon.
As a Funimation ADR director, Jād has helmed the loveable Interviews with Monster Girls, Touken Ranbu – Hanamaru, and The Silver Guardian!
She also lends her voice to video games playing Maeve in Paladins, Expelled Hel in Smite, and as a Time Patroller in Dragon Ball Xenoverse 1 & 2.
Recent anime roles Jād is excited about: Guri in Love Tyrant, Kendo in My Hero Academia, Kirie in Himouto! Umaru-chan, Naka in KanColle, Jean Rowe in Code Geass: Akito the Exiled, Matome in Akiba's Trip, Garnet in Puzzle & Dragons, Mil in Monster Hunter Stories RIDE ON, Kotone in Keijo!, Ruruka in Danganronpa, Lilac in Servamp, Senri in Chaos;Child, Wanchoi in The Silver Guardian, Sophie in Izetta: The Last Witch, Eraser in Handa-kun, Ximena in Garo the Animation, Mary in Grimgar, Ashes and Illusions, Lisa in Terror in Resonance, Constance Raveau in Gangsta, Yoriko in Tokyo Ghoul, and Un in Show By Rock!!.
Oldies but goodies: Perrine in Strike Witches, Jacqueline O. Lantern Dupré in Soul Eater, Eve Genoard in Baccano!, Masako in Ghost Hunt, Ai Hibiki in Rolling Girls, Ringo in No-Rin, Miku in Date A Live II, Ludmila in Lord Marksman and Vanadis, Sio in Nobunagun, Jeanne D'Arc in Rage of Bahamut: Genesis, Onikiri in Kamisama Kiss, Komissa in Psycho-Pass, Fam in Last Exile: Fam The Silver Wing, Tsukumo in Karneval, April in Mass Effect: Paragon Lost, Karin in Shangri-La, Komoe in A Certain Magical Index, Mayu in B Gata H Kei – Yamada's First Time, and Mimi Usami in Okami-san and Her Seven Companions.
Ciarán Strange and WE ARE THE CHAOS
Musical Guest of Honor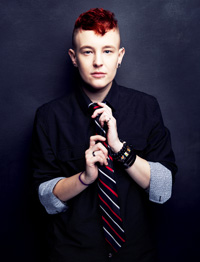 Much to his amusement, he's been compared in the past to David Bowie, Tony Stark, Haruko Haruhara, Ramona Flowers, and Tank Girl—but I.R.L., we know him as Ciarán Strange, an eccentric and powerful LGBTQ+ artist who blends pop sensibilities, dynamic rock guitars, and high-energy live shows into his own brand of geeky pop-punk. At seventeen, he left his family, friends, and little English fishing village behind in order to chase his dreams to Vancouver, BC, where he now resides indulging in his passion for many different facets of art and performance including music, writing, voice acting, acting, vlogging, and pro-wrestling!
The redheaded, bedheaded geek has toured multiple countries in the past half-decade including the U.S., the U.K., Canada, and Japan, performing at hundreds of shows, conventions, and festivals. Sometime in the summer of 2016, Ciarán joined forces with kindred artistic spirit Dave Kitsberg; the two are now delving into the world of geeky covers and parodies, as well as writing fresh original concept material in all sub-genres of pop-rock influenced by many of their collaborative fandom inspirations. This cache of new music the pair are working tirelessly on is set to be released in the fall and winter of 2018/19 under the band name We Are The Chaos. The band's debut single, LEGACY, was released last year at San Japan X and is now available on all music streaming services!
Musical ventures aside, this multi-media artist has been swept up in the launch of two novel serieses in 2018, which both take place on different sides of the same earth. The first, Black Tie by Ciarán Strange, is a M/M paranormal romance series of action thriller novels he's pitched as "gay James Bond in a world of superheroes". The second, Blaze of Chaos by C. Strange, is an RH darker romance set in a deliciously dystopian 2028 Britain. Both debut books are available on Amazon, as well as at his panels all weekend and at his merch booth after his performance!