Ghost Neko and Friends
We are excited to announce Kumoricon's official Ghost Neko cosplayers, Cosplay Coven! In an attempt to incorporate more of our local cosplay community, we noticed the hard work and passion for our newest mascot Ghost Neko, and just had to invite members of our community for this collaboration. You will find that their personality and quirkiness are a perfect fit for our crazy work. Take this ride with us and see the epic adventures we have in store! This page will house our Ghost Neko group, and you might just see some friends pay a visit on occasion.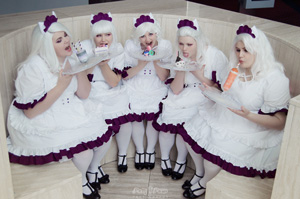 Photography: Pretty Prism Photography
The Cosplay Coven was formed in 2017 when the members came together and bonded over their love of cosplay. They all loved the idea of having a close-knit group of friends to cosplay with while providing positivity and support for each other. Since then they have created costumes, hosted panels, and even preformed on stage together. The members of the Cosplay Coven all have varying levels of skills and abilities; working together to bring their ideas to life. Together they hope to entertain and inspire the community by showcasing thier love of fun and spreading positivity. It was also in 2017 the Cosplay Coven fell in love with the Kumoricon Ghost Neko, creating kigurumis based off the plushie. Their obsession didn't stop there. The Cosplay Coven has made multiple costumes, a skit, and even a panel themed after the adorable plushie. Even more Ghost Neko goodness is in store for the future.