Ghost Neko's Purranormal Maid Café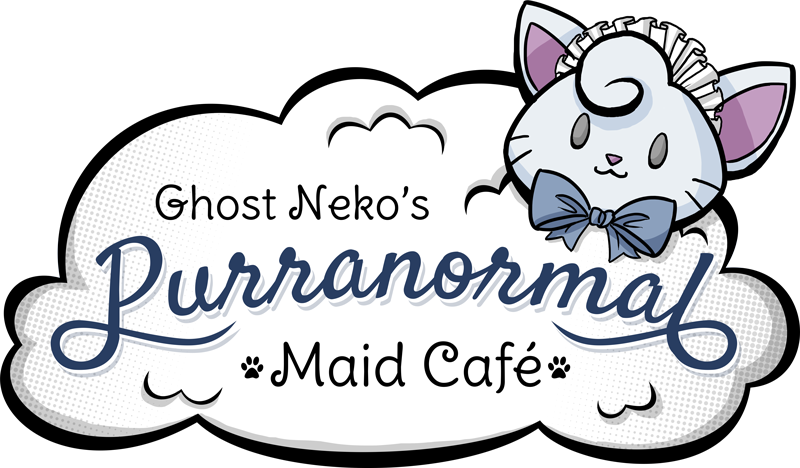 We kindly invite you to Kumoricon's premier Maid Café at the Hyatt Regency Portland, with sessions running Friday through Sunday afternoon. Each session combines a sampling of a Japanese maid cafe experience with the community of an American convention, presented as a special dining event.
Each table is under the dedicated attention of a maid or butler, with games, food, and prizes. The Maid Café is a great place for a snack or to get away from the crowds at the OCC. Memorialize your experience with an exclusive pin and a signed photo from our staff.
Online pre-sales have now concluded. Walk-in seatings will be available.
The Maid Café offers both reservations and walk-ins, subject to seat availability. Parties may be grouped together as space allows but may also be split depending on seat availability.
Hours of operation
Friday: 12:30pm–8:00pm
Saturday: 10:30am–8:00pm
Sunday: 10:30am–2:00pm
Each session lasts 90 minutes. Please see the Kumoricon schedule or the reservation purchase form for session start times. Check-in starts 15 minutes prior to each session.
Guest rules
To attend the Maid Café you must have a Kumoricon 2023 badge.
Guests must follow Kumoricon's Code of Conduct.
Guests may only be in the Café during the session at which they hold a reservation or ticket.
No photos, video, or other forms of recording are allowed within the Café.
No outside food or drink in the Café.
No touching Maid Café staff.
Packages
All guests will choose a package from the following list:
$55 – Pawsitively Delightful
Beverage
Appetizer
Entree
Dessert
$45 – Picture Purrfect
Beverage
Appetizer and dessert
$35 – A Meowthful
Beverage
Appetizer or dessert
Add-ons:
Milk Tea with Brown Sugar Boba or Mango Jellies – $10
Additional beverage – $6
Instant-print photo signed by your maid or butler – $5

Each additional maid or butler is $1
All proceeds from photos are donated to our charity beneficiaries—OHSU Doernbecher Children's Hospital and The Greeney Family Fund for Japanese Track Scholarships.
Gratuity for your meal is included in the price.
Current Kumoricon staff receive a $5 discount.
Ghost Neko's Purranormal Maid Café menu
Appetizer (choice of one)
Miso Soup (Vegetarian, Gluten Free)
Pickled Cucumber Salad with Ginger and Chili (Vegetarian, Dairy Free, Gluten Free)
Pork + Vegetable Gyoza
Vegetable Gyoza (Vegetarian)
Chicken Yakitori (Gluten Free, Dairy Free)
Entrée (choice of one)
Japanese Chicken Curry with Brown/White Rice (Gluten Free, Dairy Free)
Japanese Vegetable Curry with Brown/White Rice (Gluten Free, Dairy Free)
Wild Mushroom and Bok Choy Udon Noodle Soup (Vegetarian, Dairy Free)
Pan Fried Soba Noodles with Braised Vegetables in Black Bean Sauce (Vegetarian, Gluten Free, Dairy Free)
Dessert (choice of one)
Flourless Chocolate Cake (Gluten Free)
Cheesecake (Vegetarian)
Tiramisu (Vegetarian)
Strawberry Pistachio (Vegetarian)
Beverage (choice of one)
Smith Tea Selection (Black, Green, Peppermint, and Meadow)
Portland Coffee Roasters Regular and Decaf Coffee
Milk
Apple and Orange Juice
Soda (Pepsi, Diet Pepsi, and Starry)
Please notify your Maid Café staff of any allergies or food sensitivities prior to ordering.
Reservation guidelines
Reservations can be made online through 12:00 noon on Wednesday, November 8, 2023 (extended an additional 12 hours).
In addition to walk-in tickets, at-con reservations may be made at the entrance to the Maid Café if space is still available for a later session. When making an at-con reservation, please be prepared to provide name, phone number, number of guests, and any accommodations or requests. (Ex: We have a wheelchair, I have a service animal, food allergies, etc.)
Payment is due at the time of reservation, and is per-person and non-refundable.
Reservations should arrive with their full party 15 minutes prior to their session. Doors for reservations open 15 minutes prior to the session. If the entire party is not here at this time then the reservation will not be fulfilled, unless prior notification or contact has been made.
If you miss your reservation, it does not transfer over to the next seating, nor place you near the front of the walk-ins.
Table availability
Walk-ins:

Tables are given to people with reservations first. Smaller groups may be asked to pair with another group to use the most amount of seats per sitting.
After 15 minutes past the reservation time, walk-ins may be accepted subject to availability of our Maid and Butler staff.
Walk-ins will be seated in groups of five, when possible.
Walk-ins are accepted on a first-come, first-served basis.
Walk-ins are not guaranteed to be seated. Depending on Maid and Butler staff availability, we may be required to turn away some waiting walk-in guests.

Groups larger than eight:

Groups larger than eight will be split, subject to seating availability and table arrangements. We limit tables to eight guests in order to ensure that each Maid and Butler can dedicate their attention to everyone at the table.

Accessibility accommodations:

We are very happy to accommodate wheelchair seating at the Maid Café. In order to best assist us in preparing accommodations, please inform us of your wheelchair seating during your reservation or purchase, or as soon as you become aware of your requirement.
Guests with disabilities and up to one companion may be given advance priority seating. Please inform us when arriving to the walk-in queue.
We are very happy to answer additional questions at maid.cafe@kumoricon.org.