Industry Guests of Honor
↵ Return to the full Guests of Honor index
Watch this space for exciting industry guests at Kumoricon!
Tonari Animation
Industry guest of honor
Tonari Animation is a global anime studio that has worked on over 30 Japanese TV and movie anime productions, such as Boruto, Black Clover, One Piece, Blue Lock, and Magical Destroyers. Tonari Animation is most famously known for creating YouTube shorts Gawr Gura - Shark'd, Gawr Gura's blue horizon!!, Ren Zotto's Wanderer, and Ironmouse Unleashed. Tonari has a physical studio in Tokyo, Japan, where they help connect global artists and animators with the anime industry and Japanese culture.
Bellamy Luna Brooks
Industry guest of honor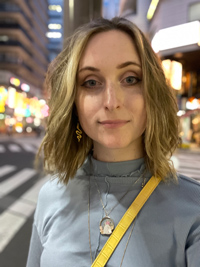 Bellamy Brooks is a Tokyo-based animator and producer working in the TV anime industry. With a blend of digital and traditional paper animation techniques, Bellamy has taken on different roles, including key animator, character designer, storyboarder, animation supervisor, and producer. She recently worked on paper as the animation supervisor on a few episodes of Magical Destroyers.
Her portfolio includes key animation contributions to projects such as Boruto, Akiba Maid War, Shadowverse Flame, RWBY: Ice Queendom, Prima Doll, and Luminous Witches. Beyond TV anime, she has garnered recognition for creating animations for VTubers such as Gawr Gura, Ironmouse, OniGiri, and girl_dm_. Her latest production, Ironmouse Unleashed, premiered during Ironmouse's anniversary stream, which she wrote, directed, and produced.
Sailor Yon
Industry guest of honor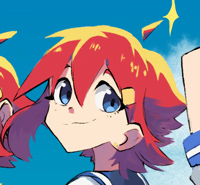 Sailor Yon is from Mexico and works in the anime industry as a layout artist and animation supervisor. His most recent works include key animation on Bleach: Thousand-Year Blood War and Spy × Family. He is also known for his work as a sakkan for the OVA Ironmouse Unleashed, which debuted on Ironmouse's 6th anniversary stream. Alongside his anime work, he has garnered a following for his original art on Twitter under the name Sailor_Yon.
License attribution: Globe icon for web link from Material Design icons by Google, Apache 2.0