Guests of Honor
Cristina Vee
Voice Acting Guest of Honor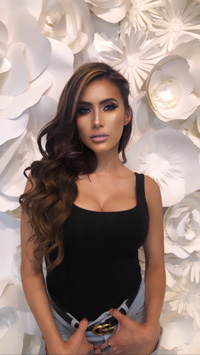 Cristina Vee is a Los Angeles based voiceover actress and director. Cristina is also known for her popular renditions of anime songs on YouTube and got her first "big break" at an anime convention.
Her first roles as a professional actress were Nanoha in Magical Girl Lyrical Nanoha and Louise in The Familiar of Zero. Recent voice acting roles include Homura Akemi in Madoka Magica, Mio Akiyama in K-On!, Alisa Bosconovitch in Tekken: Blood Vengeance, Kanaria in Rozen Maiden: Träumend and Rozen Maiden: Ouvertüre, and Nagisa in Squid Girl.
Video game credits include Noel Vermillion, Nu-13, Mu-12, and Lambda in all the current BlazBlue titles, Riven the Exile in League of Legends, Compa in Hyperdimension Neptunia, and Lian Shi in Dynasty Warriors 7, just to name a few. She has also recently completed her first gig as a director for the popular fighter Skullgirls and provided the voice of Cerebella for the game as well.
Cristina currently has a few songs available on iTunes. She traveled the US with the other actresses for K-On! and performed concerts as Mio Akiyama. She also is a host of AnimeTV and was the ASOS Brigade leader for the live action Haruhi Suzumiya season 2 promotional videos.
Black Crystal Cosplay
Cosplay Guest of Honor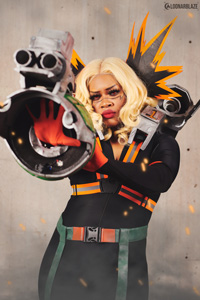 Black Crystal Cosplay is a DMV native and has been cosplaying for almost 8 years now! She is mostly notorious for her immaculate wig styling, cosmetic makeup, and wild special FX makeup designs. Black Crystal knows how to have fun but also dedicates some of her time to having live chats that surround deep topics in the cosplay community to help keep it a fun and light-hearted space! A few fun facts about her are that she has an ongoing passion for anything surrounding the Promare franchise, loves to eat, and works undercover as a pro-hero to keep the world safe!
Sakura Rangers
Cosplay Guest of Honor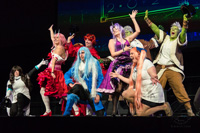 From the forested trails of Oregon to the rich soil of Saskatoon, Canada, Sakura Rangers have come together with the goals of entertaining and making our conventions a more fun place. A decade ago a random game of cosplay chess brought the original members together. From that grew collaborations, podcasts, and many cosplay contests. Over the years, they grew in numbers and became less of a group and more of a family. They are best known currently for their numerous contest performances and hosting Kumoricon's own Cosplay Contest and Halftime Show in 2019 and 2021. They can't wait for the convention to arrive so they can entertain and have fun with everyone attending the event.
December Wynn
Cosplay Guest of Honor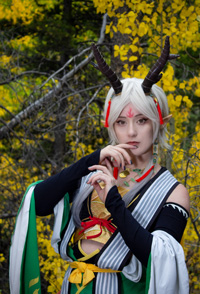 December Wynn is an award winning cosplayer based in Denver, Colorado. They are one half of WCS Team USA 2022.
December specializes in fabric dyeing, painting, and sewing. Other areas of interest include leatherwork, millinery, embroidery, and sculpting. They have guest-lectured in craftsman techniques at conventions both domestically and abroad, as well as served as a guest-lecturer at the University level.
In addition to a cosplay career, December has worked professionally in the crafts industry for five years, including time as a dedicated painter/dyer. They graduated from the University of Colorado Boulder with a BFA in Theatre Design and Technologies and a BFA in Studio Arts with an emphasis in painting.
Amanda C. Miller
Voice Acting Guest of Honor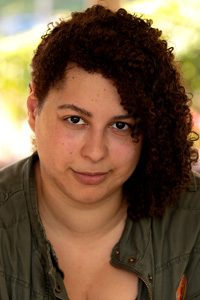 Amanda C. Miller is an actor, writer, and comedian whose voice can be heard across the animation, video games, anime, and audiobooks worlds (and dark corners of the internet).
Her most known credits include voicing Boruto in Boruto: Naruto Next Generations, Sailor Jupiter in Sailor Moon and Sailor Moon Crystal, Junko and Toko in the Danganronpa video game series, and Jo in Craig McCracken's Kid Cosmic on Netflix.
Find her online at amandacelinemiller.com and @amandacmillervo on Instagram and TikTok!
Cherami Leigh
Voice Acting Guest of Honor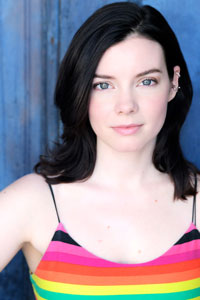 Cherami Leigh is an actor and writer and has been working in the industry for over 25 years. She has appeared in films such as Temple Grandin, The Hottest State, and Fast Food Nation, as well as television shows including Friday Night Lights, Bones, and Shameless. In anime she has played over 150 characters including Lucy in Fairy Tail, Asuna in Sword Art Online, Ilia in RWBY, Sailor Venus in Sailor Moon, Sarada in Boruto, Michiru in BNA, Chloe and Grookey in Pokémon Journeys, and Red Blood Cell in Cells at Work. Some of her video game credits include Female V in Cyberpunk 2077, Gaige in Borderlands 2, Makoto in Persona 5, A2 in NieR:Automata, the Quartermaster in Call of Duty: WWII, Minerva in The Walking Dead: The Final Season, Mafuyu in Judgment, and Ikrie in the Horizon Zero Dawn DLC. She also voices multiple characters in the Fire Emblem universe, most recently Rhea in Three Houses. She also has worked for Radio Disney in various roles over the last 20 years and is one of the creators of the award winning web series "CONfessionals" as well as creating over 600 episodes of "Love & Light".
Bryce Papenbrook
Voice Acting Guest of Honor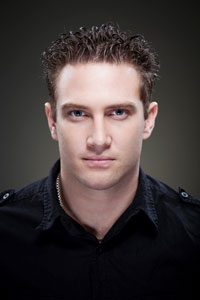 Bryce Papenbrook has been a professional voiceover artist since the age of eight. He was introduced to the voice acting scene by his father, Bob Papenbrook, and has continued the trade in his footsteps.
Bryce has performed in numerous video games, cartoons, and television shows. Some notable roles include Eren Yeager in Attack on Titan and Attack on Titan: Junior High, Kirito in Sword Art Online, Inosuke Hashibira in Demon Slayer: Kimetsu no Yaiba, Rin Okumura in Blue Exorcist, Shirou Emiya in Fate/stay night: Unlimited Blade Works, Rokuro Enmado in Twin Star Exorcists, Adrien a.k.a. Cat Noir and Felix in Miraculous: Tales of Ladybug & Cat Noir, Meliodas, Zeldris, and Love Helm in The Seven Deadly Sins, Fujita in Dorohedoro, Law in Tales of Arise, Daisuke Dojima in Revisions, Nahoya "Smiley" Kawata in Tokyo Revengers, Liebe in Black Clover, Silver in Team Sonic Racing, Hunter Voice Option 3 in Monster Hunter Rise, Wol in Mobius Final Fantasy, Tao, Kibi, and Lycaon in Beastars, Akechi Touma in The Disastrous Life of Saiki K.: Reawakened, Kimura in Teasing Master Takagi-san, Dennis in Dennis & Gnasher: Unleashed!, Ordinary Cell in Cells at Work!, Chooki and Lydendor in Tenkai Knights, Red in Pokémon Origins, Yo Shindo in My Hero Academia, Shigehiro Ogiwara in Kuroko's Basketball, Basile Hardy and Jude Sharp in Inazuma Eleven: Ares, Takashi in Dino Girl Gauko, Kagura Karachi in Boruto, Lemmee in YooHoo to the Rescue, Frankie from the JumpStart Learning App, Machina Kunagiri in Final Fantasy Type-0, Caesar Zeppeli in JoJo's Bizarre Adventure, Gugu in To Your Eternity, Masaomi Kida and Turquoise Biker in Durarara!! and Durarara!!×2, Theodore in Persona Q and Persona 3: Dancing in Moonlight, Makoto Naegi and Nagito Komaeda in Danganronpa: Trigger Happy Havoc, Danganronpa: The Animation, Super Danganronpa Another 2, and Danganronpa 3, Alan Stuart in My Next Life as a Villainess: All Routes Lead to Doom!, Kennosuke Tokisada Ouma in Kuromukuro, Cheshire in Saint Seiya: The Lost Canvas, Ghost Shroud in Sleepy Princess in the Demon Castle, Kaito in Ajin: Demi-Human, Staz Charlie Blood in Blood Lad, Eugene Sevenstark in Mobile Suit Gundam: Iron-Blooded Orphans, Clay Sizemore in Soul Eater Not!, Calm Craftman in Aldnoah.Zero, Kanata Kujo in Exist Archive: The Other Side of the Sky, Wataru Asahina in Brothers Conflict, Kaname Isaki in A Lull in the Sea, Suoh in Children of the Whales, numerous roles in Call of Duty: Ghosts, Tiz Arrior in Bravely Default, Adol Christin in Ys IX: Monstrum Nox, Bast in Horizon Zero Dawn, Player (Male) in God Eater 3, Inky in the Pac-Man and the Ghostly Adventures game, Black Ranger in the Power Rangers Megaforce game, Sultan in Disney Princess Palace Pets, Lest in Rune Factory 4, Henry, Raven, Karel, and Oscar in Fire Emblem Heroes, Kamui in Fire Emblem Echoes: Shadows of Valentia, Issachar in Shin Megami Tensei IV, Asbel Lhant in Tales of Graces f, Zidane Tribal in Dissidia Final Fantasy NT, and Guan Ping in Dynasty Warriors. Past leading roles include Shugo in .hack//Legend of the Twilight, Jack in MÄR, Jack Russell in Radiata Stories, Hanabusa Aido in Vampire Knight, and Isami Fujiwara in Noein: To Your Other Self.
You can follow Bryce on Facebook at https://www.facebook.com/ActorBrycePapenbrook, @BrycePapenbrook on Twitter, and @BrycePapenbrook on Instagram!
Ray Chase
Voice Acting Guest of Honor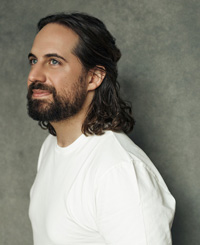 Ray Chase is perhaps best known as Sukuna in Jujutsu Kaisen, Tengen Uzui in Demon Slayer, Noctis in Final Fantasy XV, Nier from NieR Replicant, Eve from NieR:Automata, Alphen from Tales of Arise, Bruno Bucciarati on JoJo's Bizarre Adventure, Roy from Fire Emblem, the Master of Masters from Kingdom Hearts, and his most celebrated dual role as the Subway Announcer and Mara in Persona 5. Other roles include Gabriel from Malignant, Karamatsu from Osomatsu-san, Artorius from Tales of Berseria, Roy/Gaius/Alphonse/Fernand from Fire Emblem Heroes, Almond Cookie from Cookie Run: Kingdom, and Mitsurugi from Soulcalibur VI. He's also made appearances in Resident Evil: Infinite Darkness, Sekiro: Shadows Die Twice, Borderlands 3, and hundreds more. His anime roles include Gendo Ikari in Neon Genesis Evangelion, Roswaal in Re:Zero, Keith Flick in B: The Beginning, Fyodor Dostoyevsky in Bungo Stray Dogs, Puri Puri Prisoner in One-Punch Man, Yuu Otosaka in Charlotte, Howzer in Seven Deadly Sins, as well as joining the casts of Attack on Titan, Your Name, Berserk, Mob Psycho 100, Gundam: Iron-Blooded Orphans, Blue Exorcist, Fairy Tail, and many others! He is a proud founding member of the comedy troupe Loud, Annoying, and Very Annoying (LAVA), which he shares with fellow actors Max Mittelman and Robbie Daymond.
Max Mittelman
Voice Acting Guest of Honor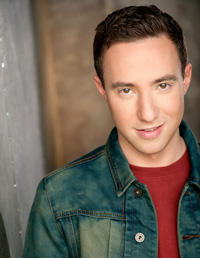 Well known as the voice of Saitama in One-Punch Man, Max Mittelman has also given life to other fan-favorite characters such as Ryuji in Persona 5, Arataki Itto in Genshin Impact, Plagg in Miraculous Ladybug, King in Seven Deadly Sins, Sabito in Demon Slayer, and Atsushi in Bungo Stray Dogs.
Other notable projects include: Final Fantasy VII Remake (Red XIII), Borderlands 3 (Troy Calypso), Fire Emblem (Leo, Gray, Kaden, Forrest, Gordin), Hunter × Hunter (Meruem), Your Lie in April (Kousei), Bugsnax (Filbo Fiddlepie), Kingdom Hearts HD 2.8 (Luxu), Boruto (Konohamaru), Vivy: Fluorite Eye's Song (Matsumoto), Mob Psycho 100 (Ritsu), Marvel's Spider-Man (Harry Osborn), Ben 10 (Overflow), ThunderCats Roar (Lion-O, Wilykat), Fallout 4 (Zeke), Transformers (Blurr), Justice League Action (Jimmy Olsen), Star Ocean 5 (Fidel), World of Warcraft (Ara'lon, Prince Farondis), SAO II (Jun), Mobile Suit Gundam Thunderbolt (Io), Tales of Berseria (Shigure), and Atelier Escha & Logy (Logy).
He is a proud founding member of the comedy and gaming troupe Loud, Annoying, and Very Annoying (LAVA), which he shares with fellow actors Ray Chase and Robbie Daymond.
Robbie Daymond
Voice Acting Guest of Honor
In the anime world Robbie Daymond might be most well known as the most prolific voice of Tuxedo Mask in Sailor Moon and Sailor Moon Crystal. He's also played countless lead and fan-favorite roles such as: Mori Jin in The God of High School, Megumi in Jujutsu Kaisen, Mitsuki in Boruto, Ikoma in Kabaneri of the Iron Fortress, Minato in Re-Main, Akira in Battle Game in 5 Seconds, Mumen Rider in One Punch Man, Joe Kido in Digimon Adventure tri., Chrollo in Hunter × Hunter, Flect Turn in My Hero Academia, Killer T Cell in Cells at Work, Ren Tsuruga in Skip Beat, Merlin in Fate/Grand Order Absolute Demonic Front: Babylonia, and Gilthunder in Seven Deadly Sins. He has voiced other anime such as Demon Slayer, Katsugeki/Touken Ranbu, FLCL Progressive, Attack on Titan, Megalobox, Kuroko's Basketball, Brand New Animal, Gundam: Iron-Blooded Orphans, Last Hope, Naruto: Shippuden, Occultic;Nine, Baki, Tales of Zestiria the X, Cyborg 009, K: Return of Kings, Fate/stay night: Unlimited Blade Works, JoJo's Bizarre Adventure, Yashahime, Sword Art Online II, Bungou Stray Dogs, God Eater, Isekai Quartet, Terraformars, 86, Magi: Adventure of Sinbad, Durarara!!×2, Charlotte, Lupin the Third, Aldnoah.Zero, Your Lie in April, Glitter Force, Rock Lee & His Ninja Pals, and more. There are also several others coming up that he can't mention quite yet…
Robbie is very active in the realm of western animation as well. He stars as series lead in several shows such as: the current voice of Spider-Man/Peter Parker in the Marvel Animated Universe (Marvel's Spider-Man, Guardians of the Galaxy, Avengers Assemble, and Black Panther), Jesse in Infinity Train: Book Two, Chico Bon Bon in Chico Bon Bon, and Sway Sway in Breadwinners. He has starred and reoccurred on other popular cartoons like Star Wars: Rebels, Young Justice, OK K.O.! Let's be Heroes, The Casagrandes, Pinky Malinky, Costume Quest, Scooby-Doo and Guess Who?, Rugrats, The Rocketeer, Transformers: Rescue Bots, ThunderCats Roar, Stillwater, Ever After High, Do, Re & Mi, Archibald's Next Big Thing, Bottersnikes and Gumbles, Carmen Sandiego, Get Blake!, Little People, and The Tom and Jerry Show. He has also voiced characters in several feature films, including Shoya in A Silent Voice, Me in I Want to Eat Your Pancreas, Toneri Otsutsuki in The Last: Naruto the Movie, Mitsuki in Boruto: Naruto the Movie, Patema Inverted, Sound! Euphonium the Movie - Our Promise: A Brand New Day, Gundam: The Origin III, Barbie: Star Light Adventure, Monkey King Reloaded, and Strange Magic, among others.
Robbie's also a staple in the video game industry, and can be heard in Final Fantasy XV as Prompto, Persona 5 as Akechi, Tales of Zestiria as Sorey, Fire Emblem: Three Houses as Hubert, Fret in Halo Infinite, Cyberpunk 2077 as River Ward, Fist of the North Star: Lost Paradise as Kenshiro, Pokémon GO as Professor Willow, League of Legends as Kayn, Yakuza 7 as Zhao, Marvel Ultimate Alliance 3 as Thane: Son of Thanos, Just Cause 4 as Oscar Espinosa, TMNT: Mutants in Manhattan as Michelangelo, Spyro Reignited as Hunter the Cheetah, Agents of Mayhem as August Gaunt, Marvel vs. Capcom Infinite as Spider-Man, Death Stranding, Ghost of Tsushima, World of Warcraft, State of Decay 2, Shenmue III, Bugsnax, Marvel Heroes United, Daemon X Machina, Telltale's The Walking Dead, Crash Team Racing Nitro-Fueled, Final Fantasy Type-0, WarioWare Gold, Judgment, Star Wars: The Old Republic, Final Fantasy VII Remake, 13 Sentinels: Aegis Rim, Oceanhorn 2, The Division, NieR:Automata, NieR Replicant, Fire Emblem Echoes, Fire Emblem Heroes, God Eater 1 and 2, Lego Star Wars: The Force Awakens, Lego Marvel Avengers, Friday the 13th, Anthem, Radiant Historia: Perfect Chronology, Onmyoji, The Lego Movie Videogame, The Technomancer, Trails of Cold Steel II, Shining Resonance Refrain, Akiba's Beat, Masquerada, Aion, Stella Glow, Xenoblade Chronicles X, Atelier Sophie, Exist Archive, Grand Chase, Skyforge, Forbidden Magna, Lineage II, Etrian Odyssey 2 Untold, Blade & Soul, Fairy Fencer F, and many more!
Robbie can also be seen playing D&D on-screen as Dorian Storm in the hit shows Critical Role and Exandria Unlimited.
Robbie also makes up 1/3 of the pop culture improv comedy troupe Loud, Annoying, and Very Annoying aka: L.A.V.A..
Caleb Hyles
Musical Guest of Honor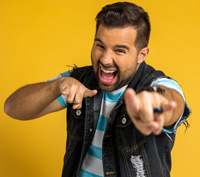 Caleb Hyles first made waves when he released his cover of "Let It Go" on YouTube in 2014. Millions of homes around the world were enchanted by his riveting and theatrical covers of Disney, Broadway, anime, and pop-rock hits. YouTube allowed for Caleb's vast talents and warm, infectious personality to shine through with every cover, and fans quickly fell in love.
Over the years of pouring himself into his work and creating exciting, diverse content for his fans, Caleb has amassed a close-knit fanbase consisting of 1.5 million YouTube subscribers and over 1 million monthly Spotify listeners. Fans eagerly seek out Caleb's larger-than-life voice taking on their favorite songs and breathing new life in them.
And fans aren't the only ones to take notice of Caleb's massive talents. Television shows and video series like RWBY and Nintendo Minute have called on Caleb to sing for them.
With momentum at an all-time high, Caleb is looking to embark on the next step of his journey. Sharing more of himself than ever before, January 2022 saw the release of his first original works with his album, "In One Breath". Don't miss your chance to embark on this new adventure with him.
Kaiji Tang
Voice Acting Guest of Honor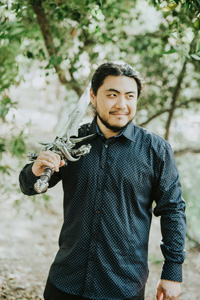 An avid lover of gaming and all things food-related, Kaiji Tang has been working as a voice actor in Los Angeles, CA, since 2007. In the world of video games, he has done such roles as Ichiban Kasuga (Yakuza: Like a Dragon), Eustace (Granblue Fantasy: Versus), Faust (Guilty Gear), Munehisa Iwai (Persona 5), Takatoshi Hijiyama (13 Sentinels: Aegis Rim), Akatsuki (BlazBlue: Cross Tag Battle), Owain (Fire Emblem: Awakening), Detective Pikachu (Detective Pikachu for 3DS), Jann Lee (Dead or Alive 5), Gaius Worzel (The Legend of Heroes: Trails of Cold Steel), Gonta Gokuhara (Danganronpa V3: Killing Harmony), Fang (Fairy Fencer F), Moma Kumakura (AI: The Somnium Files), and Kenshiro (Fist of the North Star: Ken's Rage). When it comes to anime, you can hear him in such roles as Satoru Gojo (Jujutsu Kaisen), Osamu Dazai (Bungo Stray Dogs), Joe (Megalobox), Sanemi Shinazugawa (Demon Slayer), Guts (Berserk (2016)), Ohma Tokita (Kengan Ashura), Archer (Fate/stay night: Unlimited Blade Works), Tsumugu Kinagase (Kill la Kill), Retsu (Baki), Poppo (Anohana: The Flower We Saw That Day), Bill (Beastars), and Hendricksen (The Seven Deadly Sins).
Anne Yatco
Voice Acting Guest of Honor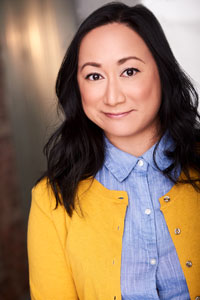 Anne Yatco is a Filipino American actress and former Midwesterner. She transitioned a childhood dream of being the voice of a Disney princess into a reality as a working voice actor. Along the way, she got a bachelor's degree in biomedical engineering, an MFA in acting, and had a career as a forensic scientist. In anime, Anne is the English voice of Nobara Kugisaki in Jujutsu Kaisen, Lola in The Hidden Dungeon Only I Can Enter, and Hamamoto in Penguin Highway. She also voiced various characters in High-Rise Invasion, BNA: Brand New Animal, Devilman Crybaby, Violet Evergarden, Forest of Piano, Lost Song, Ultramarine Magmell, Kuromukuro, ID-0, Knights of Sidonia, and Blame!. In video games, Anne is the voice of Kurumi in the upcoming Naraka: Bladepoint, Eda and Solitaria in Epic Seven, Kainin in Onmyoji Arena, Marianne and Favi in Guardian Tales, and Rosie Wong in Wasteland 3. Additionally, Anne is in the upcoming scripted sci-fi podcast Solar (starring Alan Cumming and Stephanie Beatriz).
Momma Sammu
Cosplay Guest of Honor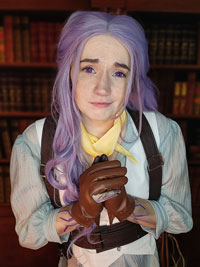 A native of Portland, Momma Sammu was raised attending and dressing up at fantasy and sci-fi cons, but didn't start cosplaying until their first anime convention in 2006 and has been hooked ever since. Now with over 15 years of sewing and performance experience, they've earned over a dozen Master-level awards at conventions across the country and abroad. Sammu's specialties include corsetry, ballgowns, bodypaint, and making things as extra as humanly possible, which has recently included their original TTRPG character designs.
When not at conventions, they love to share their knowledge, encouraging other creatives to pursue their passions through Twitch livestreams and other social media. They have done their best to create not only a space to share new skills, but a safe space for anyone who needs it, spreading the mindset that anyone can cosplay.
Adam McArthur
Voice Acting Guest of Honor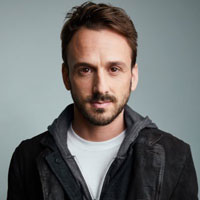 Adam McArthur is best known as the voice of Marco Diaz on the hit Disney show Star vs. the Forces of Evil, and is currently voicing the main protagonist, Yuji Itadori, in the 2020 Crunchyroll Awards Anime of the Year, Jujutsu Kaisen. His voice can be heard in numerous other TV shows and video games, including Star Wars: The Clone Wars, Far Cry 5, and Final Fantasy XV: Comrades.