Guests of Honor
Enayla Cosplay
Cosplay Guest of Honor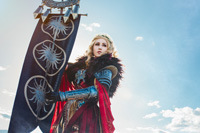 Enayla is a cosplayer, armorsmith, and propmaker based in Washington state. Inspired by the lavish costumes at a local comic con, she bought a garage-sale sewing machine and taught herself the basics. Twelve years later, she actively works with fabric, foam, feathers, thermoplastics, resin, and a host of other materials (whatever will get the job done!). In that time, she has been featured by a wide variety of publications, hosted panels on various aspects of cosplay, and judged competitions both locally and internationally. Specializing in costumes with meticulous detail, massive scale, and complex engineering, she is always looking for ways to expand her skills and challenge reality. When not working on a project, she is active in sharing techniques and encouragement with the cosplay community. She is constantly inspired by the work of others, and is excited to see what attendees bring to Kumoricon 2019!
KionCloud
Cosplay Guest of Honor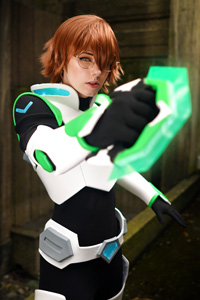 With a love for creativity and a passion for hands-on crafts, KionCloud found themself intrigued with the idea of cosplay when it was first introduced into their life. Kion began their own cosplay journey in the autumn of 2013 about a year after discovering the exciting new hobby. They enjoy honing their skills in the many artistic aspects of cosplay encompassing making costumes, creating YouTube videos, as well as in-person performances in front of audiences. While attending several cosplay and Japanese cultural conventions throughout Washington and Oregon, Kion has participated in many live events including cosplay chess and several in-character panels. In addition to enjoying the various facets of cosplay they also strive to be a positive influence in the cosplay community and enjoy the interactions they have with their followers on social media platforms such as Instagram. KionCloud loves meeting and seeing new faces so don't hesitate to say hello!
Caleb Hyles
Musical Guest of Honor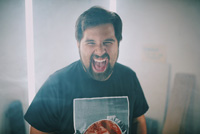 Disney, anime, Broadway, top 40: Caleb Hyles has done it all when it comes to cover songs! With his big heart and an even bigger voice, Caleb has wowed millions across the globe with a multitude of musical styling and an infectious, positive attitude. Caleb Hyles has a history in musical theatre, having grown up in a family of musicians and thespians. There was no doubt that Caleb was born to be an entertainer of some kind! Caleb has been recognized by the likes of Ryan Seacrest, Tyler Oakley, DeeDee Magno Hall, and many others for his musical prowess. Ever since his viral hit, "Let It Go", dropped in 2014, Caleb has not stopped growing his YouTube channel which has grown over 1 million subscribers. By holding live Q&As, and hosting a private Discord server with fans, Caleb has nurtured a growing community centered around one-on-one interaction and a common love for all things music and fanatic nerdom. No other performer or YouTube personality does as much for his fans as Caleb does.
He continues to produce new content on a weekly basis and is expanding his reach onto other platforms, such as Twitch! This endeavor, along with this YouTube Gaming channel of the same name, Peace Love and Gaming, it is evident that big things are happening with Caleb. He hopes that anyone and everyone will join him for the ride. As Caleb says at the end of every video, "Peace, love, and metal!!"
Joel McDonald
Voice Acting and Directing Guest of Honor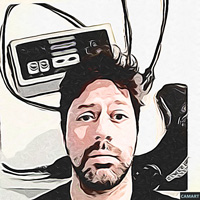 Joel McDonald has been acting for over thirty years and directing voiceover for twelve. Most of his directing career so far was spent at Funimation, where he directed shows like One Piece, Space Dandy, Sgt. Frog, Big Windup, and many more. He's also appeared as Aoyama in My Hero Academia, Phichit Chulanont in Yuri!!! on Ice, Ronald Knox in Black Butler, Takumi in Initial D, Zeref in Fairy Tail, Meow in Space Dandy, and others. Joel made the move to video games in February of 2018 and is now working as Gearbox Software's very first Overlord, where he runs auditions, oversees casting, and directs voiceover for all in-house Gearbox properties.
Uptown Cosplay
Cosplay Guest of Honor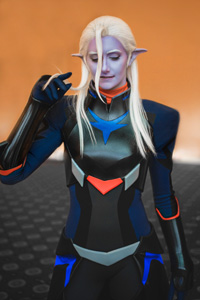 Uptown is a cosplayer who has been creating their own costumes and styling wigs by hand since they began in 2012, gaining recognition for their highly successful in-character panels and lip sync performances on their YouTube channel. They host many events at conventions primarily around the Pacific Northwest and share their panels, tutorials, and reviews with their broad audience as a social media personality. Some of their most beloved cosplays include Chat Noir from Miraculous Ladybug and Lotor from Voltron: Legendary Defender. Uptown loves meeting new people and encourages you to never be afraid to say hello!
Photo credit: Kictor Cosplay

Musical Guest of Honor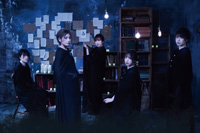 STARMARIE is a five-member girl band formed in 2008. Their songs and choreography express fantasy tales of life and death.
The girls invite spectators into their mysterious fantasy world with their various songs consisting of unique titles and story-like lyrics, fierce-yet-delicate choreographies and expressions, and theatrical stage presence.
On February 2nd, 2018, they played at the Nakano Sun Plaza Hall (seating capacity: 2,200) without any supporting acts.
In addition, they are active not only in Japan, but abroad as well. As of now they have performed more than 100 shows overseas, focusing particularly on the Asian market with solo shows in Taiwan, the Philippines, and Hong Kong.
Their song "Natsu ni nare!" was selected as the ending theme of the anime Cardfight!! Vanguard G: NEXT (TV Tokyo). Previously, their song "Hime wa Rankiryuu☆Goikkou-sama" was used as the opening theme of the anime Onigiri (TOKYO MX, BS Fuji), in which two of the members also made their debut as voice actresses. Furthermore, "Mekurumeku Yuuki!" serves as the ending theme of Cardfight!! Vanguard G (TV Tokyo).
Brittney Karbowski
Voice Acting Guest of Honor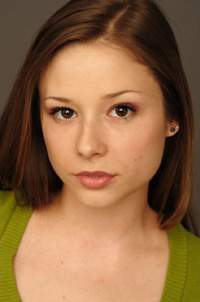 Brittney Karbowski has been voice acting for 14 years. Some of her notable roles include Pride in Fullmetal Alchemist: Brotherhood, Ikaros in Heaven's Lost Property, Migi in Parasyte: The Maxim, Yuri in Angel Beats, Hisako in Food Wars, Karen in Gamers, Papi in Monster Musume, Papika in Flip Flappers, Hitoka in Haikyuu, Apis and The Going Merry in One Piece, Yamada in B Gata H Kei, young Hide in Tokyo Ghoul, Melinda in Nomad of Nowhere, Hitch in Attack on Titan, Kusu in Dragon Ball Super, Mikoto Misaka in the Railgun and Index series, Nanachi in Made in Abyss, Popuko in Pop Team Epic, Karen in Revue Starlight, Kotoha in Mitsuboshi Colors, Black Star in Soul Eater, Camie in My Hero Academia, Wendy in Fairy Tail, Rimuru in That Time I Got Reincarnated as a Slime, and the list just keeps going! Check out a more extensive list of her many roles at Anime News Network.
Brittney spends her free time with her husband, daughter, and her three fur babies in Houston, TX.
David Wald
Voice Acting Guest of Honor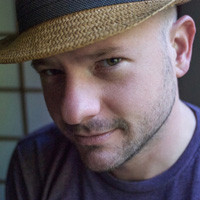 David Wald began voice acting for English dubs of anime in 2005 with ADV Films' Shadow Skill. In the years since, David has continued to voice characters for ADV, Sentai Filmworks, Funimation, and others, including Fairy Tail's Gajeel Redfox, Napapa and Hyssop in Dragon Ball Super, Bulat in Akame ga Kill!, Tetsutetsu and Snipe in My Hero Academia, Rei in Love Stage, Attack On Titan's Hannes, Vetto in Black Clover, Keishin Ukai in Haikyu!!, Gérman Luis in GARO: The Animation, Duke Togo in Golgo 13, Berg Katze in Gatchaman Crowds, Master Chief in Halo Legends, Dr. Ozaki in Shiki, Charlie in Fullmetal Alchemist: Brotherhood, Paulie and Tamago in One Piece, Reiji in Diabolik Lovers, Teppei in Toriko, Yoji Itami in GATE, Welf Crozzo in Is It Wrong To Try To Pick Up Girls In A Dungeon?, Mutsumi in Kiss Him, Not Me!, King Victor in The Royal Tutor, Riki Nendou in The Disastrous Life of Saiki K., and Count Magnus in Vampire Hunter D.
From outside the vocal booth, David has served as ADR Director for titles including Hitorijime My Hero, Love Stage, Bloom Into You, Aura: Koga Maryuin's Last War, Kokkoku, and Tada Never Falls In Love, and has adapted scripts for titles including Diabolik Lovers: More Blood, Chivalry of a Failed Knight, Love Stage, and Hitorijime My Hero.
Luci Christian
Voice Acting Guest of Honor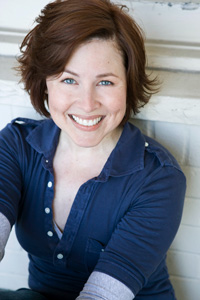 Luci Christian is a professional actor living in Houston, Texas. Internationally known for her voice work, her career also spans stage, television, radio, industrial, and anything else she can book. Notable anime roles include Ren in Made in Abyss, Ochaco in My Hero Academia, Honey in Ouran High School Host Club, Kaname in the Full Metal Panic! series (and the new season now being simuldubbed), Psiren and Wrath in Fullmetal Alchemist, Nami in One Piece, Kyuta in The Boy and the Beast, Lenalee in D.Gray-man, Asuna in Negima, Alois in Black Butler, Tenma in School Rumble, Rico in Gunslinger Girl, Ophelia in Claymore, Makina in Shikabane Hime, Birdy in Birdy the Mighty: Decode, the Narrator in Kamisama Kiss, Hungary in Hetalia, Medusa in Soul Eater, Trixie in Blade Runner: Black Out 2022, Cocona in Flip Flappers, Yuki in Food Wars, Chihaya in Chihayafuru, Carmen in Starship Troopers: Traitor of Mars, Hestia in DanMachi, Satomi Murano in Parasyte: The Maxim, Deunan in Appleseed, Elsie in The World God Only Knows, Kelly in Halo Legends, Mirai Onozawa in Tokyo Magnitude 8.0, Nagisa in Clannad, Ringo in Air Gear, Mako in Nerima Daikon Brothers, Milia Fallyna in Macross, Haruko in Air, Risa in D.N.Angel, Tetsu in Peace Maker Kurogane, Duck/Tutu in Princess Tutu, Jinpei in Gatchaman and Paiman in Gatchaman Crowds, Sasshi in Magical Shopping Arcade Abenobashi, and Yukari in Azumanga Daioh. You can also let her read you books on Audible! She is @lucilovesmic on Twitter and can be found online at www.lucichristian.com. Ms. Christian holds an M.F.A. in Acting from Louisiana State University, and when she's not working she's usually happily hanging out with her husband and daughters and trying to use her powers for good.
Brina Palencia
Voice Acting Guest of Honor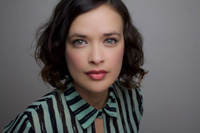 Brina Palencia is a Honduran-American actress and musician from Dallas, TX, best known for her voice work in such projects as Black Butler, One Piece, My Hero Academia, Fairy Tail, and Snow White with the Red Hair. Brina has also music-directed many shows at Funimation such as Space Dandy, Dragon Ball Super, and Show By Rock. She posts original music and too many cat pics on her Instagram, @brinakins. Find more cat pics and keep up to date with her convention travels on Twitter, @brinapalencia.