Guests of Honor
Laura Stahl
Voice Acting Guest of Honor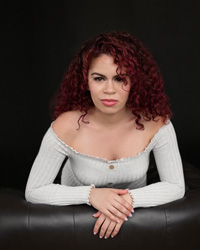 Laura Stahl is a Los Angeles-based voice actor. You may know her from The Promised Neverland as Ray, Genshin Impact as Barbara and Xinyan, as Dorothy from The Great Pretender, as Iruma from Welcome to Demon School! Iruma-kun, as well as several other shows and games. Laura has also adapted scripts for anime such as Yashahime: Princess Half Demon, Fate/Grand Order Absolute Demonic Front: Babylonia, Eden (starring Ruby Rose Turner, David Tennant, and Neil Patrick Harris), and more. In college, Laura studied musical theater and in high school, she was a band geek, and loved fantasy novels. She couldn't be happier to have a career in anime and JRPGs, because she always knew she was going to spend her entire life as a very proud nerd.
Erica Mendez
Voice Acting Guest of Honor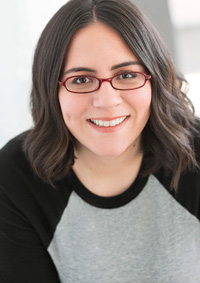 Erica Mendez is a Chicago native now living in Los Angeles and working in the field of voice-over. She has played many fan-favorite characters, including: Retsuko in Aggretsuko, Ryuko in Kill la Kill, Gon in Hunter × Hunter, Aladdin in Magi: The Labyrinth of Magic, Yuuki in Sword Art Online II, Sailor Uranus in the new Viz Media dub of Sailor Moon, Megumin in KonoSuba, Emma in The Promised Neverland, Akko in Little Witch Academia, Diane in Seven Deadly Sins, Nico in Love Live!, Mash in Fate/Grand Order, Raphtalia in The Rising of the Shield Hero, Bernadetta in Fire Emblem: Three Houses, and Kamisato Ayaka in Genshin Impact.
You can also hear her in video games such as Final Fantasy VII Remake, Scarlet Nexus, 13 Sentinels: Aegis Rim, Fire Emblem Heroes, Pokémon Snap, Ys IX, Tales of Berseria, Fire Emblem Warriors, Fire Emblem Heroes, Puyo Puyo Tetris, the Danganronpa franchise, Code Vein, Soulcalibur VI, Hyrule Warriors: Age of Calamity, BlazBlue: Cross Tag Battle, and the Trails of Cold Steel franchise; as well as animated series like OK K.O.! Let's Be Heroes, Yashahime, Your Lie in April, Anohana, Erased, Pokémon: Twilight Wings, Pokémon Journeys, To Your Eternity, Boruto, Re:Zero, Fate/Grand Order, Fate/Apocrypha, My Hero Academia, Yuki Yuna is a Hero, A Lull in the Sea, and many more.
Voice acting isn't the only way she keeps herself busy: Her script adaptation work includes The Promised Neverland, Little Witch Academia, Sailor Moon SuperS, Sailor Moon Sailor Stars, and Fate/Apocrypha. She made her directorial debut with the animated film I Want to Eat Your Pancreas which she also adapted.
You can keep up with Erica's role announcements and incoherent rambling by following her on Twitter @tsunderica.
Abby Trott
Voice Acting Guest of Honor
Abby Trott is an actor/singer from Attleboro, Massachusetts. She has lived and worked in Tokyo and New York City, and is currently based in Los Angeles.
Abby is perhaps best known for portraying Nezuko in Demon Slayer, Annette in Fire Emblem: Three Houses, Ivy in Netflix's Carmen Sandiego, and Windblade in the Transformers: Prime Wars Trilogy, and for singing the English version of "Lifelight", the theme for Nintendo's Super Smash Bros. Ultimate. Some of her roles in anime include Mezato Ichi in Mob Psycho 100, Machi in Hunter × Hunter, and Veronica Liones in The Seven Deadly Sins.
When she isn't talking, singing, or screaming into a microphone, Abby likes to spend her time playing shakuhachi (Japanese flute) and chatting with her cats (French pun intended).
Momma Sammu
Cosplay Guest of Honor and Master of Ceremonies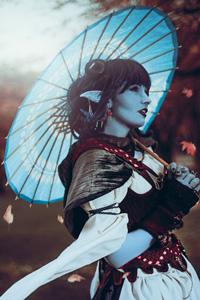 A native of Portland, Momma Sammu was raised attending fantasy and sci-fi cons, but didn't start cosplaying until their first Kumoricon in 2006 and has been hooked ever since. Now with over a decade of sewing and performance experience, they've earned over a dozen Master-level awards at conventions across the country and abroad. Sammu's specialties include corsetry, ballgowns, and making anything they do as extra as possible. When not at conventions, they enjoy sharing their knowledge and encouraging other cosplayers to pursue their passion projects.
Being an active Twitch streamer and making many of their cosplays for a live audience has allowed them to connect with others outside of conventions and create not only a space to share new skills, but a safe space for anyone who needs it.
Jester photo by KP11 Studios.
Caleb Hyles
Musical Guest of Honor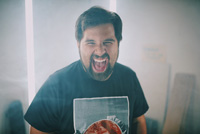 Disney, anime, Broadway, top 40: Caleb Hyles has done it all when it comes to cover songs! With his big heart and an even bigger voice, Caleb has wowed millions across the globe with a multitude of musical styling and an infectious, positive attitude. Caleb Hyles has a history in musical theatre, having grown up in a family of musicians and thespians. There was no doubt that Caleb was born to be an entertainer of some kind! Caleb has been recognized by the likes of Ryan Seacrest, Tyler Oakley, Deedee Magno Hall, and many others for his musical prowess. Ever since his viral hit "Let It Go" dropped in 2014, Caleb has not stopped growing his YouTube channel which has grown to over 1.5 million subscribers. By holding live Q&As and hosting a private Discord server with fans, Caleb has nurtured a growing community centered around one-on-one interaction and a common love for all things music and fanatic nerdom. No other performer or YouTube personality does as much for his fans as Caleb does.
He continues to produce new content on a weekly basis and is expanding his reach onto other platforms, such as Twitch! Through this endeavor, along with this YouTube Gaming channel of the same name, Peace Love and Gaming, it is evident that big things are happening with Caleb. He hopes that anyone and everyone will join him for the ride. As Caleb says at the end of every video, "Peace, love, and metal!!"
Kira Buckland
Voice Acting Guest of Honor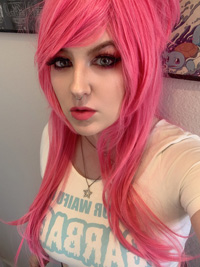 Kira Buckland is an Alaska-born, California-based voice actress who started her journey in 2004 by voice acting in online projects before transitioning to work in anime and games. She is most known for voicing the lead character "2B" in NieR:Automata, as well as other video games such as Soulcalibur.
Some of her anime and dubbing credits include JoJo's Bizarre Adventure: Diamond is Unbreakable (Reimi), Yashahime: Princess Half-Demon (Setsuna), Demon Slayer (Mitsuri), Kakegurui (Mary), Tower of God (Yuri), Magia Record (Iroha), Love Live! School Idol Project (Umi), Granblue Fantasy (Lyria), Accel World (Kuroyukihime), Blue Exorcist (Izumo), Sailor Moon (Mimete), Hunter × Hunter (Zushi), The Asterisk War (Julis), Magi (Kogyoku), Blood Lad (Hydra Bell), Re:Zero (Beatrice), and Miraculous Ladybug (Alix/Timebreaker). Most recently, Kira provided the dubbed voice for Rebecca Bluegarden from Netflix's Edens Zero.
Kira loves classic rock, cats, espresso, cosplay, fighting games, and JoJo's Bizarre Adventure, and is excited to travel to new places to meet fans (and catch more Pokémon.) She is also the founder of the Voice Acting Club, a community linking voice talent and content creators around the world.
Follow her on Twitter (@KiraBuckland) or visit her site at KiraBuckland.com!
Ciarán Strange
Voice Acting Guest of Honor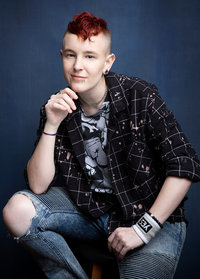 You may have heard him as foul-mouthed, under-caffeinated NPC Lorelei (Borderlands 3), or even as various Funimation simuldub characters (Mars Red, Astra Lost in Space, Infinite Dendrogram, Wonder Egg Priority, and more)—but IRL he's Ciarán Strange, an eccentric transgender/non-binary voice actor, Twitch affiliate, sci-fi author, mental health advocate, indie rocker, and multimedia artist. At the tender age of seventeen, he left his family, friends, and English fishing village behind in order to chase his dreams across the Atlantic!
The bed-headed redhead has become a familiar face throughout the American geek scene, in most parts via his music. After touring the US, UK, Canada, and Japan, performing at hundreds of shows, conventions, and festivals, Ciarán joined forces with kindred artistic spirit Dave Kitsberg (Spoony Bards, Time Crash). The two are now delving into geeky covers and parodies, as well as writing fresh original concept material in all sub-genres of pop-rock.
Musical ventures aside, this British import to the States has been swept up in the launch of his LGBTQ+ urban sci-fi series. Its debut novel, Black Tie by Ciarán Strange, is a M/M political thriller he's pitched as "gay James Bond navigating a world of superheroes". An audiobook version (starring Jesse Nowack, Dani Chambers, Mike McFarland, Elisa Melendez, Ricco Fajardo, Brandon McInnis, Daman Mills, Tyson Rinehart, Emi Lo, Elizabeth Maxwell, Danielle McRae, and many more of your favorite voiceover stars from anime and gaming!) is due out summer 2021.
In what little free time he has, Ciarán streams video games and digital drawing on his Twitch channel, TheCoffeeCommander; its dedicated fans pushed him to affiliate status within one week and continue to passionately support him. He enjoys musical collaborations, wrestling and fitness, living the doggo dad life, and promoting cosplayers and artists within the fandom!
ciaranstrange.com | @ciaranstrange
Billy Kametz
Voice Acting Guest of Honor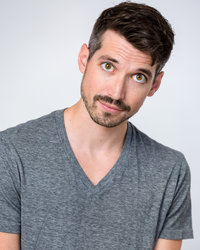 Billy is an actor from Hershey, Pennsylvania, who now lives in the Los Angeles area. He came to California 5 years ago to play Aladdin in Aladdin: A Musical Spectacular in Disney California Adventure. Since that time Billy has been fortunate enough to lend his voice to many popular anime, video games, and cartoons. You can hear Billy as Josuke in JoJo's Bizarre Adventure, Ferdinand von Aegir in Fire Emblem: Three Houses, Galo in Promare, Rui in Demon Slayer, White Blood Cell in Cells at Work!, Osomatsu in Mr. Osomatsu, Dr. Maruki in Persona 5 Royal, and Naofumi in The Rising of the Shield Hero, for which he won the Crunchyroll Award for Best Voice Acting Performance (EN)! Keep up with Billy on Twitter and Instagram.
Faye Mata
Voice Acting Guest of Honor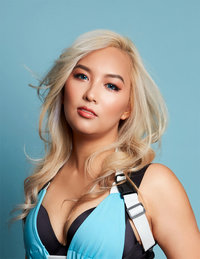 From gaming to voice acting, Faye Mata is an advocate of chasing dreams. She's best known for playing the roles of Aqua (Konosuba), Astolfo/Rider of Black (Fate/Apocrypha), Yukako Yamagishi (JoJo's Bizarre Adventure), and Lulu (League of Legends).
She is also known as Sailor Aluminum Siren (Sailor Moon), Princess Malty (Rising of the Shield Hero), Miyu/Fukaziroh (Sword Art Online Alternative: GGO), Rin Hoshizora (Love Live!), Neon Nostrade (Hunter × Hunter), and Kagami (Miraculous Ladybug). Some game roles are NiCO (Dead or Alive 6), Lene (Fire Emblem Heroes), and Daria and Lishenna (Shadowverse).
Faye also competed semi-professionally in video game tournaments around the world such as EVO, CEO, and Pokémon Worlds under the gamertag "Princess Aura", the same name she used as a competitor on national reality TV show WCG Ultimate Gamer (SyFy). Faye brings a lot of fun and energy to cons and currently enjoys challenging people to 1v1 battles in Super Smash Bros. Ultimate. Follow her on Twitter at @FayeMata, and Instagram at @fayematata!

Musical Guest of Honor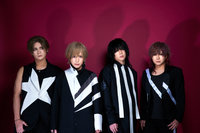 ACME is a visual kei band that formed in 2017 consisting of former DIV vocalist CHISA and guitarist SHOGO, former ARTEMA drummer HAL, and bassist RIKITO.
The name of the band means "the vertex of evolution" and the band concept is "Delinquent boys from another world". Well known for their post-hardcore sound and colorful "oshare" style visuals, ACME are quickly rising in the visual kei scene.
Their first mini-album release in August of 2017, "SENKOU", sold out first press copies nationwide. ACME's second single release "ROTTEN ORANGE" also had the track "CALL MY NAME" featured in the movie "Namae no nai onna tachi: Usotsuki Onna", starring Mitsuru Fukikoshi.
At Anime Expo 2018 in Los Angeles, CHISA walked the AX Fashion Show runway for Harajuku fashion designers KINGLYMASK, LISTEN FLAVOR, and HYPER CORE. ACME made their overseas debut performance at Anime Milwaukee 2019 and returned in June of that year at A-Kon in Dallas. ACME headlined a tour in January 2020 in 4 cities along the US west coast.
ACME Official Band Pages:
Website | Facebook | Instagram | Twitter | Spotify | YouTube
Band Member Official Pages:
CHISA: Twitter | Instagram
SHOGO: Twitter | Instagram
HAL: Twitter | Instagram
RIKITO: Twitter | Instagram