School of Lolita
Posted July 16, 2010
Kumoricon would like to introduce this opportunity to its attendees. The School of Lolita produces a weekend workshop over August 20-22 for helping con-goers get their wardrobe and costuming ready for Kumoricon.
The School of Lolita will also be presenting a workshop at Kumoricon 2010.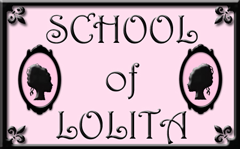 Full information:
August 20th-22nd — $298 Full Weekend / $118 Single Day
School of Lolita is a 3 day Garment Construction Workshop feature sewing skill building classes for wardrobe building in a like-minded, community environment! Our first two days are oriented on skill building, and our last day includes seminars on styling, a tea party and an open-sew event for socializing, with lots of great goodies!
FULL WEEKEND INCLUDES:
17 Hours of Instruction + 4 Hours of Open Studio
Individually Sized Patterns to Take Home and Re-Use
3-ring Binder w/ Informational Handouts, Worksheets & Pattern Envelopes for your custom patterns
Lovely Lace Craft Kit & Surprise Ball w/ Supplies for "Bows & Wristcuffs"
Exclusive Lolita Style Makeup Kit
Portland Lolita Sewing Circle and High Tea Service on Sunday the 22nd
You Will Make: A Personally Sized Cut-Sew Blouse, a Gathered Skirt w/ Ruffle Structure, a Cupcake Petticoat, Bows and Wristcuffs, A Complete Custom Lolita Look w/ Patterns to Re-Use!