Play and Win
Do you like playing tabletop games? Do you like free things? If you answered yes to either of these questions, you should come check out our Play and Win program (PAW)! The rules are simple. Everyone who plays one of our PAW games is entered into a drawing for that game at the end of con. You only get one entry per game, but you can enter every game's drawing! Winners will be announced at 2:00pm on Sunday at PAW Library, and they have until 3:00pm to pick up their game(s). At 3:00pm we will begin drawing new winners for any unclaimed games, but these new winners must be present to receive the game. During the 3:00pm drawing you are still eligible to win games even if you won one during the 2:00pm drawing.
For more information, please see PAW staff.
Rules
Play and Win is available to all Kumoricon attendees and staff. To participate:
Check out the game from the Play and Win table.
Play at least one round of the game.
The initial winner will be announced at 2:00pm on Sunday and a written list of winners will be posted. Winners must arrive at the PAW table by 3:00pm to claim their game. To claim their game:
The winner must present their badge to PAW staff for verification.
The winner will then have their photo taken with their game. This photo will be used exclusively by Kumoricon for use in marketing the PAW program.
After 3:00pm, if the game is not claimed, PAW staff will select additional winners, one at a time. Winners must be present to claim their game and follow the same procedure listed above. At 4:00pm, drawings will stop and all unclaimed games will be added to the Kumoricon library.
Tournaments
InDiPro Games will be running an indie board game tournament at Kumoricon. It will consist of 6 smaller tournaments: 3 on Friday and 3 on Saturday. You don't need to participate in all of them to be eligible for prizes in the overall tournament.
Friday: Mean Robo, Snakes and Letters, and Slip Strike
Saturday: Vamp on the Batwalk, Pocket Paragons, and Primordial Secrets
All 6 games will be available for demo for play before or after the tournaments.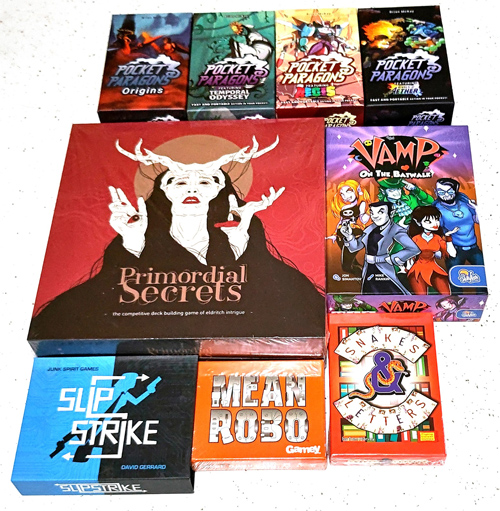 Tournament prizes:
In addition to the listed prizes, we will also keep track of first, second, and third in each game and award 3, 2, and 1 points, respectively, in the overall tournament. Then, starting with whoever has the most points from those 6 tournaments and working down will get to choose from the following games after the scores are tallied after the last tournament on Sunday:
(Game list to be determined.)
If you are not around during the announcement of winners, we will text you if you can pick up your winnings or send someone to do so. You may make your choice; if not, we will send you a $5 gift credit for the InDiPro website and let the next highest score make a pick until all prizes have been given out.
All ties will be broken by who had the most first place wins, then second, then third. In the case of a continued tie, a die roll or coin toss will be made. If prizes are gone while people who are still tied are in the running, they will receive a $5 gift credit to the InDiPro website.
Guilty Gear -Strive-: The Board Game tournament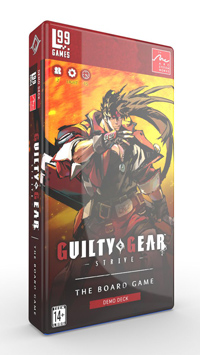 Guilty Gear -Strive-: The Board Game is a heart-thumping show-stopping dueling game for 2 players. Play as one of 20 iconic Guilty Gear fighters, use their special moves, and slash your opponent's life down to 0 to win!
Guilty Gear -Strive-: The Board Game is powered by the Exceed Fighting System, a proven game engine with over 7 years of continuous development. It is cross-compatible with other Exceed-based games, such as BlazBlue Exceed and Street Fighter Exceed.
For this tournament we will be using the Guilty Gear: Strive demo decks for everyone to use.
Tournament prizes:
1st place: 20 Kumori Cash + Bonus Prize
2nd place: 15 Kumori Cash + Bonus Prize
3rd place: 10 Kumori Cash + Bonus Prize
4th through 8th place: 5 Kumori Cash
1st through 12th place: will also get a Guilty Gear: Strive demo deck.
The three bonus prizes below will be available to pick from starting with first place.
Exceed: Shovel Knight playmat
Sakura Arms dDesk mat
The Grand Chronicle (The art and story of Level 99's World of Indines)
Daily Quests
Complete daily quests to win prizes while supplies last. Daily quests will be available that can be found in the informational pamphlet you can get at the Play and Win booth. Some examples of daily prizes are enamel pins, dice sets, promos, pokemon cards, stickers, and more.
Game List
Are you a local board game designer and want your game available for attendees to play in our Play and Win? Feel free to stop by the convention and drop off any games you would like to donate.
Are you a board game publisher or board game designer and want your game available for attendees to play in our Play and Win? Feel free to stop by the convention and drop off any games you would like to donate. Do you have questions or would prefer to mail your games to Kumoricon? Email play.and.win@kumoricon.org for more details.
Vindicated Entertainment
https://vindicatedentertainment.com/
Stonemaier Games
Expeditions
Red Rising
Libertalia: Winds of Galecrest
Doomlings
Japanime Games
Tanto Cuore
Tanto Cuore: Oktoberfest
Tanto Cuore: Romantic Vacation
Naruto: Ninja Arena – core game + Genin Pack expansion
Cowboy Bebop: Space Serenade
The Tree Lined Avenue
Night Clan
Margot: La fée
Ramen! Ramen!
Tanto Cuore: Doki Doki Beach Volleyball
https://www.japanimegames.com/
InDiPro Games
Katana
Jixia Academy
Shadows in Kyoto
Jigūan: The Eastern Mechanist
Click Click Boom
Chibi Heroes
Not Another Fetch Quest!!!
Bunny Party at Maple Valley
Pirate Party: Women of the High Seas
Recipe for Disaster
JailBird
I Am Death Now?
https://shop.indiprogames.com/collections/newest
The Op Games
Disney Sorcerer's Arena: Epic Alliances
Smash Up: Disney Edition
Breaking Games
Can't Catch Harry
Convert
Cafe Chaos
Mansplaining
Luck
Yellow Mountain Imports
Go (the traditional Japanese board game)
Mahjong
Discount code for 10% off: 2023KPW – Valid from Nov 15 to Dec 21, 2023
CrowD Games
Bestiary of Sigillum
Fabled: The Spirit Lands
Calliope Games
Roll For It! Red
Roll For It! Purple
Mass Transit
12 Days
Enchanted Plumes
Level 99 Games
Exceed: Shovel Knight
BattleCON: Trials of Indines
Sakura Arms: Yurina Box
Sakura Arms: Saine Box
Sakura Arms: Yatsuha Box
R&R Games
The Plan
Bug Off!
Ferret Out
Thames & Kosmos
Indie Game Studios
Coup
Crossed Words
Noch Mal So Gut (Bravo!)
http://indieboardsandcards.com/
Bezier
Silver Bullet
Cat in the Box
Cabo: Deluxe Edition
Smirk & Dagger Games
https://www.smirkanddagger.com/
Grandpa Beck's Games
Skull King
Reign of Dragoness
Toil & Troublez
https://www.grandpabecksgames.com/
Devir Games
LUNA Capital
Savernake Forest
AMIGO Games
Enginuity
Weird Giraffe Games
Gift of Tulips
Studies in Sorcery
Dreams of Tomorrow
https://weird-giraffe-games.square.site/
Brian Cook
https://www.briancook.net/shop/
Adam's Apple Games
Dragon Dawn Productions
Wise Wizard Games
https://www.wisewizardgames.com/
Left Justified Studio
https://prolificgames.net/pages/about-us
Wattsalpoag Games