Cosplay Lip Sync Showdown
Meet Our Judges and Hosts
Momma Sammu
Cosplay Lip Sync Showdown Co-Host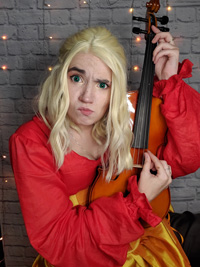 A Portland native, Momma Sammu has been cosplaying for over a decade and attending "geeky" conventions her whole life. She cosplayed as Chii at Kumoricon 2006 and has been hooked ever since. From thrifted casual cosplay to eventually learning to make cosplay for competitions, Sammu has won over a dozen master level performance and craftsmanship awards at cons across the country (and acquired a ballgown addiction). Three years ago she started hosting Kumoricon's Lip Sync and is honored to get to officially emcee for her home con.
Outside of con, she actively streams her cosplay making on Twitch, trying to spread her knowledge and passion for the craft to as many people as possible.
Uptown Cosplay
Cosplay Lip Sync Showdown Co-Host
Uptown Cosplay is a Pacific Northwest cosplayer who has been creating their own costumes and styling wigs by hand since they began in 2012, gaining recognition for their highly successful in-character panels and lip sync performances. They host many events at conventions and share their panels, tutorials, skits, and reviews with their broad audience on social media and their YouTube channel. Some of Uptown's most beloved cosplays include Chat Noir from "Miraculous Ladybug", Lotor from "Voltron: Legendary Defender", and Grell from "Black Butler".
Kai Lockhart
Cosplay Lip Sync Showdown Judge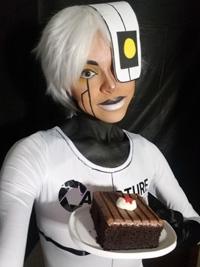 Kai Lockhart has been cosplaying for almost 10 years and has been a gender-fluid drag performer for 3+ years! They enjoy being fun and goofy, as well as always entertaining others to make them laugh and smile. Kai has judged lip sync contests for 2 years now and loves to see and encourage others to give it a try and to have fun!
Join us for the Cosplay Lip Sync Showdown, where cosplayers of all ages get on stage and lip-sync for their lives.
Entry Methods
Online applications are due by Saturday, October 24, 2020, (deadline extended) at 11:59pm.
Eligibility
All participants must read and agree to follow all rules of the Cosplay Lip Sync Showdown.
Performances previously entered in a Kumoricon Cosplay Lip Sync Showdown are ineligible.
By registering for the Cosplay Lip Sync Showdown, all participants agree to allow Kumoricon to use their images for promotional purposes, both photographs and video. Photographs of winning entries may be shown at the Kumoricon Closing Ceremonies.
All event policies must be upheld during the entirety of the Cosplay Lip Sync Showdown competition. Anyone breaking Kumoricon rules will be disqualified.
Kumoricon regular staff may enter Cosplay Lip Sync Showdown as long as staff-related responsibilities are fulfilled.
Kumoricon board members may not compete in the Cosplay Lip Sync Showdown.
How to Enter
Sign-up for the DigiKumo 2020 Cosplay Lip Sync Showdown is now open.
The deadline for online entry is October 24, 2020, (deadline extended) at 11:59pm.
This year, participants will submit their performances online. To do so you must:

Submit a 3-minute video of your final lip sync performance.
*(optional) Submit a video of your Showdown performance.
*A link to Showdown audio and the Showdown video upload form will be sent with your confirmation email upon receiving your application. To be considered for the Showdown (and Champion Title), please make sure to upload your Showdown video performance based on the Showdown audio.
Please do not use filters (TikTok, Snapchat, etc.) on your video. Any video with heavy filters will not be considered.

Entrants will be chosen by a small panel of judges and contacted within a week of the submission deadline.
The chosen performance videos will be played fully during the Virtual Lip Sync. Requested descriptions will be read by our hosts before the performance and judges comments will be read after for each contestant.
The Showdown videos of our 2 finalists will be played side-by-side for our Finale and our Champion will be decided by the hosts, live, day of.
General Information
Kumoricon is an all-ages-friendly event. Content should not go beyond a mild PG-13.

Offensive language of any kind is not allowed—no racial or sexual epithets; no profanity, etc.
No excessive violence.
All sexual jokes must have a non-sexual interpretation that is at least as obvious as the sexual one.
No nudity—all costumes must adhere to the official Kumoricon rules.
Be clever, not crass! If you think your costume or presentation might be too risqué or offensive, it probably is.
If you have a question about your content, please feel free to ask the Lip Sync Staff if it is allowable.

Contestants may not use performance time to make political, religious, insulting, or other demonstrations not related to their entry.
All decisions made by the Lip Sync Coordinator or Director of Programming are final and may only be changed by a formal challenge though Programming.
Judging
Contestants are judged solely on their performance. Costume construction has no influence on the performance judging.
All entrants must give a performance.
Judges Comments will be read for each performance as not everyone is able to be present for the live show; safety comes first.
Each contestant will appear in only one entry video.
The judges are free to give as many or as few awards as they choose.

Awards may include: Judge's Choice, Audience Choice, and the Ultimate Showdown Award.
Performance
Performance will be judged based on the performance of the contestant/whole group.
Performance awards are granted to the entries that have shown excellent virtual presentation.
Costumes do not have to be self-made.
No entry may be a repeat of an entry from any previous competition at Kumoricon.
Staging guidelines for filming:

"Waist-up" Performances – Filmed vertically, "TikTok style", no edits, one take. You may not use filters, speed changes, or visual effects in your performance. You may take advantage of the smaller frame and close up potential.
"Full Stage" Performances – Filmed horizontally. No edits, one take. You may not use filters, speed changes, or visual effects in your performance. You may take advantage of a full-body approach and utilize your space to the best of your ability.
Song Selection
Entry is limited to one (1) entry per person/group.
Songs may be from any category, but are limited to 3 minutes.
No heavily edited audio (added voice lines, original medleys, etc.). Published "mashups" are acceptable. Editing for time is okay.
The "Showdown": Performance to the Same Song Clip
You can't have a true showdown without a face-off Finale! Contestants will be given a song clip of Judge's choice prior to the event. The top two contestants' videos will be played live for the judges to decide the winner and Virtual Lip Sync Champion!
Please email our Lip Sync team with any questions at lipsync@kumoricon.org.