Cosplay Lip Sync Showdown
Meet Our Judges and Hosts
Kai Lockhart
Cosplay Lip Sync Showdown Judge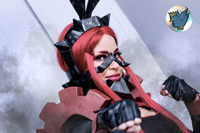 Kai Lockhart is a Pacific Northwest cosplayer and drag performer who thrives to entertain and make people laugh and smile. Coming from Kennewick, WA, they love meeting new people and sharing their talents with others as well as teaching others how to perform.
Kai has been cosplaying for almost ten years now, and performing in drag for almost three years. Considered a "drag peacock", they never enter the stage without some sort of glitz and glamour. But they also believe that anyone can perform if they have the heart and drive to do so. Kai is also currently the host of their very own drag show titled "Haus of H.A.R.T" which stands for "Humor And Ridiculous Talent". Their shows include various types of performances as well as other cosplay performers!
Yu Puffin
Cosplay Lip Sync Showdown Judge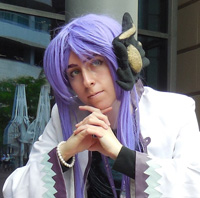 Yu Puffin, our 2018 Champion, returns to judge this year's competition. Yu Puffin is a costumer and performer from the Seattle area who began their cosplay adventures with Vocaloid in 2011 alongside their cosplay group, The Muffin Society. A primarily self-taught dancer, they have performed on stage in a number of live events at fandom conventions around the Pacific Northwest since their first cosplay skit at Kumoricon 2014. Despite their awkwardness offstage, Yu lives for cosplay and performance and loves to make new friends with similar interests.
KionCloud
Cosplay Lip Sync Showdown Judge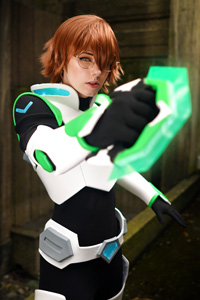 With a love for creativity and a passion for hands-on crafts, KionCloud found themself intrigued with the idea of cosplay when it was first introduced into their life. Kion began their own cosplay journey in the autumn of 2013 about a year after discovering the exciting new hobby. They enjoy honing their skills in the many artistic aspects of cosplay encompassing making costumes, creating YouTube videos, as well as in-person performances in front of audiences. While attending several cosplay and Japanese cultural conventions throughout Washington and Oregon, Kion has participated in many live events including cosplay chess and several in-character panels. In addition to enjoying the various facets of cosplay they also strive to be a positive influence in the cosplay community and enjoy the interactions they have with their followers on social media platforms such as Instagram. KionCloud loves meeting and seeing new faces so don't hesitate to say hello!
Momma Sammu
Cosplay Lip Sync Showdown Host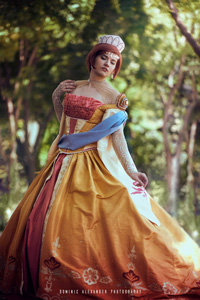 A native of Portland, OR, Momma Sammu was raised attending fantasy and sci-fi cons, but attended her first anime convention (Kumoricon) in 2006. She has been hooked on cosplaying ever since, now with over a decade of sewing and crafting and six years of heavy competition experience under her belt. In that time she has competed at conventions across the country and abroad, taking home over a dozen top awards in performance and craftsmanship. In 2017 she started running and hosting the Cosplay Lip Sync Showdown, which she considers her baby.
Outside of con, Sammu is a full-time Twitch streamer, devoting most of her time to live work sessions on her channel. Her goal is to share her love and knowledge of cosplay, along with a positive attitude, with as many people as possible.
Uptown Cosplay
Cosplay Lip Sync Showdown Host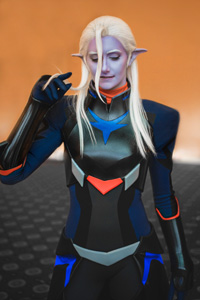 Uptown is a cosplayer who has been creating their own costumes and styling wigs by hand since they began in 2012, gaining recognition for their highly successful in-character panels and lip sync performances on their YouTube channel. They host many events at conventions primarily around the Pacific Northwest and share their panels, tutorials, and reviews with their broad audience as a social media personality. Some of their most beloved cosplays include Chat Noir from Miraculous Ladybug and Lotor from Voltron: Legendary Defender. Uptown loves meeting new people and encourages you to never be afraid to say hello!
Photo credit: Kictor Cosplay
Join us for the Cosplay Lip Sync Showdown, where cosplayers of all ages get on stage and lip-sync for their lives.
Entry Methods
Online entries are due by Sunday, October 13, 2019, at 11:59pm.
If there are still available slots after the online form closes, we will accept in-person applications at the Programming Booth until 6pm on Friday, November 15, 2019. The in-person form will replace the online form on the website once the online form closes. Please come with your music and printed lyrics.
Eligibility
All participants must have a Kumoricon 2019 badge.
All participants must read and agree to follow all rules of the Cosplay Lip Sync Showdown.
Performances previously entered in a Kumoricon Cosplay Lip Sync Showdown are ineligible.
By registering for the Cosplay Lip Sync Showdown, all participants agree to allow Kumoricon to use their images for promotional purposes, both photographs and video. Photographs of winning entries may be shown at the Kumoricon Closing Ceremonies.
All convention policies must be upheld during the entirety of the Cosplay Lip Sync Showdown competition. Anyone breaking Kumoricon rules will be disqualified and reported to Operations or Yojimbo.
Kumoricon regular staff may enter Cosplay Lip Sync Showdown as long as staff-related responsibilities are fulfilled.
Kumoricon Board members may not compete in the Cosplay Lip Sync Showdown.
How to Enter
Applications for the Kumoricon 2019 Cosplay Lip Sync Showdown are now open.
The deadline for online entry is October 13, 2019, at 11:59pm. At-convention sign-ups may be available should any open slots remain.
The maximum number that will be allowed this year will be 18 acts.
This year, participants will be required to audition for the contest. To do so you must:

Submit a 1-minute video of you performing a lip sync. This does not have to be fancy; we just need to be able to see your face and hear the music/lyrics. Please do not use your competition performance for your audition.
Please do not use filters (TikTok, Snapchat, etc.) on your audition video. Any with video with heavy filters will not be considered.

Entrants will be chosen by a small panel of judges and contacted with a week of the submission deadline. The top 5 entries not in the show will be put on a waitlist.
Entrants are required to attend the Check-In and Rehearsal and to show up at the requested time for the contest itself. Entrants who miss any of these events may be disqualified. This applies to waitlisted entries as well up until check-in. Please see the official Kumoricon schedule (once released) for times and locations of required meetings and activities.
General Information
Kumoricon is an all-ages-friendly event. Content should not go beyond a mild PG-13.

Offensive language of any kind is not allowed—no racial or sexual epithets; no profanity, etc.
No excessive violence.
All sexual jokes must have a non-sexual interpretation that is at least as obvious as the sexual one.
No nudity—all costumes must adhere to the official Kumoricon rules.
Be clever, not crass! If you think your costume or presentation might be too risqué or offensive, it probably is.
If you have a question about your content, please feel free to ask the Lip Sync Staff if it is allowable.

You may surprise the audience, but never surprise the crew.
No fire, flame, smoke, fog, dry ice, wind machines, lasers, pressurized gases or liquids.
No messy substances—wet, dry, or oily—in the green room or on stage.
No jumping on or off stage—please use the officially designated stage entrances and exits.
Entrants must abide by the convention weapons policies. All weapons must be peace-bonded and approved. Pointing weapons at anyone not in your cosplay group will not be tolerated. The Lip Sync Coordinator must approve any actions involving weapons.
Contestants may not use stage time to make political, religious, insulting, or other demonstrations not related to their entry.
If for whatever reason one contestant is removed from competition for any violation, the entire group may be disqualified as well depending on the situation.
All decisions made by the Lip Sync Coordinator or Director of Programming are final and may only be changed by a formal challenge though Programming.
You must have some kind of foot covering. Shoes, sandals, or boots are required. Be aware of safety concerns. If your character does not wear shoes the lack of accuracy will be forgiven; consider flesh-toned or clear shoes.
Judging
Contestants are judged solely on their performance. Costume construction has no influence on the performance judging.
All entrants must give a performance.
Contestants will be assigned a numerical score by each judge based on showmanship and presentation. In addition, "Coolness Points" can be earned. Coolness Points can be earned for anything which, simply, in the judge's determination, is cool, and can add an additional bonus to the score. The scores from each judge are then tallied to come up with a total score for the contestant.
Each contestant will appear in only one stage performance.
The judges are free to give as many or as few awards as they choose.

Awards may include: Judge's Choice, Audience Choice, and the Ultimate Showdown Award.
Performance
Performance will be judged based on the performance of the contestant/whole group.
Performance awards are granted to the entries that have shown excellent stage presentation.
Costumes do not have to be self-made.
Contestants must provide their own music.

File uploads are preferred for online entries.
Alternately, you may deliver your file by USB thumb drive or CD.

For this method, please include your person/group name and performance name in the filename. (File uploads for online entries will be automatically renamed by our system, so the file name on your computer does not matter.)
One track is preferred; we cannot change tracks or start in the middle of a track.

We can accept MP3, M4A, and other common file types. We strongly prefer 128kbps or higher.
Recorded music must be clear to hear.
Do not submit valuable original CDs. Bring backup copies of your audio on USB thumb drive or CD to ensure it's not lost. Kumoricon is not responsible for damage to or loss of CDs or any other media.
Clearly label your back-up CD with person/group name and performance title.
We will not play or rip music off portable MP3 players, such as iPods or cell phones.

Leave the stage as clean as it was when you set foot on it. Arrange to remove all items you brought on stage at the end of your presentation. If you have a particularly intricate presentation, we recommend you recruit your own stage ninjas.
No entry may be a repeat of an entry from any previous competition at Kumoricon.
Don't plan for complex lighting. The default lighting cue is: lights go up, music starts, you come on at stage right, you leave on stage left, music stops, lights go down. If you desire anything other than default lighting or music cues, discuss it with the Lip Sync Coordinator before the convention.
Song Selection
Entry is limited to one (1) entry per person/group.
Songs may be from any category, but are limited to 3 minutes.
You must include the lyrics for the song you are using so that we may review for approval. If the song is not in English, you must include lyrics in the original language and the English translation.
No heavily edited audio (added voice lines, original medleys, etc.). Editing for time is okay.
Be prepared to perform at least two different songs. If two people have the same song, one or both will be asked to sing an alternate song.
The "Showdown"
You can't have a true showdown without a face off! Contestants will be given a song of Judge's choice prior to con to practice for the final lip sync performance! The top two contestants will face off at the end of the event for the Ultimate Showdown Award!
Check-In
Important: If chosen, you must check yourself in at Main Events (time to be determined—see schedule once it is released) to confirm your spot in the Cosplay Lip Sync Showdown.
Please email our Lip Sync team with any questions at lipsync@kumoricon.org.