The Umbrella: Late Night Lounge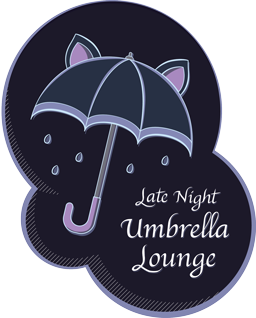 Kumoricon is excited to announce the return of our premier anime bar, The Umbrella: Late Night Lounge, featuring a custom drink menu designed around our Guests of Honor as well as your well classics. Cash and credit cards are accepted. You must be age 21+ to enter, so have your ID ready!
Hours of Operation
Friday: 8:00pm-2:00am
Saturday: 9:00pm-2:00am
Last call is 12:00 midnight!
Late Saturday night, Ciarán Strange humbly requests to borrow you tonight in the Anime Bar for some bizarre tour tales, singalong-worthy covers, and hilarious geeky parodies! D&D dudebros, convention horror stories, road trip blunders, #nerdproblems, and even poop (yes, we said poop). Nothing is off the table as the British punk and his lieutenant dork Dave share some songs and stories that will leave you snickering for weeks.
Featured Drink Menu
The Umbrella Special
vodka | blue curacao | sweet & sour $8.5
Round Face
vodka | triple sec | lemon juice | cranberry juice $8.5
Looters Remorse
rum | midori | sweet & sour $8.5