The Umbrella: Late Night Lounge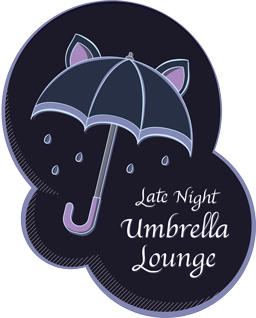 Kumoricon is excited to announce the return of our premier anime bar, The Umbrella: Late Night Lounge, featuring a custom drink menu designed around our Guests of Honor as well as your well classics. Cash and credit cards are accepted. You must be age 21+ to enter, so have your ID ready!
Hours of Operation
Friday: 8:00pm–2:00am
Saturday: 8:00pm–2:00am
Saturday night at 8:00pm, Caleb Hyles invites you to enjoy an evening with him as he plays smooth jams and entertains in the lounge. We hope you come to enjoy our little slice of comfort at the Hyatt Regency Portland at the Oregon Convention Center!
Custom Drinks
Friday Specials: $13.00
King of the Mountain
Vodka, Blue Curaçao, Lemonade
The Sojiro
Whiskey, Simple Syrup, Bitters, Orange, Cherry
One Punch Till Sunrise
Tequila, Orange Juice, Cranberry Juice
Mocktails: $13.00
Ghost Neko
Lemon Juice, Simple Syrup, Ice, Sugar
Dark Ghost Neko
Lime Juice, Mint, Blackberries, Simple Syrup, Club Soda
Chibiusa
Cranberry Juice, Lime Juice, Club Soda
Saturday Specials: $13.00
Gojo's Unlimited Void
Rum, Coke, Lime
UwU-Woo
Vodka, Peach Schnapps, Cranberry Juice
Black Swordsman
Gin, Blackberries, Lemon Juice, Simple Syrup, Soda Water
Mocktails: $13.00
Ghost Neko
Lemon Juice, Simple Syrup, Ice, Sugar
Dark Ghost Neko
Lime Juice, Mint, Blackberries, Simple Syrup, Club Soda
Chibiusa
Cranberry Juice, Lime Juice, Club Soda