Idol Festival
Do you enjoy watching J-pop and K-pop performers show off their dance moves? Are you a fan of idol anime? Then come cheer on your favorite idol group at the first ever Kumoricon Idol Festival, or show off a few moves of your own.
Meet our hosts
Lilium Stars
Idol Festival hosts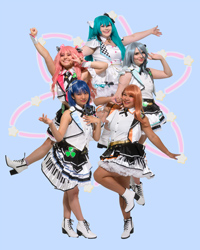 Lilium Stars is a cosplay dance group that performs at conventions all across the Pacific Northwest since 2022! Our goal is to share our passion for everything idol related and to help make the community inclusive! You might recognize some of us from performances held at Kumoricon, Sakura-Con, Northwest IdolFest, and Anime Revolution! Returning this Kumoricon, we are proud to be presenting: Aya as Hatsune Miku, Felix as Airi Momoi, Lightning as Minori Hanasato, Ems as Shizuku Hinomori, and Yunisa as Haruka Kiritani. We are excited to help put on a show for everyone at the first ever Kumoricon Idol Festival!
How to participate
The participants in the Idol Festival are chosen from among the convention attendees. If you are interested in participating, you must submit an audition folder, which will include an image of your costume and a video of your dance. Registration for Idol Festival is not first-come, first-served; participants will be selected based on the polish of your performance. The more prepared you are, the more likely you will be selected. Be certain to read the Idol Festival rules before you submit your audition.
This is a celebration of idol groups, not a competition, so have fun!
If you have any questions, please email idol.festival@kumoricon.org.
Eligibility
All participants must read and agree to follow all rules of the Idol Festival.
By auditioning for the Idol Festival, all participants agree to allow Kumoricon to use their images for promotional purposes, both photographs and video—both those submitted in the audition, and those taken by us.
All convention policies must be upheld during the entirety of the Idol Festival. Anyone breaking Kumoricon rules will be disqualified and reported to Operations or Yojimbo.
Kumoricon staff may participate in the Idol Festival as long as staff-related responsibilities are fulfilled.
How to audition
Auditions are currently open.
To apply, fill out the audition form on this page, once they open.
The deadline for online auditions is October 28, 2023, at 11:59pm Pacific Time. At-convention entries may be available should any open slots remain.
The maximum number that will be allowed will be 12 acts.
Participants will be required to audition for the festival. To do so you must:

Submit a 1:30 video of your performance. The video must contain a full view of your body majority of the time. All performing members must be in it, and it must be shot in one take.
Please do not use filters (TikTok, Snapchat, etc.) on your audition video. Any video with heavy filters will not be considered.

Participants will be chosen by a small panel of judges and contacted within a week of the audition deadline. The top 5 entries not in the show will be put on the waitlist.
Participants are required to attend the Check-In and Rehearsal and to show up at the requested time for the festival itself. Participants who miss any of these events may be disqualified. This applies to waitlisted entries as well up until check-in. Please see the official Kumoricon schedule (once released) for times and locations of required meetings and activities.
Soloists and groups under 5 individuals can have a setlist up to 5 minutes. Groups with 5 or more individuals can have a setlist up to 7 minutes.
Costumes do not have to be self-made.
Performances will be divided by the following:

Singing only
Dancing only
Singing and dancing

Please note for any singing groups, we can only have up to 4 microphones per group.
Content and performance rules
Kumoricon is an all-ages-friendly event. Content should not go beyond mild PG.

Offensive language of any kind is not allowed—no racial or sexual epithets; no profanity, etc.
No excessive violence.
No sexual activity or contact—real or implied.
All sexual jokes must have a non-sexual interpretation that is at least as obvious as the sexual one.
No nudity—all costumes must adhere to the official Kumoricon code of conduct.
No age 18+ material.
Be clever, not crass! If you think your costume or presentation might be too risqué or offensive, it probably is.
If you have a question about your content, please feel free to ask the Idol Festival Staff if it is allowable.

You may surprise the audience, but never surprise the crew.
No fire, flame, smoke, fog, dry ice, wind machines, lasers, pressurized gases, or liquids.
No messy substances—wet, dry, or oily—in the green room or on stage.
No jumping on or off stage—please use the officially designated stage entrances and exits.
Participants must abide by the convention weapons policies. Pointing weapons at anyone not in your Idol group will not be tolerated. The Idol Festival Coordinator must approve any actions involving weapons.
Participants may not use stage time to make political, religious, insulting, or other demonstrations not related to their performance.
Participants who violate any of our performance rules may have their performance stopped and may be disqualified.
If for whatever reason any person is removed from participation for any violation, their entire group may be removed as well depending on the situation.
All decisions made by the Idol Festival Coordinator or Director of Programming are final and may only be changed by a formal challenge through Programming.
You must have some kind of foot covering. Shoes or boots are required. Be aware of safety concerns. If your character does not wear shoes the lack of accuracy will be forgiven; consider flesh-toned or clear shoes.
All health and safety rules established by Kumoricon or the convention center will be upheld.
Leave the stage as clean as it was when you set foot on it. Arrange to remove all items you brought on stage at the end of your presentation. If you have a particularly intricate presentation, we recommend you recruit your own stage ninjas.
Don't plan for complex lighting. The default lighting cue is: lights go up, music starts, you come on at stage right, you leave on stage left, music stops, lights go down. If you desire anything other than default lighting or music cues, discuss it with the Idol Festival Coordinator before the convention.
Music selection
Entry is limited to one (1) entry per person/group.
Songs must be from or inspired by J-pop or K-pop idols.
You must include the lyrics for the song you are using so that we may review for approval. If the song is not in English, you must include lyrics in the original language and the English translation.
If you choose singing as part of your performance, songs must be karaoke tracks.
Be prepared to perform at least two different songs. If two performers have the same song, one or both will be asked to perform an alternate song.
Idol acts must provide their own music.

File uploads are preferred.
Alternatively, you may deliver your file by USB thumb drive.

For this method, please include your person/group name and skit title in the filename.
While more than one song is allowed to be performed, they must all be in one track; we cannot change tracks or start in the middle of a track.

We can accept MP3, M4A, and other common file types. We strongly prefer 128kbps or higher.
Recorded music must be clear to hear.
Bring backup copies of your audio on a USB thumb drive to ensure it's not lost. Kumoricon is not responsible for damage to or loss of your media device.
We will not play or rip music off of portable MP3 players, such as iPods or cell phones, or from YouTube.