Exhibits Hall
Hours
Friday, Nov 15: 11am - 7pm
Saturday, Nov 16: 11am - 7pm
Sunday, Nov 17: 10am - 4pm
Map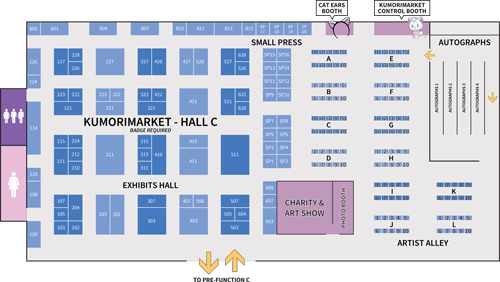 Exhibitors
| Booth | Name |
| --- | --- |
| 824 | KumoriMarket Staff Control Booth |
| 115 | Akiba Doujin Unlimited |
| 202 | Anime Palace |
| 321 | Anime Palace |
| 620 | Anime Pavilion |
| 114 | Anime Pop |
| 227 | Anime world |
| 807 | Animebooks.com |
| 609 | ARSENICxCYANIDE |
| 105 | AT&T |
| 204 | Bibisama |
| 307 | BISHIEBOX |
| 210 | Bishounen Boutique |
| 622 | Bling Up, Inc. |
| 628 | BottiVingelo |
| 211 | C&L Anime |
| 411 | Collectors Universe and Anime |
| 127 | Colorworld |
| 100 | cosplaymoomoo |
| 212 | Creators Guild |
| 111 | Darkmoon Faire |
| 815 | Delish Beads |
| 222 | digital discs |
| 503 | Discotek Media |
| 302 | Dragon Trading |
| 426 | Dragonsong Forge |
| 415 | EpicCosplay Wigs |
| 221 | Everett Comics |
| G301 | Evoloot Marketplace |
| 403 | FakeStar |
| 603 | FAKKU |
| 527 | Fanciful Gift, Pandahat.com |
| 813 | Gambits Cards & Hobbies |
| 311 | The Green Wolf |
| G100 | Ground Kontrol |
| G204 | Guardian Games |
| 128 | Hawthorne Cutlery / Bushido Designs |
| 521 | Hobbyfan.com |
| G200 | Japanime Games |
| 110 | JK2 Hawaii LLC |
| 226 | JPUSA Enterprises LLC |
| 526 | KINOKUNIYA - BEAVERTON |
| 126 | Kiru-co Kimono |
| 821 | Kumori Cat Ears |
| 811 | LunaCatz |
| 626 | Miss Haley's Handbags of Holding |
| 427 | Necropolis Tattoo |
| 121 | New Anime |
| 123 | Noms Designs |
| 223 | ohmonah |
| 422 | Portland Kpop Co. |
| G305 | Portland Retro Gaming Expo |
| 804 | Purple Plum Inc |
| 315 | SaberForge |
| 203 | Sean's Anime and Other Things |
| 228 | Senpai Squad |
| 313 | Senpais.jp |
| 103 | Shark Robot |
| 322 | Siamurai Apparel |
| 407 | Signing Booth 1 |
| 506 | Signing Booth 2 |
| 327 | Sorbet Jungle LLC |
| 107 | Stardreamer Studios |
| 622 | STL Ocarina |
| G304 | Tempest VR |
| 410 | Toy Mandala |
| 303 | ToysLogic |
| 124 | Trash Panda Sews |
| 106 | Triple Click Photo |
| 214 | Twinbells Doujinshi & Gifts |
| 421 | Uwajimaya Inc. |
| 323 | Valorous Games |
| 810 | Whitefox Hats |
| G307 | Wild Bill's Olde Fashioned Soda Co. |
| 507 | XP-PEN |
| 511 | Yes Anime |
Contact
Applications closed as of September 30. As of September 30, all Exhibits Hall application notifications have been delivered. All applicants have been notified that they were accepted, placed on the waitlist, or declined. If you have any questions or have not received an email, or if you would like to be placed on the waitlist, please contact us at exhibits@kumoricon.org.
To comply with legal requirements, all exhibitors are required to have a Portland Business License. Temporary registrations are available.
For Exhibits Hall participants, please contact exhibits@kumoricon.org and we will be happy to assist you. You may also refer to our Exhibits Hall Application FAQ.