Dungeons & Dragons Open – The Gangs of Waterdeep
Sign up to apply to be in the D&D open!
Teams are composed of 6 players. The open will have 14 teams.
Sign-ups close on October 23, 2018, at 11:59pm (deadline extended).
If you apply as a player, you will be assigned a team. If someone applies in more than one format, the first application will count.
The D&D Open is open to all to play! New or old players welcome! It uses Adventurers League Season 8 Rules. Please bring a pencil and dice. If you don't have dice, please show up early to check some out at the front desk, but supplies are limited.
Pregenerated Level 3 PCs will be provided to all players.
At the end of break there will be a DM costume contest!
Sponsored by: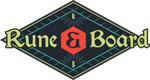 Open description
Gangs of Waterdeep is a Dungeons & Dragons adventure for the six 3rd-level pregenerated characters included with the adventure. Using characters other than those provided is not allowed, as the characters are created to fit specifically into the story and encounters of the Adventure. The D&D Open is a competitive event designed for multiple groups playing together. Players participating in the event can earn rewards that can be applied to one D&D Adventurers League character. Rewards can only be applied to a single DDAL character, as described on the official D&D Open reward certificate provided to players at the end of the event (see "Rewards"). The event runs for approximately 8 hours, with a break between the first and second round.
Open starts at 9am and ends at 6pm on October 27, 2018, at Kumoricon. A Kumoricon badge is required to play, as well as a DCI number. Attendees are required to check in at least 15 minutes before the open begins. 5 minutes before the open begins, all seats not filled will be given to those on the wait list.