Special Guest DJs at Kumoricon
Amanda Lepre
Singer-Songwriter – BytesAnBeats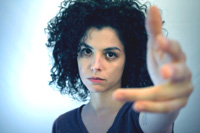 With rich soprano vocals and heavy acoustic riffs, Amanda Lepre's music feels like strapping on armor and suiting up for an epic journey. It is not difficult to picture the heroes of classic literature and video games that often inspire her songwriting.
Amanda Lepre (pronounced "leh-PREE") is a singer/songwriter whose stylistic approach encompasses a mixture of alternative-pop with acoustic metal influences. Her love for video games and their stories is evident in her melodies and lyrics.
Besides her work as a solo artist, Amanda is a live guitarist for rock icon Andrew W.K., as well as the frontwoman and guitarist for video game music tribute band Descendants of Erdrick. Amanda is based in Austin, Texas.
DJ R.O.C.K.M.A.N.
DJ – BytesAnBeats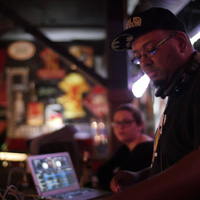 DJ R.O.C.K.M.A.N., is an Austin, TX, native who first touched a turntable at the early age of 3. Mentored by his father, a notable hip-hop DJ from California, Vince developed an early ear for doo-wap, funk, and classic hip-hop sounds which have stayed with him across the years.
Since the early 2000s, Vince has been playing shows in and around Austin, TX, with a specific focus on nerdcore while also weaving in hip-hop, R&B, house, and DnB into his sets where appropriate. He's opened for notable artists such as Quest Love, Mega Ran, Janet Jackson, and Random Movement and he runs several recurring parties including Blaxiumum Overdrive, Nerdcore Night, and DJ Sessions. He is also a part of the Everyday Junglist, Drum-Soul, and The Friday Night Get Down crews and is the official DJ of Classic Game Fest.
E-Turn
Singer-Songwriter – BytesAnBeats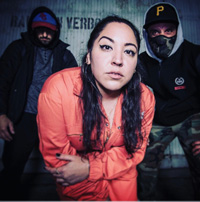 Orlando-based rapper/singer E-Turn released her 3rd album Young World (2018) on Fake Four Inc. Backed by the soulful, melodic boom bap of Swamburger (Solillaquists of Sound), E-Turn utilizes a multitude of deliveries and croons to issue a call to arms against the maladies of modernity, expressing hope that the tools at our disposal can be used for the greater good of humanity.
E-Turn grew up amongst mixed cultures. Her father came from Iran to America during the revolution, and her mom, a San Diegan of hispanic/native descent, had a volatile upbringing. E began singing at a young age, rapping in 7th grade, performing with a cover band at 17, and then open mic circuits at 19. Young World was created during a tumultuous stretch in E-Turn's life, marked by the highs of touring Europe and the lows of loss.
Drawing influence everywhere from Mos Def to Stevie Nicks, E's writing conveys urgency, mindfulness, and resilience in the face of pain. For many lost in the now, E-Turn's Young World offers hope that we can rise to the surface and find something real and lasting.
EyeQ
Singer-Songwriter – BytesAnBeats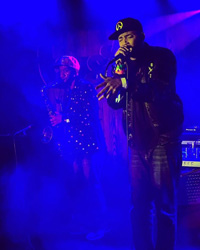 EyeQ is an Orlando, FL-based emcee, entrepreneur, event coordinator, content curator, and inspirational force of nature who consistently enraptures audiences around the US and internationally with his passionate live performances and powerful lyrics. Entering the hip-hop world as a videographer, EyeQ has worked behind the camera for your favorite rapper's favorite rapper, becoming an easy mainstay at festivals like A3C and SXSW in the process.
EyeQ has developed his own national reputation as an esteemed rapper, dominating main stages and after parties for some of the most important pop culture conventions in the U.S. These include Otakon, Anime Expo, PAX, San Diego Comic Con, MAGfest, and many others. His 2015 release, Walls of Maria, an Attack on Titan-inspired solo album, was heavily praised by entities such as Funimation and the official Attack on Titan brand.
EyeQ curates the official soundtrack for CEO Gaming, and actively works to coordinate events for numerous conventions and organizations around the US such as the Library of Congress. He is a co-founding member of the Nerdy People of Color Collective, where he works with many talented influencers to advocate for marginalized groups in nerd and geek spaces.
Lisa Vazquez
Singer-Songwriter – BytesAnBeats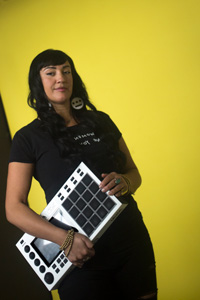 Lisa Vazquez is an Argentine-bred Wonder Woman in all aspects of her craft. A hip-hop / soul producer, vocalist, and multi-instrumentalist, Lisa blends worldly and jazz flavors with sultry vocals and deep lyrics all over a classic hip-hop thump to get you moving. She has shared stages with Just Blaze, Talib Kweli, Chali 2na, and KRS One while being featured at festivals such as Soundset, Summer Meltdown, and Oregon Country Fair. Lisa was also a finalist in the 2018 International Goldie Awards DJ and Beat Battle, garnering herself esteem in the eyes of well known producers and DJs.
Lisa is the answer to what hip-hop has been lacking in recent years. She creates her beats live, while layering her vocals to create a rich canvas for her lyrics and sultry vocals. Truly a one-woman show like no other. Lisa taps into her creative world further with her Beatmaking Series, Flip It Friday, which you can find on YouTube.
SkyBlew
Singer-Songwriter – BytesAnBeats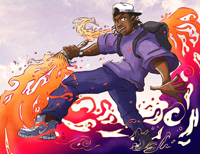 SkyBlew, is a young BUZZING emcee who resides in North Carolina by way of Auburn, Alabama. He is becoming the hip-hop voice for a new generation, with a NEW SOUND…
His music is very positive and inspirational but it still gets the fans attention with infectious beats and lyrics. This kid sounds like NOTHING out right now! Speaking from his life experiences such as: foster care, homelessness, etc, he uses his message in hopes to make a difference. He chose to rise above the dire circumstances and share his story. SkyBlew also uniquely incorporates anime, cartoon, and video game references/themes into his repertoire to create hip-hop like you've never heard before! He doesn't want to put himself in a box, so he strays away from putting certain labels on his style. He simply titles it Painting The Sky,Blew!!! Most say he is a breath of fresh air actually! Although he is an underdog, this young man still perseveres and has built a following that reaches far beyond the borders of the US. Following the narrative "I Don't Rap, I Paint The Sky,Blew!!!" he's the coolest nerd you ever heard!
SkyBlew has even created music exclusively for the the top anime company—Funimation!
SkyBlew is featured on some of the most notable websites in cyberspace such as: ABC News, NBC News, MTV, 2DopeBoyz, Afropunk, Impose Magazine, Earmilk, HotNewHipHop, Rapzilla, AXS TV, and countless others! Also, he received MAJOR recognition from ReverbNation as a "Break Out Artist" in their "ReverbNation Artists Shine" video!
SkyBlew has also opened for countless MAJOR acts including: Lupe Fiasco, Kendrick Lamar, Mega Ran, Curren$y, Flobots, Del The Funky Homosapien, Jedi Mind Tricks, Watsky, Slum Village, MC Lars, and many more!
SkyBlew is destined for GREAT things! His exposure is growing exponentially on the regional, national, and international levels. With over MILLIONS of views on YouTube, he is painting the sky an elevated shade of BLEW! His last 3 albums, which were released under Mega Ran's imprint, RandomBeats Music, debuted on the Bandcamp front page as BEST SELLERS, in the hip-hop category! SkyBlew was also nominated for the NCUMAS (North Carolina Underground Music Awards) 2012 Lyricist Award! His powerful music video/short film "Running in Place" won Best Music Video at the Rumschpringe International Short Film Festival, Great Lakes International Film Festival and more! He released multiple albums in South Korea that made it to their TOP 10 CHARTS! Also, he has a song on the album, "In Ya Mellow Tone 10 Anniversary Best" that made it to #1 on Japan iTunes charts! The nominations continue to soar! Legendary performances are in the making… Appointed times appear, and with the state of hip-hop today, we need more from SkyBlew!
TeddyLoid
DJ – Slipping through the Clouds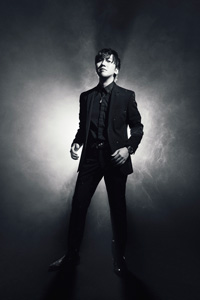 TeddyLoid started his career as MIYAVI's DJ and sound producer by joining his world tour when he was only 18 years old. He also produced the OST for the GAINAX anime Panty & Stocking with Garterbelt with ☆Taku Takahashi (m-flo). He has also had experience in units with Shibasaki Ko and DECO*27, established galaxias!, worked on the album "TOXIC" for the GazettE, and has produced "Neo STARGATE" for Momoiro Clover Z. Furthermore, he has provided BGM to the anime Mekakucity Actors.
TeddyLoid has also produced Vocaloid IA tracks and remixes, Square Enix's Mugen∞Knights, and WRECKING CREW ORCHESTRA's new long production SUPERLOSERZ SAVE THE EARTH, directed by Amon Miyamoto. In 2014 he produced the music for the viral hit short movie ME!ME!ME, which was visualized by Hibiki Yoshizaki from Studio khara and vocals sang by DAOKO.
TeddyLoid debuted as a solo artist by releasing his EP from King Records' EVIL LINE RECORDS in August 2014, "UNDER THE BLACK MOON" and his first album "BLACK MOON RISING" in September. In summer 2015, he started "Momoiro Clover Z×TeddyLoid Remix Project" and released an official remix album, "Re:MOMOIRO CLOVER Z". In Momoiro Clover Z's big summer event Momoshinsai 2015, he performed the opening act as DJ. In December of that year, he released his first collaboration product with 12 tracks and 14 sets of guests on "SILENT PLANET" as his original 2nd album. The guests included big names like Tetsuya Komuro, Yasutaka Nakata, HISASHI from GLAY, KOHH, and more. In 2018, TeddyLoid had a massive double album release, "SILENT PLANET: INFINITY" and "SILENT PLANET: RELOADED", also filled with guest artists like Virtual Riot, DAOKO, and Chanmina.
In 2016, TeddyLoid produced two tracks for HAL College of Technology & Design, one of which, titled "Daisuki with TeddyLoid", was a commercial with Hibiki Yoshizaki and vocals by DAOKO. The contrasting track "Daikirai feat. Chanmina" also garnered attention for featuring the up-and-coming Korean rapper Chanmina. Recently, TeddyLoid produced songs for the anime 18if and Space Patrol Luluco, Japanese musical legends Yuzu, and performed on Music Station Super Live with YouTubers HIKAKIN and SEIKIN. He also performed on Ultra Japan Festival's main stage in 2018.
www.teddyloid.com
Twitter: @TeddyLoidSpace
Instagram: @TeddyLoidSpace
DJ Remnant
DJ – Slipping through the Clouds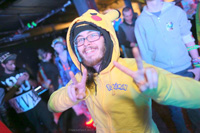 Remnant has been in the Portland/Seattle rave scene since 2005. After this time he decided to found a new production company in Portland called Shattered Emerald Productions. Over the last 3 years he has spent his time creating events and working at raves behind the scenes and behind the decks spinning J-core/happy hardcore to all who will listen. He has also as of 2018 has become a resident with HJU (Hardcore Junglist United) based in California. With his super kawaii beats Remnant aims to keep you dancing all night and beyond!
E*Tank
DJ – Slipping through the Clouds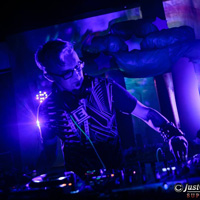 E*Tank is a producer and DJ of all things he finds the most energetic and raw. He has been diligently working with solo as well as in his tag acts, "Duo Dai Gu Ren" with Skellie as well as "Adamantium" with A.N.T. Along with his local success, E*Tank is also a proud resident artist of Hardcore Junglists United out of San Francisco and Ice Queen Productions out of Pennsylvania and has appeared at a large number of major anime conventions throughout the Midwest. This comes as no surprise when you hear how much he lets his adoration of retro gaming and nerd culture seep into his music and personality. He has several releases through Alby Loud's Loudcore and BWBO labels out of Mexico and has multiple tracks about to hit the scene through major hardcore/hard dance labels (spoilers!). Through these releases as well as a lengthy reputation of providing a uniquely intense experience in his sets, he is pushing harder than ever in his growing headliner status as he is constantly playing across the states.
His mixing is fast and flawless, his tracks are penetrating and wild, and his eagerness to provide a powerful performance has completely lived up to the "E" in his name—energy.
Shimotsukei
DJ – Slipping through the Clouds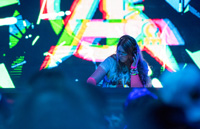 Shimotsukei is a multi-genre DJ and producer based out of Arlington, TX. She began DJing shortly after becoming involved with the Lucky Lotus Online Electronic Music Festival organized by DJ COSMiXXX.
Together with DJ COSMiXXX, she's run the Lucky Lotus Online Festival with great success, featuring many artists and DJs from all over the world, both big and small, representing a myriad of different styles. In 2014 she branched off from the Online Festival to start a net label under the Lucky Lotus name. She has since released 3 CDs in Japan at events such as Comiket and M3 featuring tracks of her own along with many of her biggest influences. In 2018 she made her live debut at Anime Expo, closing out the AX Dance with an over-the-top set that exceeded all expectations.
As a DJ, her style is greatly varied, playing countless different genres and styles with a special focus on freeform, funkot, J-core, and artcore. She loves to surprise her audience while creating a fun, emotional, and memorable atmosphere that keeps people wanting more, while her productions flirt the boundaries between gritty darkness and uplifting vibrance that toy with your emotions.