DigiKumo Lite Guests
Ciarán Strange
Voice Acting Guest of Honor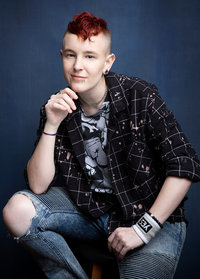 You may have heard him as foul-mouthed, under-caffeinated NPC Lorelei (Borderlands 3), or even as various Funimation simuldub characters (Mars Red, Astra Lost in Space, Infinite Dendrogram, Wonder Egg Priority, and more)—but IRL he's Ciarán Strange, an eccentric transgender/non-binary voice actor, Twitch affiliate, sci-fi author, mental health advocate, indie rocker, and multimedia artist. At the tender age of seventeen, he left his family, friends, and English fishing village behind in order to chase his dreams across the Atlantic!
The bed-headed redhead has become a familiar face throughout the American geek scene, in most parts via his music. After touring the US, UK, Canada, and Japan, performing at hundreds of shows, conventions, and festivals, Ciarán joined forces with kindred artistic spirit Dave Kitsberg (Spoony Bards, Time Crash). The two are now delving into geeky covers and parodies, as well as writing fresh original concept material in all sub-genres of pop-rock.
Musical ventures aside, this British import to the States has been swept up in the launch of his LGBTQ+ urban sci-fi series. Its debut novel, Black Tie by Ciarán Strange, is a M/M political thriller he's pitched as "gay James Bond navigating a world of superheroes". An audiobook version (starring Jesse Nowack, Dani Chambers, Mike McFarland, Elisa Melendez, Ricco Fajardo, Brandon McInnis, Daman Mills, Tyson Rinehart, Emi Lo, Elizabeth Maxwell, Danielle McRae, and many more of your favorite voiceover stars from anime and gaming!) is due out summer 2021.
In what little free time he has, Ciarán streams video games and digital drawing on his Twitch channel, TheCoffeeCommander; its dedicated fans pushed him to affiliate status within one week and continue to passionately support him. He enjoys musical collaborations, wrestling and fitness, living the doggo dad life, and promoting cosplayers and artists within the fandom!
ciaranstrange.com | @ciaranstrange
Billy Kametz
Voice Acting Guest of Honor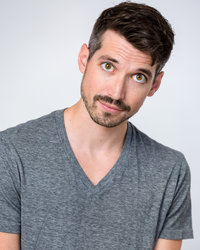 Billy is an actor from Hershey, Pennsylvania, who now lives in the Los Angeles area. He came to California 5 years ago to play Aladdin in Aladdin: A Musical Spectacular in Disney California Adventure. Since that time Billy has been fortunate enough to lend his voice to many popular anime, video games, and cartoons. You can hear Billy as Josuke in JoJo's Bizarre Adventure, Ferdinand von Aegir in Fire Emblem: Three Houses, Galo in Promare, Rui in Demon Slayer, White Blood Cell in Cells at Work!, Osomatsu in Mr. Osomatsu, Dr. Maruki in Persona 5 Royal, and Naofumi in The Rising of the Shield Hero, for which he won the Crunchyroll Award for Best Voice Acting Performance (EN)! Keep up with Billy on Twitter and Instagram.
Faye Mata
Voice Acting Guest of Honor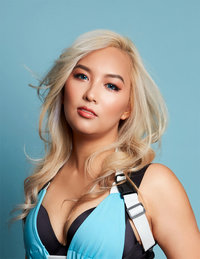 From gaming to voice acting, Faye Mata is an advocate of chasing dreams. She's best known for playing the roles of Aqua (Konosuba), Astolfo/Rider of Black (Fate/Apocrypha), Yukako Yamagishi (JoJo's Bizarre Adventure), and Lulu (League of Legends).
She is also known as Sailor Aluminum Siren (Sailor Moon), Princess Malty (Rising of the Shield Hero), Miyu/Fukaziroh (Sword Art Online Alternative: GGO), Rin Hoshizora (Love Live!), Neon Nostrade (Hunter × Hunter), and Kagami (Miraculous Ladybug). Some game roles are NiCO (Dead or Alive 6), Lene (Fire Emblem Heroes), and Daria and Lishenna (Shadowverse).
Faye also competed semi-professionally in video game tournaments around the world such as EVO, CEO, and Pokémon Worlds under the gamertag "Princess Aura", the same name she used as a competitor on national reality TV show WCG Ultimate Gamer (SyFy). Faye brings a lot of fun and energy to cons and currently enjoys challenging people to 1v1 battles in Super Smash Bros. Ultimate. Follow her on Twitter at @FayeMata, and Instagram at @fayematata!

Musical Guest of Honor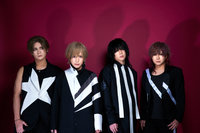 ACME is a visual kei band that formed in 2017 consisting of former DIV vocalist CHISA and guitarist SHOGO, former ARTEMA drummer HAL, and bassist RIKITO.
The name of the band means "the vertex of evolution" and the band concept is "Delinquent boys from another world". Well known for their post-hardcore sound and colorful "oshare" style visuals, ACME are quickly rising in the visual kei scene.
Their first mini-album release in August of 2017, "SENKOU", sold out first press copies nationwide. ACME's second single release "ROTTEN ORANGE" also had the track "CALL MY NAME" featured in the movie "Namae no nai onna tachi: Usotsuki Onna", starring Mitsuru Fukikoshi.
At Anime Expo 2018 in Los Angeles, CHISA walked the AX Fashion Show runway for Harajuku fashion designers KINGLYMASK, LISTEN FLAVOR, and HYPER CORE. ACME made their overseas debut performance at Anime Milwaukee 2019 and returned in June of that year at A-Kon in Dallas. ACME headlined a tour in January 2020 in 4 cities along the US west coast.
ACME Official Band Pages:
Website | Facebook | Instagram | Twitter | Spotify | YouTube
Band Member Official Pages:
CHISA: Twitter | Instagram
SHOGO: Twitter | Instagram
HAL: Twitter | Instagram
RIKITO: Twitter | Instagram