DigiKumo Cosplay Contest
DigiKumo Cosplay Contest
Prizes sponsored by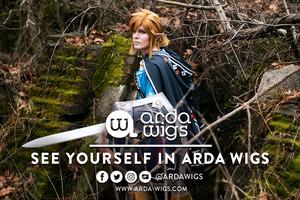 Entry Form
Online entries are due by October 31, 2020, at 11:59pm. The entry form is available on this page, below the rules.
If you have any questions, please email cosplay@kumoricon.org.
Eligibility
All participants must read and agree to follow all rules of the Cosplay Contest.
Costumes previously entered in a Kumoricon Cosplay Contest are ineligible.
By registering for the Cosplay Contest, all participants agree to allow Kumoricon to use their images for promotional purposes, both photographs and video. Photographs of winning entries may be shown at the Kumoricon or DigiKumo Closing Ceremonies.
All event policies must be upheld during the entirety of the Cosplay Contest. Anyone breaking event rules will be disqualified.
Kumoricon regular staff may enter the Cosplay Contest as long as staff-related responsibilities are fulfilled.
Board members may not compete in the Cosplay Contest.
Contests
This year we are running two separate Cosplay Contests.
Social Media

Just post any photo of your cosplay to Twitter or Instagram with #digikumocosplay between October 1-31. Top 10 will be selected by judges and then the DigiKumo audience can vote for their favorite.

Cosplay Portfolio Review

Traditional cosplay judging done via digital portfolio review.
How to Enter
Entries are now open. To sign up, fill out the Cosplay Contest entry form on this page, below these rules.
The deadline for entry forms received online is October 31, 2020, at 11:59pm.
The total number of entries that will be allowed this year will be 30 cosplay portfolios.
All entries are taken on a first-come, first-served basis. If all entry slots are full, there will be a waiting list for additional entrants who may be called in if anyone drops out or is disqualified.
General Information
Kumoricon is an all-ages-friendly event. Content should not go beyond mild PG.

Offensive language of any kind is not allowed—no racial or sexual epithets; no profanity, etc.
No excessive violence.
No sexual activity or contact—real or implied.
All sexual jokes must have a non-sexual interpretation that is at least as obvious as the sexual one.
No nudity—all costumes must adhere to the official Kumoricon code of conduct.
No yaoi, yuri, or hentai.
Be clever, not crass! If you think your costume or presentation might be too risqué or offensive, it probably is.
If you have a question about your content, please feel free to ask the Cosplay Staff if it is allowable.

You may surprise the audience, but never surprise the crew.
If for whatever reason one contestant is removed from competition for any violation the entire group may be disqualified as well depending on the situation.
All decisions made by the Cosplay Coordinator or Programming Director are final and may only be changed by a formal challenge though Programming.
Judging and Awards
There is a judging panel for the Cosplay Portfolio that will select and grant its own awards.
The judges are free to give as many or as few awards as they choose.
Cosplay Portfolio
The Costume Portfolio awards are based on the following factors:

Adaptation:

Representation of your costume to the character design.
Skill in scale and body fit adaptation.
Resemblance to character shown in documentation.

Overall Construction:

Use of materials, construction methods and durability.
Use of appropriate or innovative methods and applications.

Extra points may be awarded at the judges' discretion for construction done above and beyond the normal effort expected for a costume.

All costumes from all genres and media are accepted for DigiKumo's Cosplay Portfolio review, including original designs as a separate category.
One costume will be allowed per entrant.
Reference pictures will be required. This includes screen captures, posters, or any other official media that reveals the character's full costume. The pictures should reveal different views of the character (i.e. front, back, sides). Do not assume judges know your costume or character! You will be required to submit reference pictures when entering.
Commissioned, purchased, rented, or commercially made costumes will not be allowed to enter the Cosplay Portfolio contest. A portion of the costume (such as a leotard, tights, or shoes) may be from purchased finished goods, but at least 60% of the costume should have been constructed by the creator of the costume. More is expected if you are entering as Journeyman or Master.

If you have made heavy alterations to a store-bought garment and wish to enter it into the contest, you must be able to explain how you have altered it and the processes that such an endeavor entailed. Unaltered store-bought assemblies of clothing to represent a "costume" are not allowed.

Costumes worn for any previous competition at Kumoricon are ineligible.
Skill Levels
To ensure that entrants with limited experience compete with their peers and not against more experienced entrants, skill levels have been established. Entrants may elect to enter different skill levels for Cosplay Portfolio. The judges will assess entries of higher skill levels using stricter criteria.
For costume judging, these rankings apply to the costume maker, not the wearer as they are for construction, not presentation.
Group entries will be judged at the highest division amongst your members.
Master
The Master category is intended for skilled cosplayers with extensive cosplay experience and several awards.
Those competing in the Masters Costume category must submit a portfolio showcasing progress of their costume and a minimum of three previous costumes to judging.
Professional costumers, tailors, pattern-makers, seamstresses or people who take commissions for creating costumes or other clothing are required to compete at this level for Construction.
Anyone who has won two or more awards as a Journeyman, or
An individual who has achieved "Master" status at any other major convention, or
Anyone who chooses to compete in this division may do so.
Journeyman
The Journeyman category is intended for people with some cosplay experience and/or some awards.
Those competing in the Journeyman Costume category must submit a portfolio showcasing progress of their costume to judging.
Has won fewer than two awards as a Journeyman, or
Has won at least two awards in the Novice category, or
Anyone who is not required to compete as a Master and who chooses to compete in this division.
Novice
The Novice category is intended for people with virtually no Cosplay Contest experience or cosplayers with little to no prior experience competing.
First-time performers and/or costumers fit here.
Any group with at least one member who is old enough to not qualify for the Youth division, or a Youth group that prefers to compete in the Novice division.
Anyone who has never won an award in a cosplay competition at any convention.
Youth
All members of the group are 14 or younger on the day of DigiKumo.
For Construction: Contestants beneath the age of 14 on the day of the competition who have created at least 50% of their costume on their own (if an adult created the costume, the costume is entered under the Adult's skill level).
Original Design
Original Design will be treated as a separate competition. Contestants in this division will not be competing against the other divisions and are ineligible for Best of Show.
Costumes that are considered original design are as follows: gijinkas, genderbends, characters with no published artwork, fan art designs, and original video game characters, etc.
Original Designs will be judged solely based on construction.
Original Design contestants must submit a portfolio of all reference/inspiration material and progress photos to judging.
Please note that any entry may be reclassified by the organizers or judges if they feel it is appropriate.
Social Media Contest Rules
How to enter:
Post on Twitter or Instagram using #digikumocosplay any picture of your cosplay.
Deadline: 11:59pm, October 31, 2020
The top 10 will be selected by our in-house judges and will be highlighted during DigiKumo. The winner will be selected by vote of attendees.
The top 10 will receive a small thank-you gift.
By entering this contest, you give Kumoricon permission to use your photo for marketing surrounding DigiKumo 2020 and Kumoricon 2021.
Sample Portfolio
Reference Photos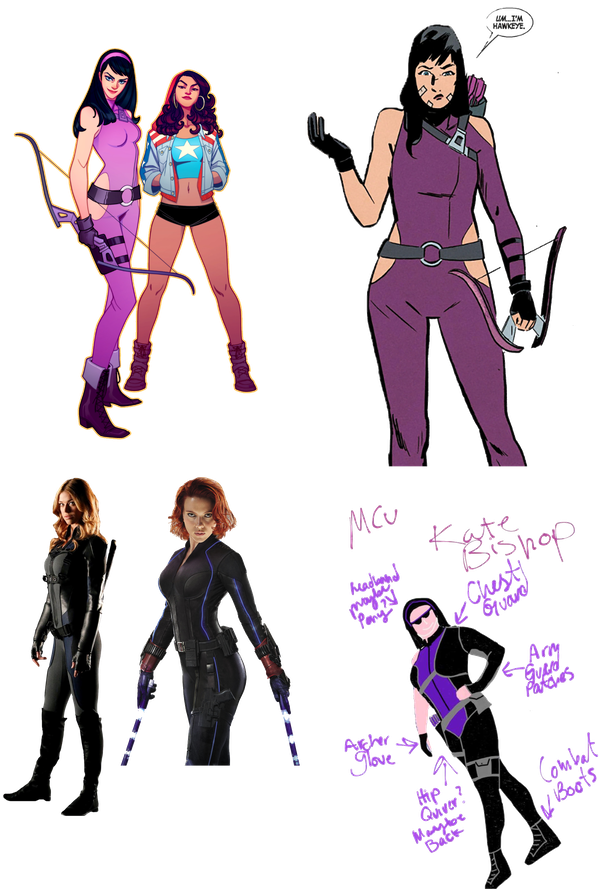 Progress Photos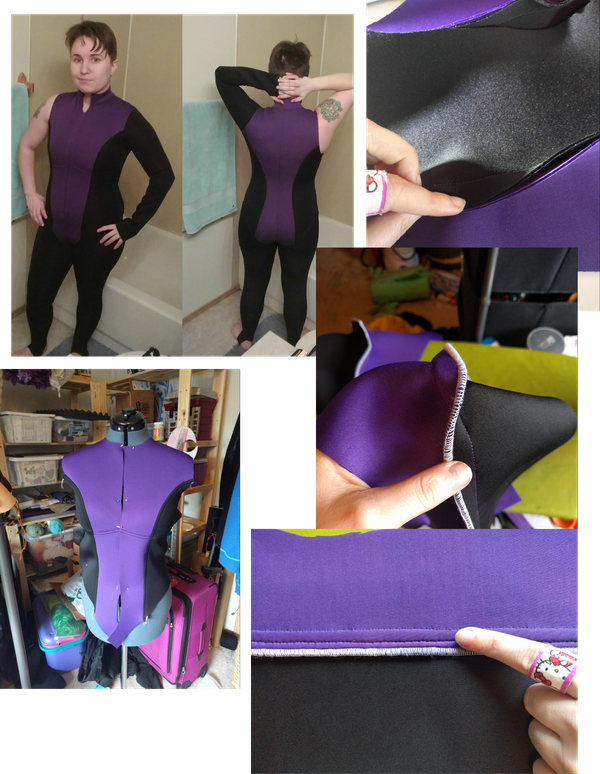 Kate Bishop – Hawkeye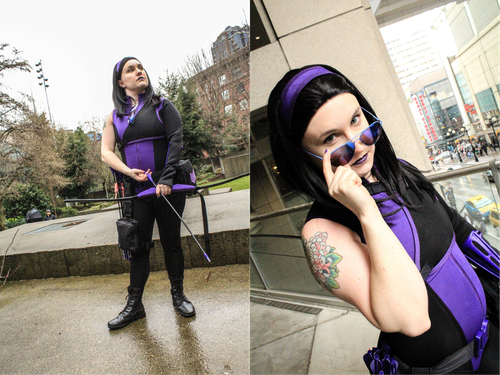 Previous Costumes