Kumoricon Lite Schedule
↵ Return to Kumoricon Lite main page
Schedule
Overall event hours are 10:00am to 11:00pm.
Make sure to scroll or swipe left and right to see all rooms!
Map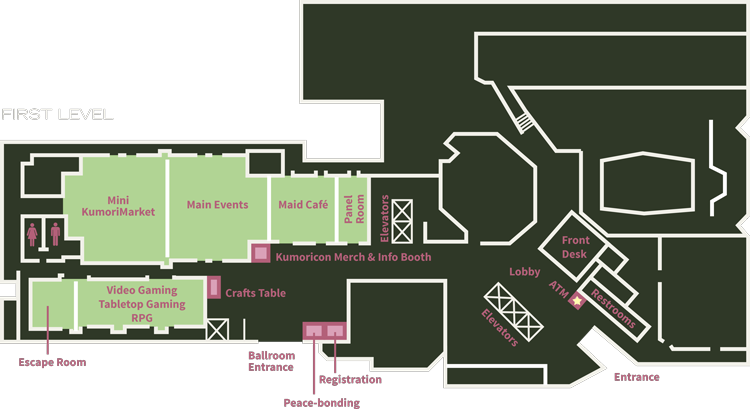 Event Descriptions
Additional events are described on the main page. Some panels in the schedule above do not have descriptions.
See if you can defeat your fellow otaku as you battle your way through trivia categories presented in a unique format that is in no way a rip off of a popular TV game show. Now with half the calories! Answer in the form of a question to receive fun prizes and show off your brains.
Is there a cosplay you've always wanted to make, but you don't know where to start? Wigs or props giving you a headache? Why not ask the experts? A panel of Cosplay Senpais has been assembled to help you on your quest to make that dream cosplay. Bring your questions and we will do our best to answer.
Looking to enter the cosplay contest but don't know where to start? Have a killer idea for a skit but having a hard time putting it down on paper? Confused about stages and all that audio stuff? Zaxel is here to help! In this panel we'll be going over the process of creating a skit for the cosplay contest, from conceptualization to finalization. Zaxel has been a long-time member of The Anime Hunters, a group that has won multiple awards for their skits, and he wants to help you!
So you think you can cosplay? Good news—you're right! Raiphin Cosplay brings 16 years of experience and exploits ready to take on anything you've ever wanted to know about the cosplay experience. Sewing? Props? Photos? There's more to the story than hot glue and hope! But definitely have both on hand, just in case.
"Yes AND." From Whose Line Is It Anyway to your local theatre, improvisational acting has long been a form of uproarious entertainment. It can take the form of pure comedy, heart-wrenching drama, and even surreal weirdness. People use it to help with public speaking, support for scripted acting, and to just get those creative juices flowing. With all of that, how can it help you? Need some inspiration for your RPs? Want to host events and panels and think on your toes? Or maybe, you'd just like to get into improv acting? Whatever it is, Zaxel is here to help in this interactive workshop! Get up and move and have fun with others as we explore improv through exercises and games!
Intro to Ball-Jointed Dolls & Meetup
A brief beginner's guide to the ball-jointed doll hobby, followed by some laid-back social time to meet and get to know other hobbyists.
What's good lately? Want to rope people into watching the new season? Did you discover a little-known series you're just dying to tell someone about? Whether you're re-watching a classic and want to find people to reminisce with or are just looking for recommendations, stop by and chat with us!
Play anything good lately? Come talk about it! Join us for an hour of recommendations, reminiscing, and connecting over your favorite games.
Come join our otaku-themed Family Feud game show! How will your answers compare to dozens of other anime/gaming fans?! Participants will randomly be chosen and the audience will have a chance to answer as well! We have tons of candy and prizes to give out!
Can you name that Pokémon? Come test your knowledge of Pokédex entries in this challenging trivia game!
A panel on running panels! Info about panels, for panelists, by panelists! The panel will be hosted by staff who are experienced panelists to help answer any questions and provide basic information ranging from submitting your application to enthralling your audience.