Ghost Neko's Sweet Spot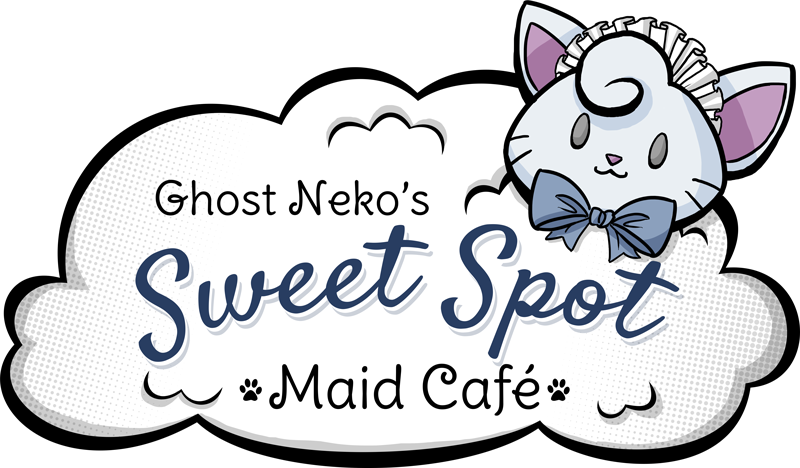 We're excited to announce that Kumoricon's premier Maid Café is coming to Kumoricon Lite! Ghost Neko's Sweet Spot will cater a special menu of assorted cool and sweet treats to refresh you from the summer heat.
Ghost Neko's Sweet Spot offers more than just refreshments. Each table is under the dedicated attention of a Maid or Butler, with games, prizes, live entertainment, and personalized service. The Maid Café is a great place to grab a drink, or snack, between panels, away from the crowded event rooms. Be sure to get a memento of your experience with an exclusive photo from our staff, with proceeds from games and photos going directly to Kumoricon's charities.
Ghost Neko's Sweet Spot will be walk-in service only, and is subject to seat availability. Parties may be grouped together when seated.
Hours of Operation
12:00pm - 3:00pm
4:00pm - 7:00pm
Guest Rules
To attend the Maid Café you must have a Kumoricon Lite badge.
Guests must follow the Kumoricon Lite Code of Conduct.
No photos, video, or other forms of recording are allowed within the Café. To remember your experience, you may donate to have a photo taken of you or your group. Photos are $1 per Maid Café staff.
No outside food or drink in the Café.
No touching Maid Café staff.
Please be conscious of other attendees waiting to be seated during the session and limit your stay to no more than an hour.
Menu
Menu prices are the total cost and include our caterer's service fee. No additional gratuity is expected.
Sweet Treats
$4.5 – Scooped Ice Cream
$5 – Chocolate Dipped Strawberries
$6.5 – Gluten Free Chocolate Wedge Cake with Caramel Drizzle and Whipped Cream
$6.5 – Vegan Cake Breads with Non-Dairy Whipped Cream and Berries
$6.5 – Banana Cake, Carrot Cake, Guinness Stout Cake, Creme Brulee Cheesecake
Beverages
A beverage is included with your food purchase.
Soft Drinks (Pepsi products)
House Coffee
Hot Tea (Tazo teas)
Iced Tea
Lemonade
Please notify your Maid Café staff of any allergies or food sensitivities prior to ordering.
Menu items are only available while supplies last.
Payment and Donations
There is a $5 entry fee for all seatings. There is no reentry after you've been seated.
Payment for all food and drinks is executed by the DoubleTree by Hilton Hotel Portland. Gratuity for your visit is included in the price.
Payment is due at the time of seating.
Commemorative photos are available at $3 per photo. Photos with more than 1 maid/butler are an additional $1 per maid. Proceeds are donated to Kumoricon's charity beneficiaries.
Seating Guidelines
The $5 entrance fee is due at the time of seating, and is per-person and non-refundable.
Maid Café will seat guests while dessert and drink supplies last.
Table Availability
Walk-ins

Walk-ins will be seated in groups of nine, when possible.
Walk-ins are taken first-come, first-served for the first party at a table, but in order to create a table of nine, we may bump a smaller group ahead in line to bring the table to nine guests.
Depending on seating and Maid and Butler staff availability, wait times may vary.

Groups larger than nine

Groups larger than nine may be split, subject to seating availability and table arrangements. We limit tables to nine guests in order to ensure that each Maid and Butler can dedicate their attention to everyone at the table.

Accessibility accommodations

We are very happy to accommodate wheelchair seating at the Maid Café. In order to best assist us in preparing accommodations, please inform us of your wheelchair seating during your purchase, or as soon as you become aware of your requirement.
Guests requiring accessibility accommodations and up to one companion may be given advance priority seating. Please inform us when arriving to the walk-in queue.
We are very happy to answer additional questions at maidcafe@kumoricon.org.