Special Guest DJs at Kumoricon
SuPeR K!
DJ – My EDM Academia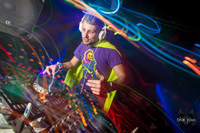 SuPeR K! has been bringing smiles to the masses at raves, festivals, and anime cons across North America for over a decade! His eclectic track selection pulls from a variety of underground rave genres, anime and cartoons, video games, memes, and more. Unique mashups and energetic stage presence bring his sets to life. Are you ready to get down? It's time to bounce!
Flapjack
DJ – My EDM Academia
DJ Flapjack is a Los Angeles-based oldskool hardcore deejay whose passion for cheesy beats and dedication to his art has quickly rocketed him to a respected position among his underground deejay peers, and led him to become a well-known artist worldwide. Rocking extremely hi-NRG all-vinyl hardcore sets; a friend to kandi ravers near and far, Flapjack is known for more than just his friendly persona and fashion sense. His keen sense of tunes, lightning fast scratching, and turntablist mixing skills are sure to win over the hearts of happy hardcore fans, new and old!
Jimni Cricket
DJ – My EDM Academia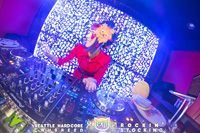 Seattle native Jimni Cricket has been DJing professionally since 1999 focusing on everything from cheesy Happy Hardcore, to live mash-ups and pretty much anything else under the sun. In 2005 she became a resident deejay for happyhardcore.com, one of the biggest happyhardcore websites in the world. In recent years she been extremely dedicated to making herself one of the most technical DJs in the US. On her quest to leave no city untouched, she has headlined in almost every US state and ventured into Canada. With her unique style and adorable personality the bug makes friends and fans at every single show, a fact that an army of candy ravers across North America can attest to.
https://www.facebook.com/deejayjimnicricket
http://www.kniteforcerevolution.com/posts/artists/jimni-cricket/
Mangled
DJ – My EDM Academia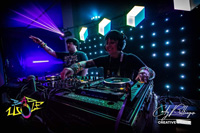 JTC
DJ – My EDM Academia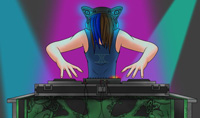 Co-owner of Shattered Emerald Production, this Portland native cat-scratch DJ has been mixing and scratching since 2011. Beware of the cat when they're on the tables. I'm not kitten you, there's a meownton of mixed electronic music melting away.
Darmoc
DJ – Kumoricon of SMASH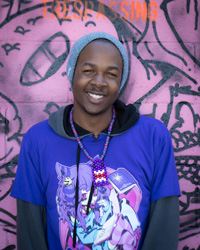 Having started out as a simple "con raver" at the age of 17, he found his passion for electronic music while attending the different anime convention dances throughout Houston, Dallas, Austin, and San Antonio; and soon after discovering a love for the sounds of hard dance, he was motivated to represent, promote, and stand for everything that is fast-paced and high energy. His forte lies within very much of the J-core sound, involving foreign vocals with a few bed squeaks, invoking a future-core vibe. Darmoc is guaranteed to keep you swaying left and right as well as stomping it out on the floor.
Remnant
DJ – Kumoricon of SMASH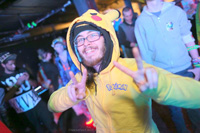 Remnant has been in the Portland/Seattle rave scene since 2005. After this time he decided to found a new production company in Portland called Shattered Emerald Productions. Over the last 3 years he has spent his time creating events and working at raves behind the scenes and behind the decks spinning J-Core/Happy Hardcore to all who will listen. He has also as of 2018 has become a resident with HJU (Hardcore Junglist United) based in California. With his super kawaii beats Remnant aims to keep you dancing all night and beyond!
NeoQor
DJ – Kumoricon of SMASH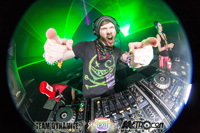 If there are three words to describe NeoQor, they're speed, aggression, and versatility. Representing the upstart collective, Kaijucore Entertainment, worldwide hardcore label, Future State Music, and his own independent label, Qor Values, this up-and-comer from Dallas, Texas is bringing his own unique sounds straight from the Lone Star State to a rave near you! NeoQor has gained himself a reputation for taking crowds on multi-style journeys through the vast catalogue of underground rave music. Whether it be the epic melodies and earth-shaking bassdrums of hardstyle, the uplifting, cheery vibes of happy and UK hardcore, or the sheer brutality and relentlessness of gabber and industrial hardcore, NeoQor is no stranger, and can happily deliver that and more in a single set. The one thing you can count on: Everything played is significantly harder and faster than your typical EDM.
NeoQor's productions follow the same theme. His hunger for speed-fueled, melody-driven rave music has only continued to grow, and over the past two years, he has worked with numerous producers and performers from around the country, including Clayfighter, Biotronix, Darmoc, and Zoe VanWest. Meanwhile, working in close collaboration with his wife, co-writer, and favorite vocalist, Kitty Chan, he has released a number of memorable vocal hardcore and hardstyle anthems that have gained him a reputation as a notable producer and songwriter in the worldwide hard dance community, with his 2018 collaboration with Kitty Chan, "Eyes Meet Mine", seeing remixes from producers in the US, UK, and Canada. But his foray into the creation of balls-to-the-wall dance music reached an apex in the summer of 2018 with the release of his official remix of S3rl's classic anthem, "Dealer", on Relentless Digital.
As of today, NeoQor has performed at events all over the United States, from Kansas, to Colorado, to California, to New York—not to mention in major cities all over his home state! In his home city of Dallas, he has had the honor of being local support for Kutski's Keeping the Rave Alive tour as well as for Angerfist's first Dallas appearance in 2016.
NeoQor's objective is clear: to spread the sounds of Texas hard dance to raves around the world. His motto: If it's fast and hard, it's getting played (or made)!
Kitty Chan
Guest Vocalist – Kumoricon of SMASH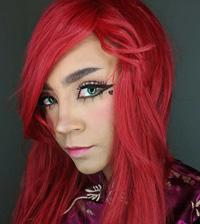 Everything starts with a dream and that is all Kitty Chan needed to begin her journey. With her spunky personality and her passion for making music, she strives to make her mark in the hard dance community and inspire others to share their voice as well.
A lot of her inspiration stems from Japanese rock bands and the culture created around the anime community, which is where she first was introduced to happy hardcore and, subsequently, the underground world of hard dance music. It was within these communities that her creativity blossomed and sparked her passion as a singer and songwriter.
Having worked on tracks with her producer and nowhusband, NeoQor, Kitty Chan would go on to perform at one of America's largest anime convention dances, Metrocon Massive, alongside world renowned vocalist, Zoe VanWest, and from there continue to perform throughout her home state at events such as Pixel Invasion and Love & Lasers!
Her first album debut with NeoQor on Future State Music's "Ravestars" compilation opened the door for more collaborations with artists such as legendary S3RL, Tamerax, and many more! Currently, Kitty Chan is focusing her attention on creating more quality music and contributing to the hard dance and cosplay communities as a co-founder of the newest anime rave production company, Kaijucore Entertainment. So stay on your toe beans and keep your ears perked, because you won't want to miss what she has coming next!
Instagram: @kittychanofficial
Spunky da Bunny
DJ – Kumoricon of SMASH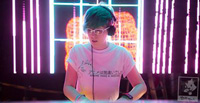 This bunny's been bringin' the hype nationwide for well over a decade. With her spunky beats and skillful paws, she's dextrous on the decks and pumped with energy that'll infect any crowd. Known for her contagious vibes, this DJ is sure to captivate ur hearts and minds.
TeddyLoid
DJ – Kumoricon of SMASH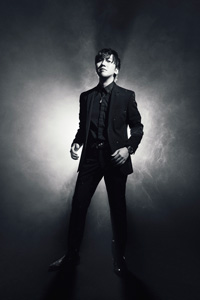 TeddyLoid started his career as MIYAVI's DJ and sound producer by joining his world tour when he was only 18 years old. He also produced the OST for the GAINAX anime Panty & Stocking with Garterbelt with ☆Taku Takahashi (m-flo). He has also had experience in units with Shibasaki Ko and DECO*27, established galaxias!, worked on the album "TOXIC" for the GazettE, and has produced "Neo STARGATE" for Momoiro Clover Z. In 2013, TeddyLoid had a guest appearance at Seibu Dome Taikai. Furthermore, he has provided BGM to the anime Mekakucity Actors.
TeddyLoid has also produced Vocaloid IA tracks and remixes, Square Enix's Mugen∞Knights, and WRECKING CREW ORCHESTRA's new long production SUPERLOSERZ SAVE THE EARTH, directed by Amon Miyamoto. In 2014 he produced the music for the viral hit short movie ME!ME!ME, which was visualized by Hibiki Yoshizaki and vocals sang by DAOKO.
TeddyLoid debuted as a solo artist by releasing his EP from King Records' EVIL LINE RECORDS in August 2014, "UNDER THE BLACK MOON" and his first album "BLACK MOON RISING" in September. In summer 2015, he started "Momoiro Clover Z×TeddyLoid Remix Project" and released an official remix album, "Re:MOMOIRO CLOVER Z". In Momoiro Clover Z's big summer event Momoshinsai 2015, he performed the opening act as DJ. In December, he released his first collaboration product with 12 tracks and 14 sets of guests on "SILENT PLANET" as his original 2nd album. The guests included big names like Tetsuya Komuro, Yasutaka Nakata, HISASHI from GLAY, KOHH, and more.
In 2016, TeddyLoid produced two tracks for HAL College of Technology & Design, one of which, titled "Daisuki with TeddyLoid", was a commercial with Hibiki Yoshizaki and vocals by DAOKO. The contrasting track "Daikirai feat. Chanmina" also garnered attention for featuring the up-and-coming Korean rapper Chanmina. Recently, TeddyLoid produced songs for the anime 18if and Space Patrol Luluco, Japanese musical legends Yuzu, and performed on Music Station Super Live with YouTubers HIKAKIN and SEIKIN. He also performed on Ultra Japan Festival's main stage in 2018.