All Hallows' Kawaii Lolita and J-Fashion Tea Party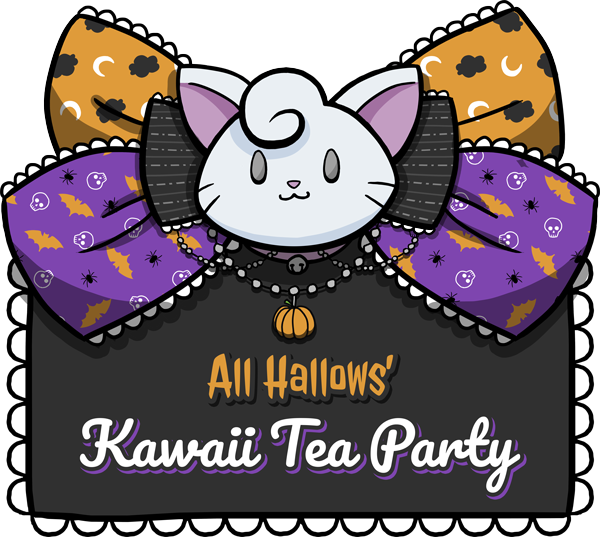 We're proud to introduce Kumoricon's first Lolita and J-Fashion Tea Party—All Hallows' Kawaii!
Tickets are sold out!
We cordially invite you to Kumoricon's first Lolita and J-Fashion Tea Party at the DoubleTree by Hilton on Sunday, October 29. Dress in your favorite coordinates and meet other lolitas and Japanese fashion fans over tea and sweets! This is a formal event and dress code will be in effect. We require that attendees wear lolita or related J-fashions. Enjoy delicious cuisine and a special guest performance from Guest of Honor and visual kei band, Kra! There will be games, a fashion walk, and much more. It's going to be a truly unique dining experience!
Update: Guest of Honor BABY, the Stars Shine Bright will be joining in on all the fun at All Hallows' Kawaii! Be sure to attend for a special gift from our guest!
Contests, goodie bags, and prizes to be announced!
Guests of Honor:Kra and BABY, the Stars Shine Bright
Date:Sunday, October 29th, 2017
Time:11:00 am - 2:00 pm
Location:Pacific Northwest Ballroom, DoubleTree by Hilton Hotel Portland
Menu:Presented below
Price:
All Tea Party tickets are sold out!
| Ticket Tier | Cost | Available | Includes |
| --- | --- | --- | --- |
| Sweet Treat | $45 | 10 – sold out! | Includes meal and entry to the event |
| Caramel Apple | $55 | 35 – sold out! | Includes meal, entry, and a goodie bag |
| Pumpkin Patch | $65 | 25 – sold out! | Includes meal, entry, the Caramel Apple goodie bag, and small items |
| Bubbling Cauldron | $75 | 10 – sold out! | Includes meal, entry, the Caramel Apple goodie bag, small items, and a larger clothing item |
Ticketing and Admission Policy
All tickets are non-refundable, and cannot be transferred or sold.
To attend the Tea Party you must have a Kumoricon 2017 badge.
Guests must follow Kumoricon's Code of Conduct.
Policies for the Tea Party are subject to change as needed. Any remaining tickets will be sold at the door while supplies last. (Sold out!)
Included Menu
The Great Northwest Lunch Buffet
Salads
Mixed Greens with Candied Hazelnuts, Dried Cranberries, and Rogue River Bleu Cheese
Apple, Pear, and Endive Salad with Cranberry Vinaigrette
Bakery Rolls and Butter
Entrées
Hazelnut Crusted Chicken with Cherry Reduction
Painted Hills Strip Loin of Beef and Caramelized Onion
Sides
Apple Farms Red Pepper Gouda Au Gratin Potatoes
Seasonal Vegetables
Dessert
New York Style Cheesecake
Angel Food Cake with a Trio of Sauces and Fresh Berries
Attendee Rules
In order to provide a perfectly elegant atmosphere and experience for all guests, our fashionable hosts have established a strict dress code. By purchasing tickets to this special event, you fully agree to all ticketing policy, conduct, and dress requirements.
Asking for autographs and photos outside of any designated session is strictly prohibited.
Please set all electronic devices to silent. If you must communicate using your device, please excuse yourself from the party.
Solicitations are strictly prohibited at this event. This includes any fliers, coupons, calling cards, etc.
Outside food and drink is strictly prohibited at the event.
Dress Code
Lolita or J-fashion dress is required. Suit and tie formal wear is acceptable.
Casual clothing such as jeans, T-shirts, sweatshirts, tracksuits, sneakers, or torn clothing or shoes are not acceptable.
Please be aware that this is not a cosplay event. The event dress code requires lolita, J-fashion, or formal wear attire. Cosplaying or dressing as an anime character or as a character from any existing work is not allowed. This limitation includes props, such as scepters, fantasy wings, ears, make-up, and similar accessories.
If you are unsure whether your outfit fits within these requirements, please contact us at teaparty@kumoricon.org, and we will be very happy to advise.
Please contact us at teaparty@kumoricon.org if you have any questions.