Food Drive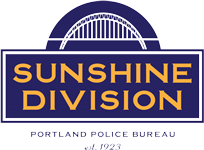 Continuing our commitment to our local community, Kumoricon is teaming up with Portland Police Bureau Sunshine Division for our annual food drive! Since 1923, the Portland Police Bureau Sunshine Division has been providing food and clothing relief to Portland families and individuals in need. Whether due to the loss of a job, domestic crime, illness, or victims of fire or disaster, the Sunshine Division has built a 94-year legacy of mobilizing quickly and efficiently to assist distressed Portlanders. Barrels will be lined up in the lobby at the Oregon Convention Center.
Look for barrels near the Charity Auction and Art Show in the Exhibits Hall to drop off your donation of shelf-stable foodstuffs that will go directly to families in the Portland area.
New this year: Barrels for the Sunshine Division food drive will be marked with some of your favorite anime characters. The character whose barrel is filled with the most donations will result in their English voice actor receiving an invitation to attend Kumoricon 2018 as a special Guest of Honor.
The most needed types of food are:
Cereal
Canned fruit
Dry or canned beans
Tuna fish
Rice
Fresh or frozen meat
Canned dinners