DJs at Kumoricon
Friday Night: DJ Gino Mari versus The DiscoSnake
In this dazzling anything goes Mixed Media Dance Party Hootenanny, DJ Gino Mari goes track to track against the overwhelming turntablism of The DiscoSnake [Michael Brillig]. This action-packed event features the talents of this Portland-based production duo as they create a custom dance experience for your convention dancing needs. Taking requests all night long, this team will fill the air with the very best dance, pop, anime, gaming, and everything else music.
Then when the clock strikes 1:30 am the dance floor's going goth. Gino and The DiscoSnake will break the seal on the secret vault of industrial dance music and release the musical titans. We'll bring our vintage synthpop tracks, polish off the G-minor chords, and wrap up the evening with all the night owls. This is not an event to miss.
DJ Gino Mari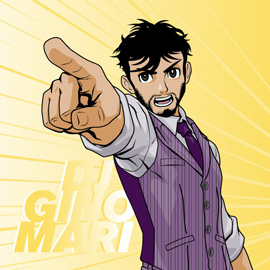 DJ Gino Mari, notorious frontman for Portland Electronic Rock outfit The Gentry, likes to say he DJ's "Eclectica" (meaning everything from synthpop to punk rock to crunk and _______). He does this all over the world in his spare time. From coast to coast he gets the kids sweating. He's taken his records across the pond to Nebula (Lima, Peru's largest nightclub) as well as parties in Florence, Italy and Vancouver, BC. In other words… dude gets around. Gino got his feet wet in Portland, Oregon's industrial goth scene in 1997, DJing everywhere from the infamous Paris Theatre to the goth room at The Escape. From there he started his own DJ night at the now defunct PDX staple La Luna. This propelled Mari into the world of party promotion and events like "Continuum", "Sound & Vision" and "Oscillate" (Portland's premier electroclash party). During this time Gino was also the resident DJ for the Kumoricon Dance Party. In the years that followed Gino redirected his focus and obsession with music to form his own recording studio (The Country Club) and tour with his band The Gentry (with whom he is currently in the studio finishing a new record).
DJ DiscoSnake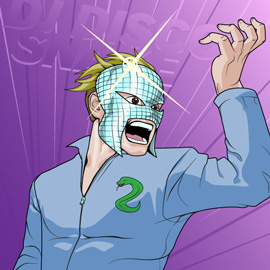 Born in a freak accident involving an atomic strobe and a mirror ball, DJ DiscoSnake has used his gifted mixing powers to dazzle audiences since 2001. His sets driven by a passion for gaming and pop culture, fueled by gallons of iced tea, and backed up by arsenal of lighting effects. DJ DiscoSnake is confident playing across genres bouncing through movie and anime soundtracks, gaming remixes, pop, electronica, swing, house, industrial, one hit wonders, memes, complextro and all the shiny other tracks that catch his eye. By taking track requests during the dance, the DiscoSnake will give you the power to realize your ultimate dance.
Saturday Night: Mass Hysteria
Caturday night at Kumoricon, it's Mass Hysteria: Inus vs Nekos! It's gonna be one totally pawsome night of music and prancing! We hope you all got your afternoon naps in, cause we're not kitten around! Time to don those neko ears, those inu tails, and get ready to put your paws up in the air for this year's Meowstanding DJs. Who will win?! Inus?! Or nekos?! Are you feline it right meow?! I know I am★