Kumoricon Convention Policies
Content last updated 2013-07-14
These are the policies for the Kumoricon anime convention. If you have any questions, the staff will be happy to address your concerns.
Badges and Access
Your badge is your pass to event space. Be careful not to leave it in your room, at home, or anywhere other than on your person while you are at the convention. If you don't have your badge, you may have to pay up to the current purchase price to replace it.
When you check in, you will receive a holder for your badge. This is proof that you've checked in and the best way to keep your badge on your person. Keep your badge in its holder and visible at all times. This is the easiest way for the staff to know that you are allowed inside the Convention Space.
The badge you are assigned will vary based on your age. Here are the age breakdown and attendance restrictions:
Child: 12 and under – Can attend the convention except during convention curfew between midnight and 6:00 AM and must be accompanied at all times by a parent or legal guardian paid attendee.
Minor: 13-17 – Can attend the convention except during convention curfew between midnight and 6:00 AM and must have a Parent Permission Form or proof of legal emancipation on file by check-in.
Adult: 18 and over – Can attend the convention without curfew restrictions or permission requirements.
If you lose your badge, visit the Lost and Found (location designated in the program book) to see if anyone has turned in your badge. If not, you can arrange to print a replacement. If you find a badge, please help out a fellow attendee, and bring that badge to Lost and Found.
Event Restrictions
Some individual convention events may have restricted admission as described in the event descriptions in the program book, including but not limited to the following:
Events limited to ages 18 and over require a hand stamp for entry. To get a hand stamp, you must bring both your badge and photo ID to the Programming Booth.
Some events require "event passes", which means that, to guarantee seating, you need to pick up a pass earlier in the day to attend. Due to popular demand, all passes may be given away sometime prior to the event. These passes are free and can be picked up at the Programming Booth on the same day as the event. When the event starts, if there is extra space, non-pass-holders will then be allowed to enter.
Some events may require additional payment for admittance.
Please do not line up for any event more than 30 minutes before the event starts or seating begins. Specific events may have different line requirements, subject to change without advance notice.
Cosplay and Outfits
Costumes and outfits are one of the best parts of anime conventions. Before you put long hours and hard work into your cosplay, be aware that all outfits must cover areas of the body to comply with decency requirements. You will be asked to leave Convention Space if your outfit covers too little of your body or is otherwise deemed inappropriate. Outfits that are tight or sheer enough to expose those parts which should be covered are also prohibited.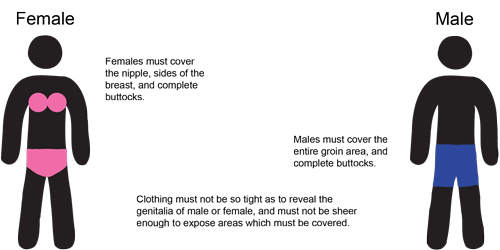 In addition to properly covering the body, costumes must comply with venue policies and requirements.
Masks
Masks or parts of a costume that cover the face may not be worn in the hotel lobbies.
Footwear
Footwear covering the bottom of the feet must be worn in Convention Space.
Props, Weapons, and Replicas
Disallowed Items
The following items are not allowed in Convention Space, even if concealed:
Any firearm or ammunition (no exception is made for concealed carry)
Any functioning projectile weapon, device, or toy; including items meant to be thrown
Any firearm or projectile item that looks like it could be functioning from 10 feet away, even if it is non-functioning or a replica
Paddles (all varieties—including "yaoi" or "yuri" paddles)
Live steel (sharp enough to cut)
Props wide or long enough to inhibit traffic
Any illegal weapon or illegal replica
Peace-Bonding
Any item or prop that could be used as a weapon, used in a dangerous manner, or may appear to be dangerous, must be peace-bonded before being carried in Convention Space, even if the dangerous use is not the intended function of the item. For example, a toy sword made out of foam must be peace-bonded as it could be dangerous if swung around, and it may not be clear from a distance how dangerous it is. As another example, a teddy bear does not need to be peace-bonded as it is obviously harmless.
Peace-bonding is an agreement to carry your prop safely. You will be required to sign an acknowledgement of the requirements of safe carry. When your item is peace-bonded, a staff member will attach a peace-tie to your item. The peace-tie signals to all staff that your item has been reviewed.
Peace-bonding will be conducted at the peace-bonding table next to the registration area, or in the Kumoricon Operations Office after registration closes.
If you purchase a prop in the Exhibitors Hall or Artists Alley, then after purchase you must immediately either bring the item to be peace-bonded, or remove it from Convention Space. Any projectile item or live steel item purchased in the Exhibitors Hall cannot be peace-bonded and must be immediately removed from Convention Space. For such a disallowed item, you must take it offsite or bring it directly to your hotel room and keep it there for the duration of the convention.
Prop Requirements
In addition to peace-bonding requirements, the following requirements hold:
Potentially dangerous props may only be carried as part of a bona fide costume.
Weapon replicas or props must not be brandished or waved around.
Replica firearms or replica projectile weapons must have a highly visible orange tip.
Replica firearms or replica projectile weapons must never be pointed at anyone.
Replica pistols must remain in a holster, replica rifles must remain slung, and bladed items must be kept in their sheaths, except while posing for a photo.
Projectile items or replica firearms are allowed only if they are, or have been made, permanently non-functional. "Permanently" means it is not possible to repair or restore the item to functionality. In most cases this means the item must be filled with glue and all moving parts rendered immobile.
Harassment, Solicitation, and Offensive Behavior
All attendees are expected to treat others in a courteous and respectful manner. Harassment and solicitation are prohibited. Please let the staff know if you are witness to any of the following:
Harassment
Offensive or rude behavior toward anyone
Someone doing or saying things with the willful intent to harm another person
Heckling
Solicitation
Displaying of signs with profanity, explicit or graphic language, insults, threats, solicitations, or room party advertisements (i.e. "Will hug for Pocky", "Room Party Info")
Distribution of flyers around the Convention Space or attaching them to walls or surfaces is prohibited. Some flyers can be left at the Info Booth for distribution. Flyers at the Info Booth may be removed at the discretion of Executive Staff.
Selling of items or favors outside of convention sanctioned events and areas.
Other Offensive and/or Illegal Behavior
Indecent exposure (see above)
Impeding the flow of traffic in hallways and especially in fire lanes
Overly loud or disruptive behavior
Line jumping or cutting
Consumption of alcohol in the Convention Space, unless it is within an event officially sanctioned by Kumoricon with permission to serve alcohol from Kumoricon Executive Staff or the hotel
Fighting (play or real)
Lewd sexual contact or behavior (groping of the breast or genitalia)
Any unsafe behavior
Shoplifting of any kind
Any costume or prop containing any iteration of pedobear
Anyone who engages in any of these activities will be given a warning. If an attendee continues the behavior, or engages in similarly offensive behavior, their badge will be removed, and they will be asked to leave the Convention Space. Egregious or extreme cases may result in a badge removal without a prior warning.
Consent to Photography
Any photographs or videos of attendees taken by Kumoricon staff in an official capacity may be used or published by Kumoricon without further consent of the attendees being recorded.
Photography by Attendees
Taking photographs and videos is allowed in most public areas of the convention. However, specific events, panels, or areas may restrict photography or video-recording. Please respect the wishes of anybody who asks not to be photographed or video-recorded.
Hotel Rules
Convention Space is any area that the convention is using for any official events.
The area of the hotel rooms is outside of official Convention Space. However, the way our attendees treat the property and the staff of the hotel reflects on the convention as a whole. Please be sure to take care of the room you are in. Be aware that there may be guests who are not attendees and persons who may be sleeping in surrounding rooms. Be respectful to the hotel staff and guests.
Appeals
If you feel that you have been given an unfair warning on attire, conduct, or policy infringement, you may submit an appeal in the Operations Office. Any decision then reached by at least two Kumoricon Executive Staff and the staff member who made the original decision will then be final.
Liability
Kumoricon, its personnel, and its affiliates are not responsible for any damage, theft, injury, or loss. Attendees of the convention are responsible for their own actions as individuals as well as for any resulting repercussions. Staff are on hand for assistance in most situations. However, any civil or medical emergencies that may occur must be handled directly by the appropriate authorities.
Changes
Policies are subject to change. Updates will be available at www.kumoricon.org/policies. The most current version will be available in the convention bags on your arrival.