DJs at Kumoricon
Saturday Night Kumoricon J-Pop & K-Pop Dance Party! Initial P vs. DJ Hojo
Pete Ellison
Disko Warp, SEA/PDX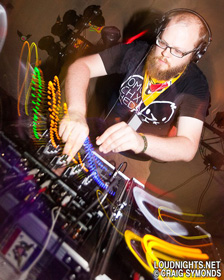 Pete Ellison (a.k.a. Initial P) is a DJ and visual artist currently living in Seattle, WA, and can frequently be found performing crazy dance-party DJ sets at anime conventions around North America. Pete is known for throwing a wide variety of party-friendly tracks in his DJ sets, frequently spanning multiple genres, BPMs and languages. Best known for running cult favorite dance label Disko Warp (2005-2013) and producing the hits "Less Than Three" and "Oh Oh Oh Sexy Vampire", Pete has also produced music tracks for voice talent including Cristina Vee, Diana Garnett, Ani-Rock! and Reni Mimura. If you ask nicely, he might let you touch his beard.
DJ Hojo
JKPOP! / City Hunter, SEA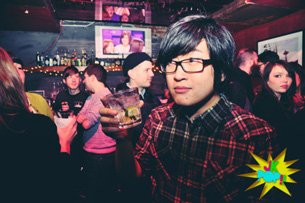 Allen's foray into J-pop/K-pop DJing was inevitable. As a child he spent many a summer in Taiwan, watching Chinese-dubbed broadcast anime and singing along with the infectious opening and ending songs. Allen also moonlights as a writer for SSGMusic, as well as a karaoke DJ at Bush Garden, one of the most storied and revered places for karaoke in all of Seattle. His love for everything Yasutaka Nakata's done, and pop culture in general, is well documented. He's pleased as punch that the worlds of mainstream music and Asian pop are colliding, and wishes to only further the cause and foster an environment where people can continue to fall in love with Asian pop music.
DJ Bishie
Update: Unfortunately, DJ Bishie will no longer be able to attend Kumoricon.
Sunday Night Dance
DJ Gino Mari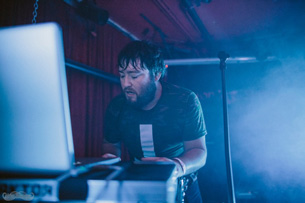 DJ Gino Mari, notorious frontman for Portland Electronic Rock Outfit The Gentry, likes to say he DJs "Eclectica" (meaning everything from synthpop to punk rock to crunk and _______). He does this all over the world in his spare time. From coast to coast he gets the kids sweating. He's taken his records across the pond to Nebula (Lima, Peru's largest nightclub) as well as parties in Florence, Italy and Vancouver, BC. In other words… dude gets around. Gino got his feet wet in Portland, Oregon's industrial goth scene in 1997, DJing everywhere from the infamous Paris Theater to the goth room at The Escape. From there he started his own DJ night at the now defunct PDX staple La Luna. This propelled Mari into the world of party promotion and events like "Continuum", "Sound & Vision" and "Oscillate" (Portland's premier Electroclash Party). During this time Gino was also the resident DJ for Kumoricon Anime Festival/Dance Party. In the years that followed Gino redirected his focus and obsession with music to form his own recording studio (The Country Club) and tour with his band The Gentry (with whom he is currently in the studio with finishing a new record).
DJ DiscoSnake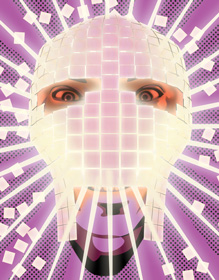 DJ DiscoSnake triumphantly returns to Kumoricon! With assistance from the elusive Electric Jungle Pig, and teaming up with Gino, our hero armed with catchy tunes, nifty CD players, samplers, and Internet memes will bring his love for anime to the dance floor. Don't miss out on this caffeine fueled set as the DiscoSnake bounces through anime soundtracks, gaming remixes, pop, electronica, swing, house, industrial, one hit wonders, memes and everything awesome. Join the experience, control the dance and tweet your requests to @DJDiscoSnake.