Guests
Lauren Landa
Voice Acting Guest of Honor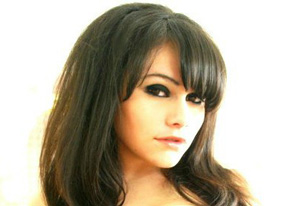 Outside of the voiceover world, Lauren first began acting at the age of 11 in the stage production of Annie, and continued with shows including Rodgers & Hammerstein's Cinderella, Bye Bye Birdie, Comic Potential, and the Greek comedy Lysistrata. Lauren has also assistant directed for stage productions such as Stephen Sondheim's Merrily We Roll Along, Bat Boy: The Musical, as well as Lysistrata.
As a voice actress, she is most known for roles such as Litchi Faye-Ling in the popular fighting games BlazBlue: Calamity Trigger as well as the sequel BlazBlue: Continuum Shift, and Continuum Shift Extend, Kyoko Sakura from Puella Magi Madoka Magica, and Yan Leixia in Soul Calibur V.
Other roles in anime and video games include Arf and Chrono Harlaown (Magical Girl Lyrical Nanoha/A's); Kirche Von Zerbst (Familiar Of Zero); Aegil, Cotton, and Sasha (Rondo of Swords); Lila (Summon Night: Twin Age); Rina (Luminous Arc 2); Yoko (Sakichi Sato's Tokyo Zombie); Syfy's anime addition Monster; and Boiboi (REDLINE) and many more!!.....
Be sure to keep an eye out for future announcements that for right now, remain under wraps!! (Believe me, it kills me too!)
Sonny Strait
Voice Acting Guest of Honor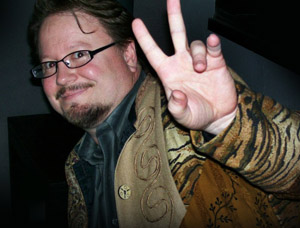 A Renaissance Man of the Geek Arts
Most recognized as the voice of Krillin on the wildly popular animated TV show Dragonball Z and as an illustrator for arguably the most famous independently published comic book series Elfquest, Sonny Strait has over 20 years of experience in the arts.
As a voice actor, Sonny is considered to be one of the most recognized voice actors in the business. Besides Dragonball Z's Krillin he has worked on many popular animated characters including Maes Hughes from Fullmetal Alchemist, Usopp from One Piece, Drocell on Black Butler, and Cartoon Network's laid back robot host Toonami Tom. He has also worked as a writer and director on several TV series including Dragonball Z, Case Closed, and Lupin the Third.
His voice can be heard in the video game industry as well. Sonny's portrayal of 'Splosion Man was critically well received and the game was nominated by Spike TV for Best Independent Game Fueled By Dew. He also played Dr. Winklemeyer on the insanely frenetic Comic Jumper game. Soon Sonny will be heard as 4 different characters in the upcoming Borderlands 2.
As a comic book artist he has 17 published works to date including his débuted self-published series Mr. Average as well as Elfquest which was published by both WARP Graphics and DC Comics. Sonny is considered one of the top Elfquest artists from its over 30-year history.
In 2007 Sonny wrote and illustrated a graphic novel about a reluctant punk rock faerie princess named Goat. The book, called We Shadows, was published by Tokyopop and was nominated by The American Library Association for Best Graphic Novel in 2008. The book received glowing reviews in many trade magazines including Publishers Weekly, Newtype, Play, and Anime Insider. We Shadows is now a web comic and consistently gets voted into the Top Web Comics site beating out thousands of others.
Currently Sonny is continuing his role as Usopp (and many others). He is also contracted to write a biography about his mentor Wendy Pini, creator of the comic series Elfquest. The book will be called Line of Beauty; The Art and Soul of Wendy Pini and is slated for release in 2012.
In addition, Sonny still finds time to front his band White Girl. They recently released their first single Burn and are now slated to play at conventions this year.
Sonny Strait's Kumoricon visit is presented by CNBookings (www.cnbookings.com).
The Slants
Musical Guests of Honor
The Slants have prepared a very special video welcome message to Kumoricon fans. We welcome their return to Kumoricon's tenth year!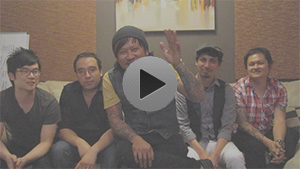 What originated as a side project for Simon Young (of The Stivs) in 2007 proved to be one of the most energetic and contagious movements of music in our time. In case you haven't heard, The Slants are the first and only all Asian synth-pop band in North America and they have been melting faces off all over the globe.
Kicking off the band's career at a tiny dive bar in Portland, OR, The Slants soon found themselves on tour and in demand worldwide performing at music halls, colleges, and anime conventions. Within months, they released their debut album Slanted Eyes, Slanted Hearts winning multiple awards from the likes of Willamette Week, Rockwired, AsiaXpress, and the Portland Music Awards. Since that first iconic show in 2007, The Slants have been cited as the "Hardest Working Asian American Band" (slanteyefortheroundeye.com), toured North America thirteen times, rejected a million dollar recording contract, were the first and only Asian band to be a Fender Music artist, and according to the U.S. Congress, the first rock band to play inside a state library.
The Willamette Week summarizes The Slants' history perfectly: "It's a great story: All-Asian synthcore troupe lands anime festival, achieves instantaneous notoriety from overpacked fireball-laden maelstrom, inspires John Woo and Dragon Ball Z fans toward aggro electro and—just months after its first practice—books gigs across the globe. As shadow-warriory as the Slants' rise has been, it's still all about the tunes, and the band's debut—floor-filling synth pop bristling with all the menace and grandeur of its oft name-checked cultural icons—is propulsive, cinematic and impossible to ignore."
By the end of 2008, the band had been featured in over 1,200 magazines, radio stations, websites, and television shows for their self-proclaimed "Chinatown Dance Rock", including a feature on NPR's "All Things Considered" that blasted across 700 FM stations across the country for months.
The following year, The Slants headlined a SXSW showcase (other acts at the festival included Katy Perry, Metallica, and Devo), launched several more tours spanning North America, and released a dance remix album entitled Slants! Slants! Revolution, while donating 100% of the proceeds to benefit cancer research affecting Asian American women.
2010 saw the release of The Slants' third album, Pageantry. Pageantry featured a number of local icons including Cory Gray (The Decemberists), Krista Herring, Mic Crenshaw, and Gabe Kniffin (Silversafe). The harder hitting, guitar driven songs still featured The Slants' signature dance rock flavor and again, massive touring throughout the country continued.
The Slants have shared the stage with acts such as Apl.de.Ap (Black Eyed Peas), Vampire Weekend, Girl Talk, Girugamesh, M.O.V.E, and Boom Boom Satellites.
Carl Horn
Manga Editor Industry Guest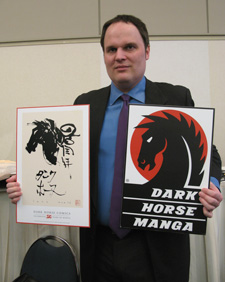 Carl Gustav Horn is a manga editor at Portland's own Dark Horse Comics, whose catalog includes such works as CLAMP's Clover, Kosuke Fujishima's Oh My Goddess! and Eiji Otsuka and Housui Yamazaki's The Kurosagi Corpse Delivery Service. A former editor at Animerica and PULP magazines, he has worked in the US anime and manga industry since 1993, and was a co-author with Patrick Macias on Japan Edge, the first book on otaku culture to be reviewed in the mainstream media. He has contributed to the US DVD releases of Appleseed: Ex Machina, Gunbuster, Gunbuster 2, Royal Space Force, Patlabor 2, and Jin-Roh, and has provided commentary on the field to Weekly Comic Morning, Square Jump, Newsweek Japan, the Nihon Keizai Shimbun, AERA, Clarín, The Los Angeles Times, The Hollywood Reporter, NPR, and Wired.
Sarah Sullivan
Production Assistant Industry Guest
Sarah Sullivan is no stranger to the animation industry. Previously holding the title of DVD and Blu-Ray Production Assistant at FUNimation, she visits Kumoricon this year as Conventions Manager after working on projects such as Princess Jellyfish, the Tsubasa: RESERVoir CHRoNiCLE OVA, Hetalia: Axis Powers: Paint it, White! and much more as Production Assistant. FUNimation Entertainment is the leading anime publisher in North America. Titles like Panty & Stocking, Fairy Tale, and Afro Samurai are just a few of the big names on their roster. For more information about FUNimation Entertainment and its titles, visit www.funimation.com.
Ninja of the Night
Cosplay Performer Guests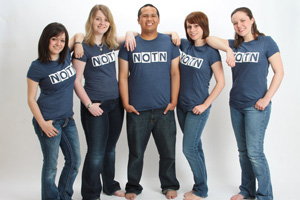 Ninja of the Night (aka NOTN) is a cosplay performance group based out of the Pacific Northwest, although its members are scattered all across the country! The five principle members, Kayla [BAT], Mandy [Nutcracker], Kathryn [Rynn], Krystal [Sumikins], and Chris [GameRevX], have been together since 2007 and in that time produced a combined 15+ skits, have taken home numerous performance awards and acknowledgments including four Best In Shows, being featured on several gaming blogs as well as G4 TV's "Attack of the Show", and have had two of their members represent the United States in 2010's World Cosplay Summit. Now, they're ready to share their knowledge in cosplay-related panels, as well as entertain! To learn more about NOTN's history and members, as well as see examples of their work, check out their website!