DJs at Kumoricon
Saturday Night Kumoricon J-Pop & K-Pop Dance Party!
DJ Hojo
JKPOP!, Seattle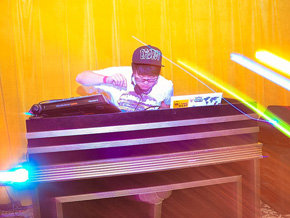 Allen's foray into J-pop/K-pop DJing was inevitable. As a child he spent many a summer in Taiwan, watching Chinese-dubbed broadcast anime and singing along with the infectious opening and ending songs. Allen also moonlights as a writer for SSGMusic, as well as a karaoke DJ at Bush Garden, one of the most storied and revered places for karaoke in all of Seattle. His love for everything Yasutaka Nakata's done, and pop culture in general, is well documented. He's pleased as punch that the worlds of mainstream music and Asian pop are colliding, and wishes to only further the cause and foster an environment where people can continue to fall in love with Asian pop music.
Initial P
Disko Warp/Anime Love Hardcore, Seattle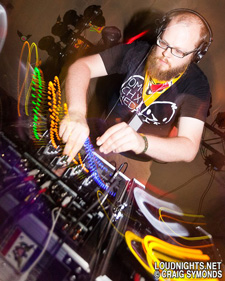 DJ and producer Pete Ellison, aka Intial P, has been the driving force behind the innovative NW dance music label Disko Warp, now in its 8th year. In addition to producing and writing explosive Internet hits like "Oh Oh Oh Sexy Vampire" and "Less Than Three", Pete's successful "Anime Love Hardcore" remix CD series has lead him to work with a range of vocalists from both the US and Japan. Pete has been championing J-pop and K-pop throughout his career as a DJ, sneaking hits and hidden gems from abroad into his regular DJ performances, and can't wait to kick off a night of his favorite dancefloor monsters for Kumoricon.
Sunday Night Dance
DJ Gino Mari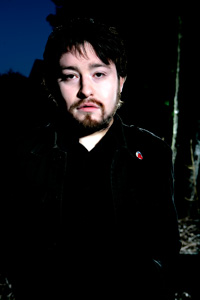 DJ Gino Mari, notorious frontman for Portland Electronic Rock Outfit The Gentry, likes to say he DJs "Eclectica" (meaning everything from synthpop to punk rock to crunk and _______). He does this all over the world in his spare time. From coast to coast he gets the kids sweating. He's taken his records across the pond to Nebula (Lima, Peru's largest nightclub) as well as parties in Florence, Italy and Vancouver, BC. In other words… dude gets around. Gino got his feet wet in Portland, Oregon's industrial goth scene in 1997, DJing everywhere from the infamous Paris Theater to the goth room at The Escape. From there he started his own DJ night at the now defunct PDX staple La Luna. This propelled Mari into the world of party promotion and events like "Continuum", "Sound & Vision" and "Oscillate" (Portland's premier Electroclash Party). During this time Gino was also the resident DJ for Kumoricon Anime Festival/Dance Party. In the years that followed Gino redirected his focus and obsession with music to form his own recording studio (The Country Club) and tour with his band The Gentry (with whom he is currently in the studio with finishing a new record).
DJ DiscoSnake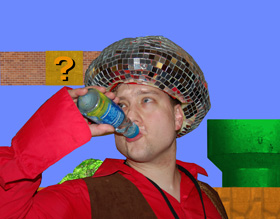 DJ DiscoSnake (Michael Brillig) has made good parties even better since 2001, using his amazing stage skills, love for lighting and his design portfolio. Equally confident backstage or in the spotlight, his sets are fueled by a passion for gaming and a love of everything geek. Unwilling to stick to any style or genre, he will happily bounce through movie and anime soundtracks, gaming remixes, pop, electronica, swing, house, industrial, one-hit wonders, memes and everything catchy. Brillig has applied his art to hundreds of different shows in the Willamette Valley working under CMD Productions.