Guests of Honor
For more information on Kumoricon guests of honor, please read:
Neeko
Voice Actor / Fashion Guest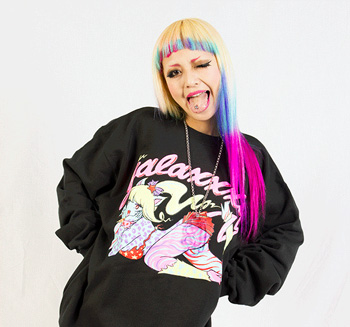 Neeko debuted as a model in 2001. Since then she has expanded her career to include voice acting (Reborn in Katekyo Hitman Reborn!), singing, acting, MCing, songwriting, and DJing.
She is the vocalist for her band Shampoo Youth, which debuted in 2009, and she has been featured as a model in numerous fashion magazines including KERA, Zipper, CUTiE, FRUiTS, Kazi Kazi, and Teen Vogue. Neeko also has her own fashion brand called Shampoooooo.
Check out Neeko as our Fashion Show guest of honor, modeling for galaxxxy!
galaxxxy
Fashion Guest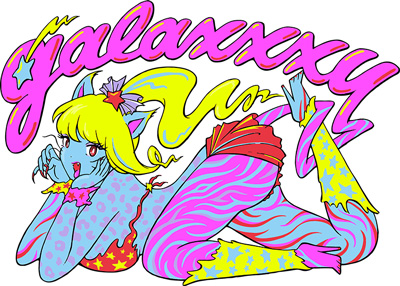 Japanese fashion brand, galaxxxy was established in 2007, and has created a lasting and trendy name for themselves.
galaxxxy is essentially a madcap world influenced by past and future music, Japanese anime, and a comet scattered virtual world. The brand collaborates with many artists. galaxxxy prominently features bright colors, cute anime themes, and whimsical touches in their designs.
Kumoricon is seeking volunteer models for the galaxxxy fashion show! Applications are due October 2, 8:59pm.
Shigeto Koyama
Studio TRIGGER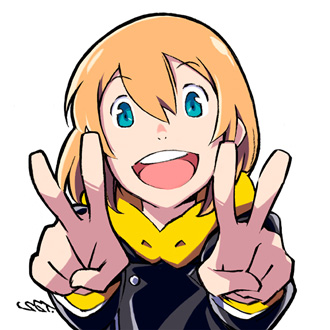 Shigeto Koyama has been an active designer in Japan's media industry for over a decade. Starting his career with working on Aim for the Top 2! (Diebuster) in 2004, Shigeto has worked on numerous animation titles over the years. Some of these notable titles includes: Heroman, Eureka Seven, Gurren Lagann, Star Driver, Panty & Stocking with Garterbelt, Rebuild of Evangelion, Kill la Kill, and Big Hero 6. In 2015, he directed his first short animation film Obake-chan. Koyama has also been leading the art direction of Good Smile Racing since 2014.
https://twitter.com/Joey__Jones
Hiromi Wakabayashi
Studio TRIGGER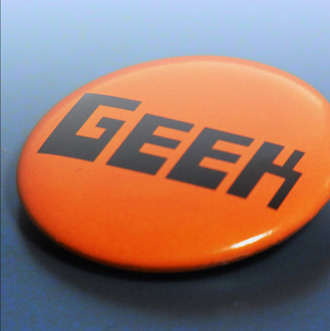 Previously a member of Studio GAINAX, Hiromi Wakabayashi has been involved in several works with Hiroyuki Imaishi, and is most notable for working on design production for Gurren Lagann. Wakabayashi was also involved on Panty & Stocking with Garterbelt as co-creator, writer, and episodic director.
After joining TRIGGER, Wakabayashi wrote the script for Episode 4 of Kill la Kill and directed the series' 2nd ending sequence. More importantly, he assisted and oversaw the design team of Kill la Kill as its creative producer. Later on, he was involved in Little Witch Academia and Inferno Cop doing story development. Wakabayashi has also been working as the creative director for TRIGGER's latest animation series Space Patrol Luluco.
D.C. Douglas
Voice Acting Guest of Honor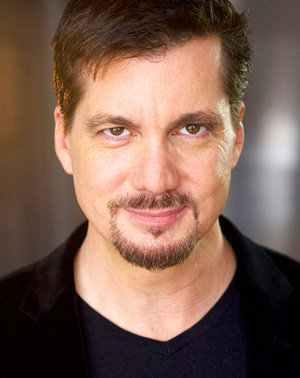 D.C. Douglas will forever be known as either the sinister voice of Albert Wesker (Resident Evil), screaming "Chriiiisssss" as he melts in a lava lake, or as the soulful voice of Legion in the Mass Effect series, pulling on the heartstrings of fans around the world. These roles are a far cry from his other roles, such as the persnickety alien Zepht in Star Trek: Enterprise or the logical autobot Chase on Discovery Family's Transformers: Rescue Bots. And we can't forget him as Bud in Sharknado 2.
You may also know D.C. from animated series such as: One Piece as X Drake, Naruto / Naruto: Shippuden as Gari, Hajime no Ippo: Champion Road as Makunouchi Ippo, Regular Show as Col. Rawls (in the final season), Family Guy as Superman, several new anime coming from Bang Zoom! Entertainment, and many more.
But of course D.C. Douglas is best known for lending his voice to video games, like Final Fantasy XV as Weskham Armaugh, Zero Escape 3 as Zero, Xenoblade Chronicles X as H.B., The Legend of Heroes: Trails of Cold Steel I and II as Rufus Albarea and Valimar, Fire Emblem Fates as Gunter, Persona 4: Dancing All Night as Dance Instructor, Resident Evil: Umbrella Corps / Revelations 2 / The Mercenaries 3D / The Darkside Chronicles / Resident Evil 5 / The Umbrella Chronicles as Albert Wesker, Marvel vs. Capcom 3: Fate of Two Worlds—all—as Albert Wesker, Mass Effect 2 and 3 as Legion, Street Fighter X Tekken as Raven and Eddie Gordo, Tekken 6 as Raven, BlazBlue: Chronophantasma as Azrael, Tales of Vesperia as Alexei Dinoia, and Eternal Sonata as Jazz.
You can find D.C. Douglas online: www.DCDouglas.com | twitter.com/DC_Douglas | www.facebook.com/mrdcdouglas | www.imdb.com/name/nm0235006
Kieran Strange
Musical Guest of Honor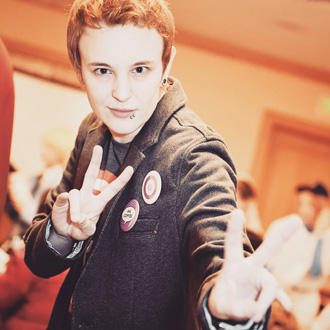 He's been compared to Tony Stark, Ramona Flowers, Hawkeye, and Tank Girl!—but IRL, he's Kieran Strange, a quirky and powerful young artist blending pop sensibilities, dynamic guitars, and high-energy live shows into his own brand of British pop-punk. At the age of seventeen, he left his parents, family, and small English fishing village behind in order to chase his dream of making music; he traveled to Vancouver, Canada where he now resides, writing and performing songs about rebellion, relationships, and RPGs.
Standing firmly as a voice for the different and discarded, Kieran came out publicly as genderfluid in 2014 with the release of the Tear Down The Wall music video, and changed his pronouns from "she" to "he" in the summer of 2016. These days, he always makes sure he is open, outspoken, and passionate in his beliefs; some of the causes he fights to support include LGBTQ+ issues and rights, feminism, autism awareness, racial equality, and many other forms of mental health and suicide awareness.
Hot on the heels of his past releases—Adamantine Heart (2012) and Last Hero Standing (2015)—the bedheaded geek has toured multiple countries (including Canada, US, UK, and Japan), played hundreds of shows, conventions, and festivals, and is currently working on multiple singles to release in 2016/17! Along with Tasty Peach Studios, he's one of the minds and voices behind KonekoYO!, as well as the founder of the #ifeelinvincible and #cosplaynotconformity cosplay and con scene mini-movements. He encourages you to check out The Kaleidoscope Project on Facebook—a safe haven he has created to inspire, encourage, and educate LGBTQ+ geeks and their allies!
Shoot him a tweet at @kieranstrange during the con and say hi! (And in case you're wondering, Kieran is comfortable with He/Him/His and They/Them/Their pronouns, and encourages that you letting him know what your preferred pronouns are when you meet him! ;D)
Sonny Strait
Voice Acting Guest of Honor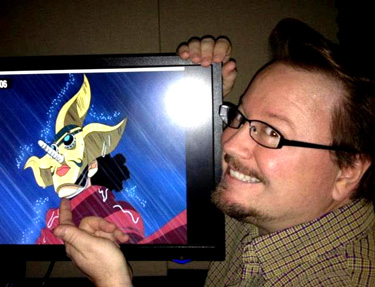 Most recognized as the voice of Krillin on the wildly popular animated TV show Dragon Ball Z and as an illustrator for arguably the most famous, independently published comic book series Elfquest, Strait has over 20 years of experience in the arts.
As a voice actor, Strait is considered to be one of the most recognized in the business. Besides Dragon Ball Z, he has worked on many popular animated series including Usopp in One Piece, Maes Hughes in Fullmetal Alchemist, and Cartoon Network's laid-back robot host Toonami TOM. He has also worked as a writer and director on several TV series including the Dragon Ball series, Case Closed, and Lupin the Third.
As a comic book artist, he has 17 published works to date including his debuted self-published series Mr. Average featured in The Comics Journal, and Elfquest, which was published by both WARP Graphics and DC Comics. He's considered one of the top Elfquest artists from its over 30 year history.
In 2007, he wrote and illustrated a graphic novel about a reluctant punk rock faerie princess named Goat. The book, called We Shadows, was published by Tokyopop and was nominated by The American Library Association for Best Graphic Novel 2008. The book received glowing reviews in many trade magazines including Publishers Weekly, Newtype, Play, and Anime Insider.
He has also appeared in many video games such as the title role in 'Splosion Man, the psychos in Borderlands, and Neptune in Smite.
Recently, Strait has reprised his roles of Krillin in the theatrical release Dragon Ball Z: Resurrection 'F' and Toonami TOM 1 in the Intruder II series for Cartoon Network. He was also cast in his current favorite roles of Koro Sensei in Assassination Classroom and Maple in Show By Rock.
In 2015, Sonny returned to directing, starting with the anime series Maria the Virgin Witch, Mikagura School Suite, and the highly controversial Prison School. He has also returned to Elfquest as a colorist for Dark Horse Comics. He also did a Ford commercial as Krillin!
If you are a geek genre unmarred by his carnage, know that you are so next!
Eric Vale
Voice Acting Guest of Honor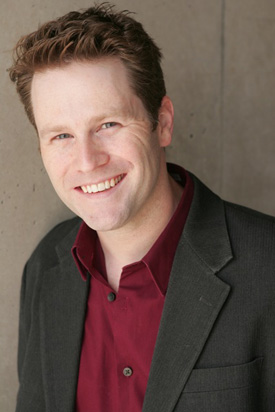 Eric Vale can eat an entire Quarter Pounder with Cheese in a single bite. He crossed the English Channel riding on the antlers of a Canadian moose. His favorite time of the year is dinnertime. This man has voiced characters such as Trunks in Dragon Ball Z, Sanji in One Piece, Yuki in Fruits Basket, Kymblee in Fullmetal Alchemist, America and Canada in Hetalia, and most recently Nishiki in Tokyo Ghoul. You can also hear him on radio and TV as the voice of the Dallas Stars and Dave & Busters. But wait! That's not all! He also wrote and produced the feature film Chariot, which is quite possibly the greatest American movie ever made. He's written screenplays as well as scripted over 50 anime programs and he's a full-on, for reals published writer. Eric has also directed for film and stage. So he sounds pretty busy, right? Well, tack on the fact that he's a husband and father of three and you'll understand why he always looks so tired. He began studying the world of entertainment when he was only 12 years old, and he never looked back. Living a "normal" life with "normal" people isn't something Eric would know how to do. It's not something he'd want to do. The best thing he can say about life is that you have your options; you can be safe or you can be crazy. Guess which one he chose?
Caitlin Glass
Voice Acting Guest of Honor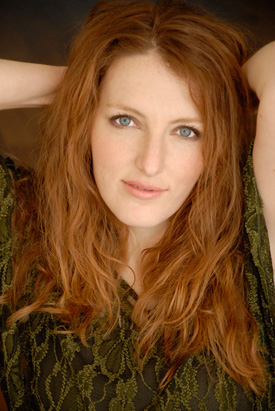 A voice actress and ADR director, best known for the role of Winry Rockbell in Fullmetal Alchemist, Caitlin has been working in the anime industry since 2004. In 2008, Caitlin directed the widely popular fan favorite, Ouran High School Host Club, as well as playing Haruhi Fujioka. Caitlin also lends her voice to Rose in Tales of Zestiria, Elma in Xenoblade Chronicles X, and Cammy White and Decapre in the Street Fighter IV and Street Fighter V series of video games.
Other well-known roles include Petra in Attack on Titan, Diancie in Pokémon's Diancie and the Cocoon of Destruction, Hannah in Black Butler II, Miria in Baccano, Satellizer in Freezing, Vivi in One Piece, Evergreen in Fairy Tail, Yakumo in School Rumble, and Kim in Soul Eater.
2015 was a big year for Caitlin, adding Kirigiri in Danganronpa: The Animation, Miho Amakata in Free! Eternal Summer, Lilith in Absolute Duo, Michael in Maria the Virgin Witch, Kimi in Tokyo Ghoul, Mitsuko in Yurikuma Arashi, Hanayo in Selector Infected WIXOSS, Erica in Gangsta, Himeko in The Rolling Girls, Natsume in Tokyo Ravens, Rumina in Mikagura School Suite, Makina in Ultimate Otaku Teacher, Young Ragna in BlazBlue Alter Memory, Minami in D-Frag!, Ami in Noragami Aragoto, and Retoree in Show By Rock!! to her already prolific list of anime roles.
This year is shaping up to be exciting as well, with the releases of Lord Marksman and Vanadis (Eleonora and ADR Director), Love Live! School Idol Project (Maki Nishikino and ADR adaptive script writer), and the highly anticipated video game Battleborn, in which Caitlin portrays the dark elf ranger, Thorn.
Caitlin's directing credits include Fullmetal Alchemist: Brotherhood, Chäos;HEAd, Gunslinger Girl -Il Teatrino-, Linebarrels of Iron, Murder Princess, Suzuka, One Piece, Absolute Duo, Maria the Virgin Witch, Riddle Story of Devil, Noragami Aragoto, and Show by Rock!!, all as an ADR Director for FUNimation Entertainment. She has also lent her adaptive writing skills to Bang Zoom! Entertainment for such titles as Durarara!!×2, Yuki Yuna is a Hero, and A Lull in the Sea.
For a complete list of her work, check out http://www.behindthevoiceactors.com/Caitlin-Glass/
You can follow Caitlin on Facebook at Caitlin Glass Voice Actor, @caitlinsvoice on Twitter, and glasscaitlin on Instagram!
Austin Tindle
Voice Acting Guest of Honor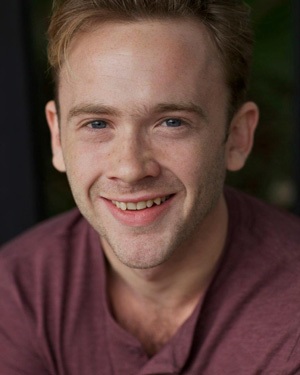 Actor and writer Austin Tindle was born in Orlando, raised in Austin, and now lives in Dallas. At 19 he was going to school to become an electrical engineer, but was cast as Romeo in a stage play and changed his major on the spot. These days you can find Austin on the stage in Dallas at the Kitchen Dog Theatre, WaterTower Theatre, Theatre Three, Stage West, Shakespeare Dallas, Project X, Second Thought Theatre, Nouveau 47, Upstart Theater, and many others. You may have also heard Austin lending his voice to a variety of FUNimation projects including Ayumu Aikawa in Is this a Zombie?, Accelerator in A Certain Magical Index, Shu Ouma in Guilty Crown, Marco Bott in Attack on Titan, Karma in Assassination Classroom, and Kaneki in Tokyo Ghoul.