Main Events
Meet Our Main Events Masters of Ceremonies!
For Our Cosplay Contest:
Ninja of the Night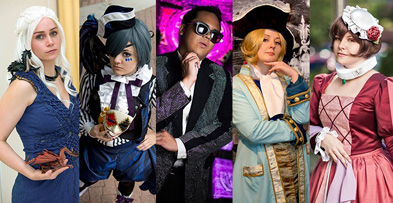 Ninja of the Night is back for their third Kumoricon as your cosplay competition hosts! Make sure not to miss their panels and events as well as their skit for the Cosplay Contest Halftime Show!
In case you don't know who NOTN is…
Ninja of the Night (a.k.a. NOTN) is a cosplay performance group based out of the Pacific Northwest, although its members are scattered all across the country! The five principle members, Kayla [BAT], Mandy [Nutcracker], Krystal [Sumikins], Rynn [Rynn], and Chris [GaMeReVx], have been together since 2007 and in that time produced and combined 15+ skits and have taken home numerous performance and costume awards including 6+ best in shows!
Now, they're ready to share their knowledge in cosplay-related panels as well as entertain!
To learn more about NOTN's history and members, as well as see examples of their work, check out their Facebook page: https://www.facebook.com/NOTNcosplay.
For Our Newest Main Event
The Pro-Bending Tournament:
Zach Marsh and Dane Derenzis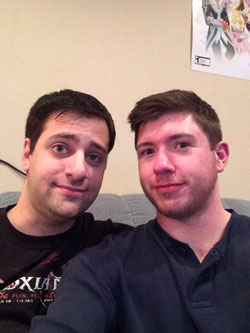 Zach Marsh and Dane Derenzis have been attending Kumoricon since 2004, and have since won numerous awards in the cosplay competition in the group known as The Anime Hunters. In 2008 they began a four year streak of hosting Kumoricon. At Kumoricon 2013 they were the announcers for the premiere of the Pro-Bending Tournament. Zach and Dane are excited to return as the event's announcers, and would like to leave you with wise, unsolicited, totally not copyrighted words:
May the odds be ever in your favor.
Friday DJs
DJ Gino Mari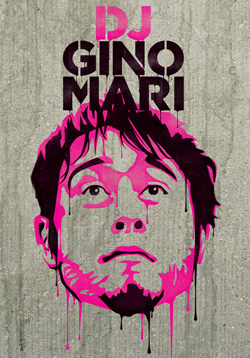 DJ Gino Mari, notorious frontman for Portland Electronic Rock outfit The Gentry, likes to say he DJ's "Eclectica" (meaning everything from synthpop to punk rock to crunk and _______). He does this all over the world in his spare time. From coast to coast he gets the kids sweating. He's taken his records across the pond to Nebula (Lima, Peru's largest nightclub) as well as parties in Florence, Italy and Vancouver, BC. In other words… dude gets around. Gino got his feet wet in Portland, Oregon's industrial goth scene in 1997, DJing everywhere from the infamous Paris Theater to the goth room at The Escape. From there he started his own DJ night at the now defunct PDX staple La Luna. This propelled Mari into the world of party promotion and events like "Continuum", "Sound & Vision", and "Oscillate (Portland's premier electroclash party). During this time Gino was also the resident DJ for the Kumoricon Dance Party. In the years that followed Gino redirected his focus and obsession with music to form his own recording studio (The Country Club) and tour with his band The Gentry.
DJ DiscoSnake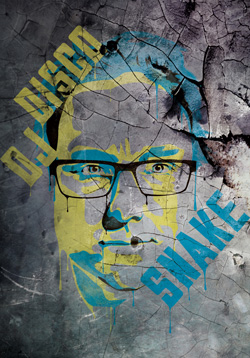 Born in a freak accident involving an atomic strobe and a mirror ball, DJ DiscoSnake has used his mixing powers to dazzle audiences since 2001. His sets are driven by a passion for gaming and pop culture, fueled by gallons of iced tea, and backed up by an arsenal of lighting effects. DJ DiscoSnake is confident playing across genres bouncing through movie and anime soundtracks, gaming remixes, pop, electronica, swing, house, industrial, one hit wonders, memes, complextro, and everything catchy. By taking track requests both online and in person during the dance, the DiscoSnake will give you the power to show us your ultimate dance.
Saturday DJs
Jimni Cricket [SEA]
Seattle native Jimni Cricket has been DJing professionally since 1999 focusing on everything from cheesy Happy Hardcore, to live mash-ups and pretty much anything else under the sun. In 2004 Jimni Cricket was invited to be a resident DJ for the world's largest happyhardcore web site happyhardcore.com. She began to tour North America shortly after that. Around 2010 she was noticed by DJ Luna C and joined Knite Force Records. In recent years she's been extremely dedicated to making herself one of the most technical DJs in the US. Constantly learning new tricks and challenging herself, Jimni is well known for her quick mixing and ninja-like scratching abilities. She will often throw over 40 tracks effortlessly over the course of an hour set. With her unique style and adorable personality, the bug makes friends and fans at every single show, a fact that an army of candy ravers across North America can attest to.
https://soundcloud.com/jimnicricket/
DJ Hojo [SEA]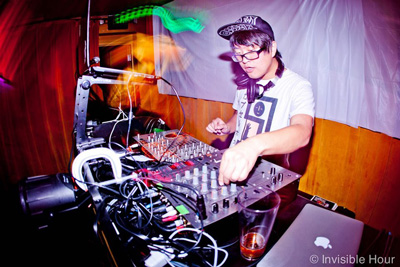 Allen's foray into J-pop/K-pop DJing was inevitable. As a child he spent many a summer in Taiwan, watching Chinese-dubbed broadcast anime and singing along with the infectious opening and ending songs. Allen also moonlights as a writer for SSGMusic, as well as a karaoke DJ at Bush Garden, one of the most storied and revered places for karaoke in all of Seattle. His love for everything Yasutaka Nakata's done, and pop culture in general, is well documented. He's pleased as punch that the worlds of mainstream music and Asian pop are colliding, and wishes to only further the cause and foster an environment where people can continue to fall in love with Asian pop music.
https://soundcloud.com/snowconess
Pete Ellison [PDX]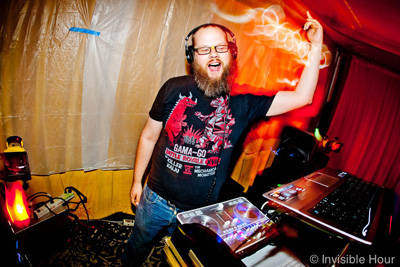 Pete Ellison is a visual artist, music producer, and DJ from Portland, OR. He is well known as the producer and songwriter behind internet cult-favorite label Disko Warp, the massive viral hit "Oh Oh Oh Sexy Vampire", and the widely distributed "Anime Love Hardcore" series, as well as songs featured in the video game Dance Dance Revolution. Pete is a frequent DJ guest at anime conventions around the country, and is a regular guest at Seattle's JKPOP party. In 2014, he started the weekly DJ mix show PUMP IT! ~Agepoyo Night!!~ on streaming radio station 91.8 The Fan.
Sake Bomb [SEA]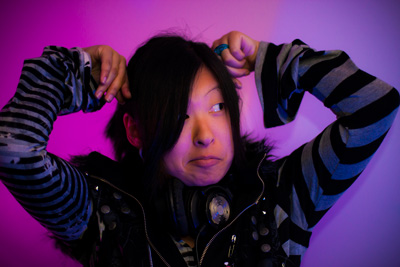 Armed with light-speed arcade button mashing skills and a thirst for broken beats, Sake Bomb is on a mission to prove that "Normal" isn't always a good thing. Starting with a lifelong love of music, and spurred on by the inspiring experiences had since first entering the scene in 2007, Sake Bomb has transformed herself from mere up and coming talent to the holder of multiple Seattle residencies and Entropy Group's Rotation X Champion. In a world ruled by neon tank tops and big room 4x4 beats, she strives to revive the old school break beat sound she fell in love with through her sets, all while still embracing a modern and inventive vibe.
https://soundcloud.com/sake-bomb
DJ Atum [PDX]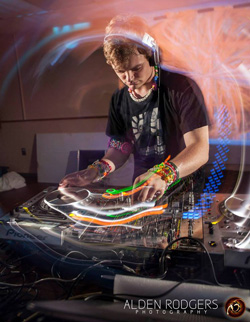 Having made the pilgrimage from the wilds of Idaho to relocate in the city of Portland, Atum's love of core is so intense that he's known to cause spontaneous raversplosions of the most epic variety. He has traveled many different places playing shows and creating insatiable memories for everyone!