DJs at Kumoricon
Saturday Night Electronic Music Dance Hosted by Disko Warp

5 local DJ heroes deliver the hottest underground electronic beats in the NW!
Line-Up
10-11 – Kid Kaboom
11-12 – Initial P
12-1 – Graz
1-2 – Jesiah!
2-3 – Little Terror
Kid Kaboom
(Nubreed / The Underground Heroes / Tap Tap / Beat Affinity)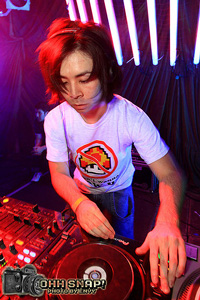 Initial P
(Disko Warp / Anime Love Hardcore)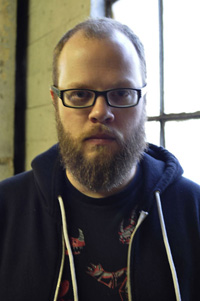 Pete Ellison, aka Intial P, boss and producer of cult favorite hi-nrg record label Disko Warp, likes it cute, fast and hard. Pete has a list of production, songwriting and remix credits as long as his arm: explosive YouTube hits "Oh Oh Oh Sexy Vampire" by Fright Ranger and "Less Than Three" by Becky, penning the comeback single "Doki Doki" for Swedish bubblegum group Smile.dk, remixes for Canadian eurodance duo Melody & Mezzo, and production for Pony Canyon's Japanese CD series Hapikoa*Speed. In 2011, Initial P and Disko Warp are ushering in a new era of hi-nrg sounds with their signature compilation series Speedisko.
Initial P has also been working hard to bridge the gap between electronic music and anime culture. In addition to producing 2010′s "Disko Warp Presents Anime Love Hardcore" album of remixed anime themes, he's also a resident DJ at both Portland's Kumoricon and Seattle's Sakura-Con anime conventions. With appearances now lined up at Toronto's Atomic Lollipop and DC's Katsucon, Initial P is on a mission to spread Disko Warp's unique style outside of the northwest.
Graz
(Reactionary / Donut Nook / Breakpop)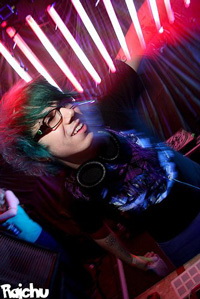 Rapid-Fire-Amen-Infused-Mashcore Federally Certified to Crush any party, Graz is here to take you to Bootleg Babylon. His glitched out high-speed rave rendition of radio's yesteryear are the perfect blend to get any crowd bobbing. Graz, a Seattle local, has shared the stage with breakcore legends such as: Mochipet and Bong-Ra bringing his unique blend of pop and chop to the masses. Prepare for the true sounds of the plunderground.
Little Terror
(Reactionary / Funshine)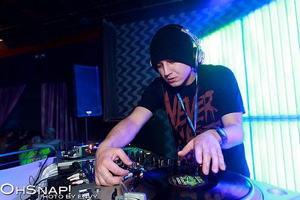 Jesiah
(Chickenhed)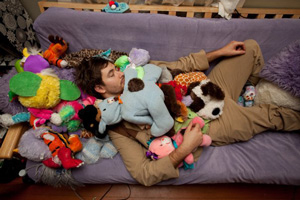 Raised on the mean streets of Geisenheimenluftenschteinwurst, Jesiah has lived a prolific life of shnitzel pounding and lederhosen de-pantsing. He began appreciating music at the age of 3 and despite popular culture's best efforts, remains a steadfast proponent of even the most trite melodic compositions. This unique perspective on life has given him a singular vision for bangin' 4-bit, electro-geezer tunage that will do no less than blow your mind into a bliss bomb of sonic rapture!
Sunday! Sunday! Sunday! Dance Music!
Line-Up
Surprise!
DJ Gino Mari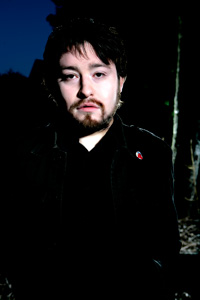 DJ Gino Mari, notorious frontman for Portland Electronic Rock Outfit The Gentry, likes to say he DJs "Eclectica" (meaning everything from synthpop to punk rock to crunk and _______). He does this all over the world in his spare time. From coast to coast he gets the kids sweating. He's taken his records across the pond to Nebula (Lima, Peru's largest nightclub) as well as parties in Florence, Italy and Vancouver, BC. In other words…dude gets around. Gino got his feet wet in Portland, Oregon's industrial goth scene in 1997, DJing everywhere from the infamous Paris Theater to the goth room at The Escape. From there he started his own DJ night at the now defunct PDX staple La Luna. This propelled Mari into the world of party promotion and events like "Continuum", "Sound & Vision" and "Oscillate" (Portland's premier Electroclash Party). During this time Gino was also the resident DJ for Kumoricon Anime Festival/Dance Party. In the years that followed Gino redirected his focus and obsession with music to form his own recording studio (The Country Club) and tour with his band The Gentry (with whom he is currently in the studio with finishing a new record).
DJ DiscoSnake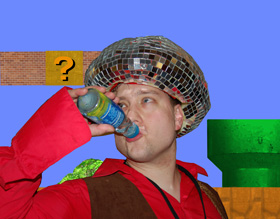 DJ DiscoSnake (Michael Brillig) has made good parties even better since 2001, using his amazing stage skills, love for lighting and his design portfolio. Equally confident backstage or in the spotlight, his sets are fueled by a passion for gaming and a love of everything geek. Unwilling to stick to any style or genre, he will happily bounce through movie and anime soundtracks, gaming remixes, pop, electronica, swing, house, industrial, one-hit wonders, memes and everything catchy. Brillig has applied his art to hundreds of different shows in the Willamette Valley working under CMD Productions.