Hotel Information
Kumoricon 2010 returns to the heart of downtown in the Hilton Portland and Executive Tower, featuring two towers occupying one and a half city blocks. Spacious hallways and gathering areas complement our largest event space, largest main events room yet, and a view of the city from the Kumoricon lounge on the 23rd floor.
Contents
Be sure to scroll down the page to see additional information:
Hotel Rates
Registration for the Kumoricon room block is now available at the Downtown Hilton and Executive Tower hotel. Room rates are $124 a night and can be booked by calling the hotel directly and asking about the "Kumoricon" group, or by booking online with the code "KUM".
All rooms this year will be at the Hilton main tower, so we won't have any convention rooms at the Executive Tower. Please remember to register and reserve your rooms early, as we will be capping registration this year to make sure everyone who attends gets to have a great time!
Hilton Portland and Executive Tower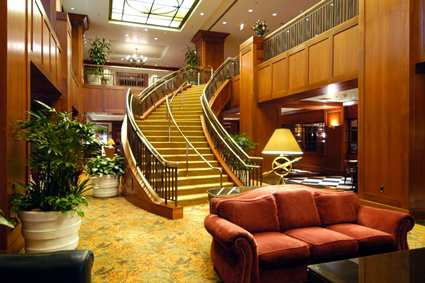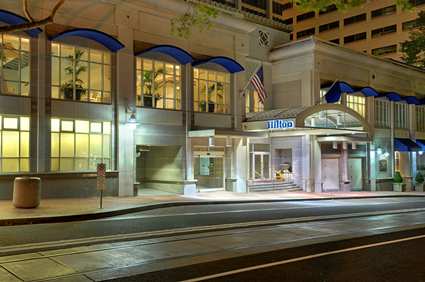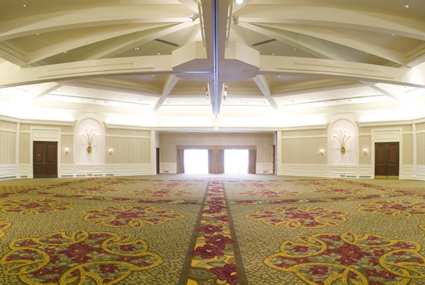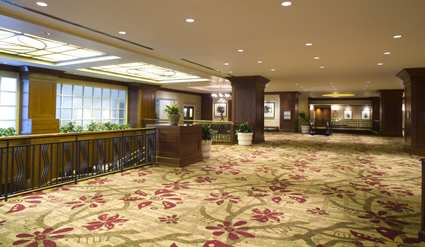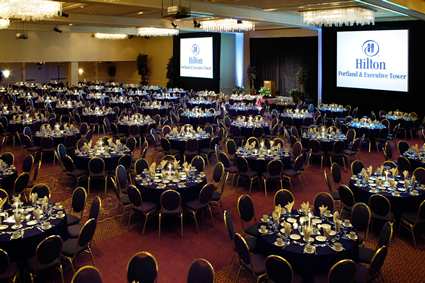 921 SW 6th Ave
Portland, OR 97204
Tel: 503-226-1611
Fax: 503-220-2565
Web site
Parking Tips
The hotel's parking in the Executive Tower building is available at a rate of $20/night, with in and out privileges.
Many other parking lots are available in the area, marked on the area map (below).
Some less expensive nearby parking lots:
4th and Yamhill (Smart Park), up to $12/day, 3 blocks easy, block "27″ on area map
3rd and Alder (Smart Park), up to $12/day, 5 blocks away (3 north, 2 east), block "13″ on area map
6th and Alder, $18/night, 3 blocks north, block "3″ on area map
Event Map
Important change: Video gaming has moved to the sub-basement level in the Main Tower. There is no longer any programming in the Executive Tower. Please see the news post on the front page for more detailed information about this change.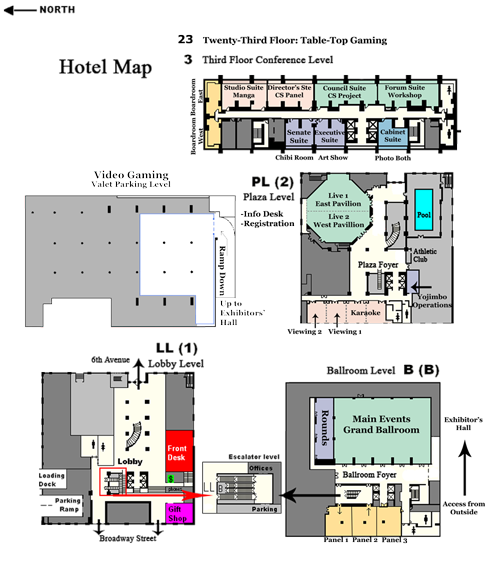 Area and Food Map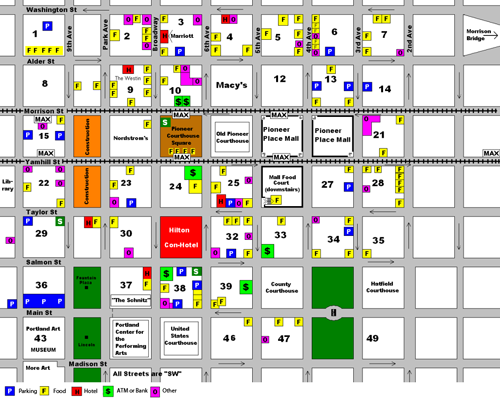 | | |
| --- | --- |
| 1. | Food Carts |
| 2. | North – Shutterbug, Coffee Plant, Documart copy shop |
| | East – Hunan Restaurant, Oregon Wines, Teuscher Chocolates of Switzerland |
| 3. | North – Peet's Coffee |
| | South – Great Harvest Bread company |
| | East – Office Depot |
| | West – Marriott Hotel |
| 4. | North – Liqour Store, Hotel Monaco |
| | South – Red Star Tavern Roadhouse |
| | West – Subway, Daphne's Greek Cafe |
| 5. | North – Greek Cuisina, Kelly's Olympian bar |
| | East – Kebabs, Mini-Mart, Rialto Bar and Pool Room |
| | West – Bikini Coffee Company |
| 6. | North – Javaman Coffee |
| | South – Central Drug |
| | West – Aroy Thai, Rovent Pizzaria, 4th Avenue Convenience & Smoke Shop, Geraldi's Italian, Bon Appetit Sandwiches |
| 7. | North – Lava (bar), Metro Pizza & Bento |
| | South – Kinko's/FedEx |
| | West – Cafe Bonjour, Morning Star Cafe |
| 8.5. | West – Rice Junkies and Subway |
| 9. | North – The Westin hotel, Portland Coffee House |
| | South – See's Candy |
| | East – Baskin & Robin's 31 flavors, |
| | Red Coach Restaurant |
| | West – Daily Grill, Brasserie bakery |
| 10. | North – Rite Aid, Moonstruck Cafe |
| | South – Well's Fargo, First Republic Bank ATM |
| | East – Rite Aid |
| | West – Koji's Restaurant |
| 11. | MACY'S Department Store |
| 13. | North – Los Fondas |
| | South – Buffalo Wild Wings, Alessandro's |
| 15. | North – Busch Garden Sushi |
| 16. | Nordstrom |
| | East – Coffee Shop |
| 17. | Pioneer Courthouse Square |
| | Starbucks and various food carts |
| 18. | The Historic Pioneer Courthouse |
| 19. | Pioneer Place Mall |
| 20. | Pioneer Place Mall |
| | Todai's Sushi, Regal Cinemas, Moonstruck Chocolates |
| 21. | North – Rock Bottom Brewery |
| | South – Yamhill Pub |
| | East – BORDERS |
| 22. | North – Art Media, Toys |
| | East – Guild Theater, Pastini restaurant |
| | West – Virginia Cafe |
| 23. | North – Pizza Schmizza |
| | West – Elephant's Deli, Regal Cinema |
| 24. | North – Chase Bank |
| | East – Espresso Bar, Fritz Avani Cafe |
| 25. | North – Ben & Jerry's Ice Cream, |
| | South – Hilton Executive Tower (Panels) |
| | Glowing Greens mini golf, Qdoba Mexican Grill |
| | East – Michelle's on Fifth convenience store |
| | West – Porto Terra |
| 26. | Southeast Downstairs – Pioneer Place Food Court |
| 27. | North – Macaroni Grill |
| 28. | North – Chipotle, Subway, Envy/Eclactic (lounge/bar/restaurant) |
| | East – Club Calabash, Gandhi's, Pho PDX, Salad World |
| | West – UPS Store |
| 29. | East – Starbucks |
| | West – Liqour |
| 29.5 | North – Paramount Hotel |
| | East – Dragonfish Restaurant |
| 30. | North – Taco Del Mar |
| 31. | HILTON – KUMORICON |
| 32. | North – Pizza Schmizza, Javaman Coffee, Carl's Jr. |
| | East – Radioshack, Happy Bowl bento |
| | West – Nike Store |
| 33. | North – Quick Cuisine |
| | West – Wells Fargo |
| 34. | North – Ritz Camera |
| | Southwest – City Coffee |
| | East – La Terrazza, Bangkok Palace |
| 35. | West – The Lotus cocktails |
| 37. | North – Heathman Hotel |
| | East – Heathman Restaurant |
| | South – Arlene Schnitzer Concert Hall |
| 38. | North – West coast bank |
| | South – Broadway Theater |
| | East – Mcdonald's, Subway, Superdogs, Starbucks |
| | West – Oliver's Bar & Grill |
| 39. | Southwest – Cafe Viale, Melting Pot Fondue Restaurant |
| | East – Bank of America |
| 40. | Multnomah County Courthouse |
| 42. | Hatfield State Courthouse |
| 43. | Portland Art Museum |
| 43.5 | Park Blocks |
| 44. | Portland Center for the Performing Arts |
| 45. | United States Courthouse |
| 46. | East – Seattle's Best coffee |
| 47. | North – Portlandia Cafe |
| | Northeast – Cafe |