DJs at Kumoricon
Saturday Night Electronic Music Dance
Disko Warp Music brings together some of Portland and Seattle's hottest and hardest working hard dance DJs for the Saturday night dance at Kumoricon! Check the following hot line up:
Jimni Cricket (NAHM/House Wrecking/NuBreed/Marble) – SEA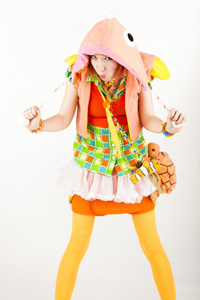 Seattle native Jimni Cricket has been DJing professionally for ten years, focusing on everything from cheesy happy hardcore to live mash-ups to pretty much anything else under the sun. In recent years, she has been extremely dedicated to making herself one of the more technical DJs in the US. Constantly learning new tricks and challenging herself, Jimni is well-known for her quick mixing and ninja-like scratching abilities, she will often throw over forty tracks effortlessly during the course of a one-hour set. Jimni Cricket is a resident DJ and is featured monthy on NAHM (North American Hardcore Movement), which hosts a weekly internet radio show that boasts some of the finest hardcore talent in North America and averages over 500 listeners every week. Jimni has also been featured on FM radio stations C89.5 (www.c895worldwide.com) and KGRG. In her quest to leave no city untouched, she has headlined in almost every US state and ventured into Canada. With her unique style and adorable personality, the bug makes friends and fans at every single show.
http://soundcloud.com/jimnicricket
Initial P (Disko Warp / Anime Love Hardcore) – PDX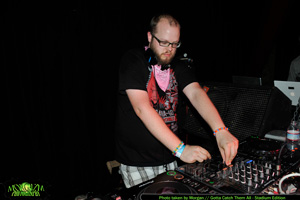 Pete Ellison (a.k.a. Initial P) runs to the notorious happy hardcore/eurobeat label Disko Warp. Heading up the team that brought you hits like "Less than Three" and "Oh Oh Oh Sexy Vampire", Disko Warp helped revive Swedish eurodance stars by penning their comeback single "Doki Doki" in 2009. After featuring over a dozen songs in video games like Dance Dance Revolution and Pump it Up Pro 2, Pete has taken to the DJ stage to promote Disko Warp's newest release, "Anime Love Hardcore".
http://www.diskowarp.com/
http://www.animelovehardcore.com/
Graz (Reactionary/Donut Nook/Breakpop) – SEA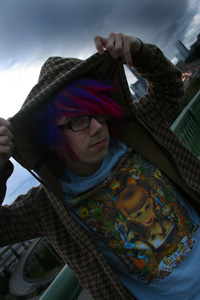 Federally certified to crush any party, Graz is here to take you to Bootleg Babylon with his Rapid-Fire-Amen-Infused-Mashcore. His glitched-out, high-speed rave renditions of radio's yesteryear are perfect for getting any crowd bobbing. Prepare for the true sounds of the plunderground.
Kid Kaboom (NuBreed/The Underground Heroes/Tap Tap/Beat Affinity) – SEA
http://soundcloud.com/kidkaboom
Matt Terror (Reactionary/Funshine) – PDX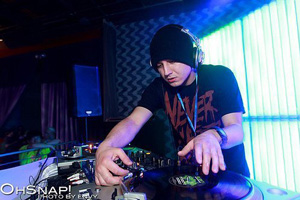 Portland's Super Awesome Hardcore Originator and Troublemaker.
GnarGnarKillKill (Reactionary/Disrepair Fashion) – PDX
GnarGnarKillKill is one half of Portland-based hardcore The H8ers. He rocks everything from bass line and fidget house to old school happy hardcore (to keep the kiddies happy).
Sunday Night Dance
DJ DiscoSnake & The Electric Jungle Pig Experience
DJ DiscoSnake & The Electric Jungle Pig return to Kumoricon for another triumphant year at the tables. Creeping out from under the Main Events tech booth and hitting the main stage, we'll mix together anime soundtracks, game music, electronica, techno, house, and internet memes, sprinkling in some hip hop, top 40, and a liberal dose of other danceable tracks.
DJ DiscoSnake & The Electric Jungle Pig are on loan from CMD Productions, a local lighting and sound company that has been with Kumoricon since year one. Got a track you're dying to dance to? We'll have a request thread in the K-con forums and request sheets at the front of the stage as we try to flood the dance floor with crowd pleasers. Ready yourself for the DJ DiscoSnake & The Electric Jungle Pig Experience.
DJ Gino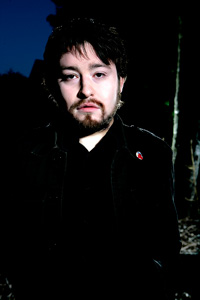 DJ Gino Mari, notorious frontman for Portland Electronic Rock outfit The Gentry, spins "Eclectica" (everything from Top 40 to Classic Rock, Electro-pop To Hip Hop). He does this all over the world in his spare time. He's taken his records across the pond to Nebula (Lima, Peru's largest electro nightclub) as well as parties in Florence, Italy and Vancouver, BC. In other words… dude gets around. Gino got his feet wet in Portland, Oregon's industrial goth scene in 1997, DJing everywhere from the infamous Paris Theater to the goth room at The Escape. From there he started his own DJ night at the now defunct PDX staple La Luna as well as the occasional spot DJing their weekly queer night. This propelled Mari into the world of party promotion and big time balls to the wall dance parties like "Continuum" (Portland), "Vogue's 80s Night" (Seattle), and "Oscillate" (Portland's premier Electroclash Party). During this time Gino was also the resident DJ for Kumoricon, an Anime Festival/Dance Party.
In the years that followed Gino redirected his focus and obsession with music to form his band The Gentry (with whom he still tours and is currently in the studio with finishing a new record!) In 2006 Gino's DJ career took the lead once again and he toured the world a bit before coming back to Portland and establishing himself as a local force to be reckoned with. Gigs poured in from The Crystal Ballroom to Berbati's Pan and he has been tearing up dancefloors full time ever since. Party hard, Dance harder.