Event Schedule
Pocket Programming Guide
All attendees will receive this book upon check-in to Kumoricon. It contains the schedule, hotel map, exhibitors hall booth list, list of local restaurants, and more. Download it here:
Errata in the pocket guide:
The food map in the pocket guide and program book have incorrectly numbered locations. Please use the most up-to-date food map on the maps page. A corrected food map will be included in the con bag as an insert.
Some room times have a slightly wrong start and end time in the graphical table. Times on this page are the most current, particularly for the exhibitors hall.
Hours
Convention Hours
Saturday: 8:00am-2:00am
Sunday: 8:00am-2:00am
Monday: 8:00am-5:00pm
Kumoricon policies apply a curfew to minors (anyone under age 18) after 12:00 midnight. The curfew is extended to 1am for minors solely for the Saturday and Sunday dances, and for no other events or convention space after 12:00 midnight. (Please see the policies page for our full policies.)
The following rooms are always open during the above hours:
Viewing 1
Viewing 2
Viewing 3
Console/LAN Gaming
Tabletop/RPG Gaming
Manga Library
Karaoke
Creation Station
These rooms close between 3:00pm and 4:00pm on Monday for Closing Ceremonies.
Please see the full schedule for details.
Registration Hours
Please see important details regarding registration check-in and hours on the registration page.
Exhibitors Hall and Artist Alley Hours
Saturday: 10:00am-6:00pm
Sunday: 10:00am-6:00pm
Monday: 10:00am-2:00pm
Art Show Hours
Saturday: 12:00noon-6:00pm (setup 9:00am-12:00noon)
Sunday: 10:00am-6:00pm
Monday: 10:00am-4:00pm
Chibi Room Hours
Saturday: 10:00am-5:00pm
Sunday: 10:00am-5:00pm
Monday: 10:00am-3:00pm
Photo Booth (located in the Chibi Room)
Saturday: 6:00pm-2:00am
Sunday: 6:00pm-2:00am
Times for Selected Major Events
Saturday
Opening Ceremonies: 10:00am-11:00am (Main Events)
Robotech: The Shadow Chronicles Screening: 11:30am-1:30pm (Main Events)
AMV Contest and Show: Seating starts 3:30pm; Contest runs 4:00pm-6:00pm; Show runs 6:00pm-7:00pm
Idol and Karaoke Cosplay Hybrid Contest: 3:30pm-5:30pm (Live Events)
Guests of Honor VIP Dinner: 6:00pm-8:00pm (Rounds) (VIP badges only)
The Slants Concert: 9:00pm-11:00pm (Main Events)
Dance: 11:00pm-2:00am (Main Events)
Sunday
Cosplay Contest: Seating starts 4:30pm; Contest runs 5:00pm-8:00pm (Main Events)
Masquerade Ball: 10:00pm-12:00midnight (Main Events)
Dance: 12:00midnight-2:00am (Main Events)
Death Note live action movie: 12:00midnight-2:00am (Live Events)
Monday
NANA live action movie: 10:00am-12:00noon (Main Events)
Cosplay Chess: 12:00noon-3:00pm (Live Events)
Art Show Auction: 12:00noon-1:30pm (Panel 3)
Charity Auction: 1:00pm-3:00pm (Main Events)
Creation Station Winners Announced: 2:00pm-4:00pm (Creation Station)
Swap Meet: 2:30pm-4:00pm (Workshop)
Closing Ceremonies: 3:00pm-5:00pm (Main Events)
Rant and Rave: Directly following Closing Ceremonies; may start prior to 5:00pm (Main Events)
Full Schedule
Coming soon: Live schedule updates. View updates to the entire Kumoricon event and video schedule as a web page. This will be updated during the con if events are moved or changed.
Check back for the URL as soon as this is available.
Hotel Event Space Map
Click on the map for a full size view. This map will be present in the pocket programming guide.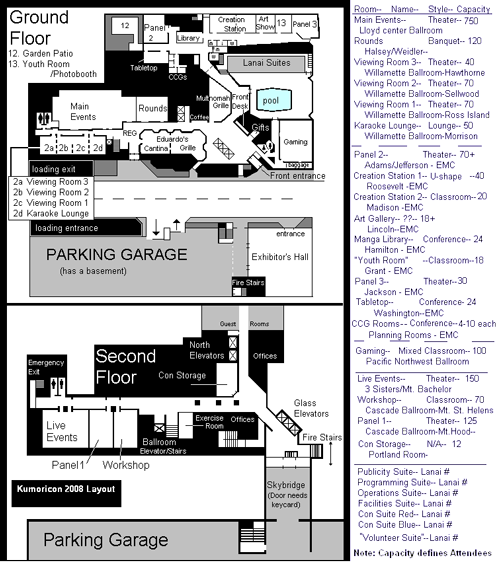 Several other maps are available on the maps page.
Event Descriptions
Main Events
Opening Ceremonies
Join us as we kick off the sixth year of the convention! Find out what events are in store for the weekend.
Charity Auction
Help out a great cause, bid on one-of-a-kind items, and have a lot of fun at the Kumoricon Live Charity Auction! Donations from a variety of local and national businesses, as well as unique souvenirs will be up for bid. All proceeds benefit p:ear, a local youth arts outreach program. Don't miss it!
Chibi Room
New to Kumoricon this year, the Chibi Room will host a variety of activities geared towards our younger attendees. For a schedule of activities, please go to the info booth.
Kumoricon Dance
Get ready to strut your stuff! You can come in your best cosplay, your most elegant Lolita, or even as you are, but be ready to rock out. Two dances, one on Saturday night and the other Sunday, will keep your feet moving all night and into the early morning hours.
Manga Library
Come sit, relax, and read your favorite manga in Kumoricon's very own manga library! Open from 8am to 2am all weekend, it's a great place to take a break from all the con chaos!
Masquerade Ball
Returning to Kumoricon this year is our formal Masquerade Ball. The dress code is black-tie or cosplay, and you must wear a mask—bring your own, or make one in the Make Your Own Mask Workshop. Come to mingle and dance, and at midnight see who you were dancing with as masks are removed. (Kumoricon staff reserve the right to deny entry to anyone inappropriately attired.)
Volunteer Meeting
Want to help out the con staff for a few hours, but not sure what to do? Come to the volunteer meeting, speak with dedicated staff who will tailor your great contribution around the stuff you want to see anyway! It's one of the best ways to show Kumoricon your support!
Closing Ceremonies
The final event of Kumoricon—contest winners are announced, highlights are replayed, and the mascot for 2009 is revealed.
Rant and Rave
Was there something you loved, or something you think could be improved? Good feedback or bad, we want to hear your thoughts. Stop by after Closing Ceremonies to tell the staff what you thought of the convention.
Premiere Screenings
Maria Watches Over Us
When Yumi entered a prestigious all-girls Catholic school in Tokyo, she never imagined she would catch the eye of Sachiko, one of the school's most popular girls. Now Sachiko has offered to be Yumi's soeur—her "sister" and guide at the academy. The entire campus is abuzz with rumors about the two of them, but Yumi is conflicted over accepting Sachiko's offer. While she admires Sachiko, being her soeur would also mean constantly being at the center of the entire school's attention!
Maid Squad's exclusive sponsor is Emma, A Victorian Romance! Just released by Right Stuf, Emma tells the story of a hard working honest young maid who has never felt her place in life to be a burden. But then she meets William, eldest son of a wealthy family. His warm smile and affection threaten to capture her heart, but can love truly conquer all?
See a special screening of Emma Saturday, right before the Cosplay Competition.
Death Note
Based on the bestselling supernatural action mystery manga written by Tsugumi Ohba and illustrated by Takeshi Obata. Death Note was first released in Japan in 2006, becoming an instant smash hit. The story begins when ace student Light Yagami finds the Death Note, a notebook dropped by a rogue "Shinigami" death god named Ryuk. Any human whose name is written in the notebook dies. Upset with the justice system, Light takes matters into his own hands and vows to use the power of the Death Note to rid the world of all evil.
Nana
Based on the popular manga by Ai Yazawa, Nana follows the adventures of two girls both named Nana. While they share the same name, they couldn't be more different. One follows her boyfriend to Tokyo in hopes to make a new start, while the other is a punk rock beauty who has an ambition to make it big in the world of rock and roll. Although these two young women come from different backgrounds, they quickly become best friends to seek their happiness and dreams. J-pop Icon MIKA NAKASHIMA and actress AOI MIYAZAKI bring the manga to life. Original theme song written by J-Rock charisma HYDE (L'Arc-en-Ciel).
Gackt: The Greatest Filmography 1999-2006 (Red/Blue)
This film contains Japanese Pop Star GACKT's music videos that have been released from 1999-2006. Gackt is one of the most popular J-pop stars in North America and Asia. In 1995, Gackt started his career as a vocalist, lyricist and pianist of the Visual-Kei or Visual Rock band Malice Mizer. Gackt launched his solo career on May 12, 1999 with the release of the EP Mizerable. Several albums, singles and videos have since followed. Gackt's most recent solo release is the single "Returner ~Yami no Shuen~", released on June 20, 2007.
Gackt's music has also been featured as theme songs for animes and video games multiple times, such as New Fist of the North Star, Texhnolyze, and Bujingai. He has also been featured as an in-game character in Dirge of Cerberus: Final Fantasy VII.
AMV
AMV Contest
Join us for music videos created for fans, by fans, and vote for your favorite video. Entries are grouped into categories: Drama, Japanese Music, Old School, Trailers, Action/Effects, and Random. Come see how your video does, or just sit back and watch! Winners will be announced during Closing Ceremonies.
AMV Show
Immediately following the contest, stay and watch the "best-of" collection of AMVs created within the last year.
AMV Iron Chef Participant Check-In
The AMV Iron Chef! Contestants peruse music and video sources, then create a mini masterpiece on the fly! Creations will be shown later at the con and a winner selected by audience vote.
AMV Iron Chef Showing
Here is where we show the creations made by the AMV Iron Chef participants!
Off-Hours AMVs
(Age 18+ Only, ID required at door)
Includes AMV contest entries having more explicit lyrics or more suggestive imagery than the typical AMV contest and show entries.
Tabletop Gaming
Located in the Washington room of the Executive Meeting Center, this room will be open for the duration of the con for anyone to play CCGs, RPGs, or any of the board games that are available.
Magic Standard Tournament
Come join us for a constructed standard event. The duration of this event will depend on the number of participants, but expect the event to last at least 5 hours. Entry is free to all staff and attendees and prizes will be based on the number of participants.
Magic Draft Tournament
Come join us for a 2x Shadowmoor, 1x Eventide draft. The duration of this event will depend on the number of participants, but expect the event to last at least 5 hours. There will be an entry fee of $10 and prizes will be based on the number of participants.
Open Play
Bring yourself, your friends and your favorite card game, board game or RPG—or try playing one of ours. We will have a variety of games available for your tabletop gaming needs during our open play hours.
Yu-Go-Oh! and World of Warcraft Tournament
A CCG tournament—beginners and experienced players are welcome. This will be a constructed event.
Cosplay
Ask the Experts: Costume Stumpers
Try to stump the experts by bringing your most challenging costume puzzlers and questions to this panel of experienced cosplayers.
Cosplay Competition
Whether you like to compete or just to see costumes being presented, the Cosplay Competition is Kumoricon's main costume event. Various individuals and groups will present their costumes and entertaining skits. At the end of the competition, prizes will be announced for outstanding entries.
Cosplay Pre-Meeting
Meeting for Cosplay entrants. This is the time to ask the Cosplay Manager questions about skit content and weapons use; sign up for Costume Workmanship slots, Photography slots, and Skit technical rehearsal slots; and hear any last minute announcements. At least one member of each group must be present. Final deadline for all entries. Entry forms, waivers, and CDs must be turned in to the Cosplay Manager. There are no exceptions. Costumes not required at
this meeting.
Cosplay Green Room
This is where cosplayers hang out during (and 1/2 hour prior to) the Cosplay Competition. There will be a video feed from the main events room so entrants may watch the event while waiting for their time onstage. Light munchies, water, and drinks will be available to ensure entrants are properly hydrated and genki.
Cosplay Chess
Returning for a second year to Kumoricon! Come see your favorite characters battle it on a giant chessboard stage! Cosplay Chess is an event where convention attendees in cosplay serve as the pieces, and at the direction of two chess masters, will move, fight, and die, live on stage. The combats are not pre-scripted— anything can happen!
Cosplay Chess Pre-Meeting
Meeting for Cosplay Chess participants. This is an opportunity to discuss proper battle techniques and work out strategies. Mandatory for all participants.
Cosplay Photography
A panel for learning better techniques for taking photos of cosplayers as well as information on better posing techniques for the cosplayers themselves. There is also a strong focus on the interaction between the cosplayer and the photographer.
Cosplay Scavenger Hunt
Join the hunt! Keep your eyes open and on the lookout for clues as you wander the convention. For more information, please go to the info booth.
Crossplay: Untucked!
Crossplay! This panel will explore the fascination of folks cosplaying characters of the opposite sex. Panel moderators will share tips, advice, secrets, stories and enjoy a discussion with folks interested in the subject
Cuddly Cosplay
Do you have a plushie that's been begging for a chance to appear on stage? A teddy bear ready to emote as Ichigo from Bleach, or perhaps My Shinigami Pony? Give it the opportunity to strut! It's a cheesy cosplay presentation just for them! Make an outfit for the plushie. Provide documentation if you think it would help. We will have sound (a boombox) for CDs and a "followspot" flashlight. If you forget to bring music, you may sing or the audience may provide random sound effects at their whim. There will not be tech rehearsal. If you have a group, contact the director and we'll think of something. Stage size will be whatever table we can confiscate in the room we get.
How to Make Cat Ears
Come to this workshop and learn how to make your own purrrrfect cat ears! Materials are provided, and instructors will be there to help you along. Space is limited, so be sure to come early. (For those who cannot attend the panel, you will be able purchase the materials and make your own ears at the Kumoricon booth in the dealer's room).
Intermediate Cosplay: Modify Patterns
You've decided on your cosplay, but you can't find the exact pattern to use? Need to adjust a pattern so it fits better? Come and talk to experienced costumers about how they use parts from different patterns or modifying already existing patterns to get that specific look.
Intro to Cosplay: Costumes
Do you have a cosplay idea that you are dying to do, but don't know where to start? Join in on a discussion with seasoned cosplayers as they discuss buying vs. making, where to shop, materials to use. Here is your chance to get advice from people who have been there.
Intro to Cosplay: Skits
You've seen them do it and you want to join in on the fun, but not sure how? Then come join us for a panel discussion with seasoned cosplayers who have participated and won competitions. Get advice on how to come up ideas, prepare a skit, and perform it during the cosplay competition. Here is your chance to ask questions from the people who know, and are willing to share their ideas.
Polystyrene Props
Come see how to create cosplay props out of high density polystyrene. This lightweight material is great for costume accessories and props of all kinds. Learn tricks and techniques for working with this versatile material.
The Ten Commandments of Cosplay
Whether you're new to cosplay or have been around a while, you probably still have some questions about where to start, or how to take your costuming to the next level. Come and learn the dos and don'ts of cosplay and props
from two award-winning cosplayers! We'll cover the cosplay process from start to finish, as well as providing information on where to find rare costume accessories. Don't miss it!
Phantasy Photo Booth presented by Sexy Geeky Studios!
Official Kumoricon photos taken to be used for Kumoricon publications and website plus prints of your photos available for purchase. The Phantasy Photo Booth is run by otaku for otaku to capture con life at sci-fi, fantasy, and anime cons in the northwest area. We take digital photos against a blue screen and then you pick the back ground you want. Visit us on the web at http://www.sexygeeky.com/
Karaoke
Open Mic
Come to the Karaoke Lounge, where you can join and enjoy the open mic. Sing your heart out, or have a seat and relax. Most of all, enjoy the music!
Karaoke Cosplay Hybrid
See cosplay and karaoke collide once again at Kumoricon's Hybrid Contest. Contestants will put on skits, perform artistic acts, and go for audience appeal, all while performing sings to complement their performance. Be goofy, be serious—the point is have fun with your music!
Kumoricon Idol
For those you are here to perform or listen to beautiful Japanese songs, Idol contestants are judged on vocal ability and talent.
Guest Programming
Anime and Shakespeare
Join Kirk and Julie Thornton as they compare techniques used in anime voice acting and Shakespearian acting.
Asia in America
Meet the Asian guests of Kumoricon as they'll take on anything and everything you might wonder about growing up as an Asian in America. Asian stereotypes? How to date an Asian? You can find out the answers to the questions that you've always been too afraid to ask in this free form panel hosted by The Slants.
Anime Hunters
The Anime Hunters return to Kumoricon for their third panel. The life of a cosplayer is tough and complicated, and the Hunters sum it up in their episodic web series. There will be open discussion with Q&A, along with the premiere of Episode 4…and maybe even more… if they can get them done in time. Come join them! Oh yeah, there will be another raffle…with a HUGE grand prize. Want to know what it is? You'll just have to come and find out.

Comic/Manga Panel
Join Tommy Yune, a veteran of comic series such as Robotech, Speed Racer, Racer X, and Danger Girl, as he covers modern production techniques of the industry and new options available to hopeful comic creators through digital print-on-demand.
Dark Horse Panel
Join Carl Horn for this discussion on Dark Horse Comics, celebrating their 20th anniversary year in manga publishing.
Guests of Honor VIP Dinner
(Ticketed Event)
Dinner with the guests! If you want face time with all the guests in an intimate meal, this is the event for you. This is a ticketed event, so be sure to purchase your tickets at the Pre-Registration area. VIP entry is included in the cost of registration.
Illustrator for Beginners
Greg Dean's panel aims to teach you the ins and outs of Adobe Illustrator. Whether or not you actually learn how to use it is entirely up to you, though we'll try to introduce you to the program in a fun and enjoyable way. We also try to have a Q&A afterwards, so if you have any specific uses you want to inquire about, that's the time!
Lupin and Bo bo bo Outtakes
(Age 18+ Only, ID required at door)
Richard Epcar shares some hilarious outtakes from some of the anime that he has worked on over the years.
Real Life Comics with Greg Dean
How does Greg come up with the ideas for his comics? What are his influences? Bring along these and any other burning questions to this general Q&A session hosted by Greg Dean and his wife, Elizabeth Dean.
Robotech: Past, Present and Future
Tommy Yune, director of Robotech: The Shadow Chronicles, covers the history of the animated series that introduced a generation to anime, and discusses upcoming new releases in the wake of the announcement of the live action feature film.
Robotech: The Shadow Chronicles Screening with Live Commentary
Join Tommy Yune and Richard Epcar as they host a screening with live commentary of the award winning animated feature film.
The Slants Concert
For the second year, this Portland-based band will play live at Kumoricon. Come listen to their unique blend of danceable rock with an Asian twist—you won't be disappointed!
Girl Genius Radio Theater
Done in the style of old-time radio productions, come listen as Studio Foglio brings their creations to life in front of a live audience.
"You Dub!"
No, we're not talking about the school up north! Join Kirk and Julie Thornton as they demonstrate and teach some basics of voice acting, and then put what you've learned into practice, as members of the audience take their shot at voicing different scenes from your favorite anime!
General Programming
Aftercon.com Industry Panel
Aftercon.com is a new social networking site designed for attendees to keep in contact and meet up at future anime conventions. Aftercon Podcast hosts, Gackto and David, will be at the panel along with Simon from The Slants. Come meet them, hang out, and learn how to win an iPod, music and other goodies.
Anime Christmas
Christmas comes early in this game inspired by Musical Chairs. People will pass around a giant present to music and when the music stops, the person holding the gift gets to unwrap a layer, which will either include an anime gift or a penalty. This event will have consolation gifts for everyone in attendance as well and anyone who would like to bring a gift to add to the present that's $10.00 or under may do so.
The Anime List
Ever wanted to decide once and for all the best of the biggest anime subjects? If so, come join a collaborative discussion game where people will list their favorite choices of an anime subject and after that, the audience
will vote on their favorite. So if you'd like to make a statement for a big anime subject (along with many other kinds of anime subjects), whether it's best-looking character, the greatest anime series or best voice
actor, The Anime List is for you.
Anime that Scarred Me for Life
Back again for more soul-searing, mind crushing despair and trauma. Bring your best stories of the worst anime you've ever seen and share the pain with everyone else.
Apples to Apples—Con Edition
Apples to apples is a card game about matching adjectives to, well, about anything! However, until now, "anything" didn't include anime-themed cards. Our version of the game includes cards suggested by the fans! Come join this hilarious game, and contribute to it, too!
Ballroom Dancing Lessons
Feeling a little shy on the dance floor for the Masquerade? A ballroom dance class is also planned earlier that day for those of you who would like to learn a few moves, meet potential dance partners, or just brush up on your technique.
BangBangNeko Hour
A variety show with singing and dancing, live bands, Japanese game shows, contests with PRIZES!! and audience participation REQUIRED!
Disclaimer: Must be able to be filmed for later use in broadcast. What else do you have to do!!! We have candy…cosplay and we're not strangers with candy.
Ball-Jointed Dolls
Some of you may have seen people carrying around large, lifelike dolls in cute clothes. You may have questions, like, "What is that?" "How much do they cost?" and "Where can I get one?" This is the panel for you, then! See a variety of doll sculpts, get some questions answered and go home with an informational handout about these beautiful, intriguing Asian dolls.
Capture the Barrel
Pirates vs. ninjas returns! It's rematch time as ninjas battle pirates for control of the barrel. The barrel leads to treasure—win the most challenges for the barrel and win the treasure.
Creating an Anime Web Site
Six steps for creating your own web site from the creator of AdvancedAnime.com, Ben Long. Learn from Ben's mistakes as he discusses the victories and disasters encountered in his seven years of web development experience. Q&A with Ben about how to get started, web hosting, driving traffic, community management, and selling advertising.
D.Gray-man Manga Discussion
A free form discussion of the D.Gray-man manga. Will discuss spoilers and theories.
Family Feud—Otaku Edition
The popular game show "Family Feud" is here! Teams of 4 will compete with anime/Japan themed categories! Cosplayers recommended, but not required! Assemble your team, or come at random!
Fangirl/Boy Anonymous
Hello~ all you wonderful fangirls (and boys). We're back once again this year, holding your very own fangirl panel! Come join us for the once again loved and renowned fangirl panel! <3 Can't wait to see you there~!!
The Gothic and Lolita Tea Party
(Ticketed Event)
A celebration of tea, lolita fashion and tasty foods! Come enjoy carefully brewed teas and a spread of delicate food items, in all your lolita finery! Door prizes and reading materials provided! Please be informed that
seating is limited and there is a strict dress code enforced. If you're not sure if your outfit qualifies as lolita, here's a simple checklist: The skirt should be at least knee-length and poofy like a bell; the fabric should be a smooth cotton, not cheap and shiny; the shirt should be high-necked and modest; socks should be kneehigh, or opaque tights; any lace should be smooth and soft, not plastic and scratchy. Think elegant! Lolita is a fashion, not a costume.
Cosplay costumes will not be allowed unless they fit the guidelines of lolita fashion. Visual kei is a related style to lolita, and may be allowed in based on how much space there is.
Gundam It! Gundam Scale Modeling
Learn the various types of Gundam kits, and the tools and supplies needed to build one. Talk with other scale modelers, and learn new techniques to make your next Gundam kit build a fun experience.
The History of Yaoi
(Age 18+ Only, ID required at door)
Have you ever wondered where yaoi came from? Why shounen-ai and boys love is so popular in Japan? And why is it so easily loved in America? Have your own theories on it? Come and discuss the history of yaoi and shounen-ai.
How to Play Go
Ever see that game with the hordes of black and white dots, but you don't know how to play? With this panel, you can correct that ignorance, and learn how to play go!
I'd Just As Soon Kiss a Wookiee: A Star Wars Panel
"I can arrange that. He could use a good kiss." Everything a Jedi needs: madlibs, shoving ewoks off of trees, kicking over mouse droids, and baked goods. Maybe a lightsaber. MAYBE.
P.S. No droids allowed—we don't serve their kind here.
Kumoricon Forum Meet Up Panel
If you post on the Kumoricon forums, then come and meet your fellow posters face to face! Learn the stories behind sig lines and share inside jokes. If you've never posted then come down and find out how much fun you're missing out on.
L Vs. Kira Debate
Which is better? L or Kira? Wanna see what everyone else thinks? Join in the debate!! L verses Kira!
Make Your Own Mask
Want to go to the Masquerade, but don't have a mask? Come to this workshop where we provide the masks and materials for you to make your own. There will be two sessions, but space is limited.
Ouran Host Club Tea Party
(Ticketed Event)
This is an event where anyone is welcome. And it's just like it sounds: A tea party with an Ouran High School Host Club theme! We also invite people cosplaying Host Club members to come and serve guests. Coffee, tea, and treats will be provided.
Parent's Guide to Anime
This is a panel for all those selfless parents and guardians that come every year, yet don't know much about anime. We'll help you understand the rating systems, where to get anime for your kids, how to supervise what they're watching, and best of all, answer your questions. Find out what is so great about anime to begin with and how you can be a part of your child's world.
Pirates Vs. Ninjas
Pirates and ninjas duke out their age old rivalry in the ultimate battle. Dancing.
Pocky Club Presents
Coming in for their 4th year at Kumoricon, the Pocky loving fanboy and fangirls of Pocky Club will do their best to entertain you with information about the club, Pocky trivia, and even some samples of hard to find Pocky flavors.
Pokémon Trading and Gaming
Enjoy playing Pokémon? Well, come spend time trading and battling with your fellow fans at Kumoricon! Be sure to come prepared for a tournament.
Ramen Fire Bowl Attack!
Do you think you have what it takes to survive until the finish? Can you handle the heat? Then come test your abilities. Or if you're weak, just cheer the others on. Consisting of 3 heats, contestants will compete to see who can handle the most fiery hot bowls of ramen.
Random Panel the Third
Three years ago, in a distant land, a mysterious call brought together a group of individuals. Together, these vagabonds formed the first Random Panel, a panel as epic as Zeus himself. The following year Hermes' trumpet called these brave souls back together to once again work their magic. Now, the legacy continues on! Random Panel, the Third! The legendary Random Panelists will once again converge on Kumoricon's holy grounds to wage war against boredom and lift up the spirits of the congoers with their cunning humor and unpredictable games. Are you brave enough to answer the call with them?
Randomness of the Internets
This panel will never give you up, it will never let you down, it will never run around and hurt you; it will never make you cry, it will never say good-bye…
Religion in Anime
Free-form discussion on symbols and imagery of religious content in the anime you're watching. Carl Horn from Dark Horse Comics will join in the discussion, sharing his knowledge.
Return of Anime Jeopardy
Everyone's favorite game show with an anime twist. Now with 50% more good.
Anime Jeopardy – Contestant Selection
If you are interested in participating in the Anime Jeopardy event, you will want to attend! At this panel, the people behind Anime Jeopardy will be administering an exam in order to determine the contestants for the show.
Shounen/Shoujo-ai Sleepover Party
(Age 18+ Only, ID required at door)
A sleep over themed party, where you dress up as your favorite character for shoujo/shounen-ai. There will be a photo shoot, food, and games! It will be 18+ after hours.
Slightly Anime Dating Game
The Slightly Anime Dating Game is done in the form of the 1970s game show with audience participation. There will be cosplayers, there will be innuendo…and there will be laughs! Come join us for a few hours of fun. Bring your costumes, your dirty minds, and your sense of humor to this game and hopefully you'll be the lucky one getting a picture with one of our "prize" contestants!
So You Want to Make Video Games?
Well, then, do you know where to apply? Where to go to school? What skills you need? What you should have in your portfolio? Fortunately, Aimee Skeers is back again to answer your questions! A 3-D artist for Zombie Studios here in Seattle, she has video game experience and is willing to share it with you.
Speed Dating
(Age 18+ Only, ID required at door)
Tired of dating the old way? Can't stand long winded conversations about shoes or sports? Try your hand at Speed Dating! We will have a round robin style encounter room where you can ask as many questions as you can think of in 3 min before moving on to the next lucky individual. Every 3 min you have a new opportunity to speak to a new fascinating Anime fan! Who knows maybe your 3 minutes could reveal your soul mate? *Or a really cool friend!*
Swap Meet
Did you not get that gashapon you wanted in the dealer's room? Chances are someone wants the very one you have! So come to Kumoricon's swap meet! Bring your unwanted wallscrolls, figures, anime, manga and anything else Japanese to sell and trade. Remember though this is intended for trading so keep the sales under $10 please!
Trading Card Games
A panel about trading card games, including but not limited to: Yu-Gi-Oh! and World of Warcraft. Topics covered will include game rules, game edacity, and deck building. There will be a game demonstration followed by a question and answer session. No trading card experience is necessary. Beginners and experienced players are welcome to attend.
Wapanese For Weeaboos
Now available in Kumoricon flavor! Ever wanted a Japanese vocabulary beyond the realm of "kawaii neko baka desu desu desu neeee?" Then this panel is for you! Learn the basics of elementary Japanese speaking and writing and some awesome "survival phrases!" Disclaimer: we're by no means fluent in Japanese, but fairly successful at translating J-pop songs and shoujo manga. This is meant to be a lighthearted event; we're not serious business! Also, this is NOT a 4chan-related panel; sorry if the name is misleading.
What is it about Catboys and Catgirls?
A discussion on the popularity of catboys and catgirls in today's world of otaku and media.
XXXHOLiC Discussion
A free-form discussion of the anime and manga of XXXHOLiC. Will discuss spoilers and theories.
Yaoi!
(Age 18+ Only, ID required at door)
It's time once again for everyone's favorite pastime~ Come watch your favorite kind of bishies get it on in our one-of-a-kind shounen-ai happy place. Join us for a light discussion, and heavy yaoi viewing time. For adults only—we will be checking your ID at the door so remember to bring it. At least you know we'll have the good stuff right?
Yuri!
(Age 18+ Only, ID required at door)
So everyone loves yaoi right? What about yuri? Yuri always seems to be forgotten. Well this will be the ultimate panel of yuri! All that fun girl-on-girl action ranging from super cute shoujo-ai to full yuri hentai. Panelto include a introduction to yuri and its forms followed by yuri hentai theater! I mean, who doesn't support super cute anime girls lovin' on each other?
Yaoi/Yuri Party
(Age 18+ Only, ID required at door)
Are you a fan of yaoi or yuri? Do you find yourself roaming the halls in search of entertainment after hours? Then come join us for this after-hours adults only panel (ID required at door). Bring any yaoi/yuri material you
wish to share (doujinshi is especially appreciated).
DJ Gino
DJ Gino is back for his fifth year spinning music at Kumoricon. Gino has been an actively DJ-ing since 1996, mixing everything from gothic-industrial to hip hop to the latest electronica and pop. Gino has played for packed clubs all over the West Coast and as far away as Peru. He has been a regular featured artist at the club nights such as: Sweat the Details, Oscillate, Martyrium, Sound EnVision and Continuum. Between DJ sets Gino stars as the frontman for The Gentry, a premiere electronic rock band hailing from the war torn streets of Tanasbourne.
Fan Creation
Adult Fanfic Bedtime Stories
(Age 18+ Only, ID required at door)
A continuation of Fanfiction Bedtime Stories for the afterhours crowd, and fics with more adult content are shared.
Anime Exquiste Corpse
Based on the popular Victorian parlor game, Exquisite Corpse is a round-robin style fanfiction or fan art collaboration. Audience observation and participation is encouraged; anyone may join in at any point!
Anime Mab Libs
Everyone's favorite Mad Libs game with an anime twist! Come to create your own Mad Lib or just help fill them out!
Art Contest
Sponsored by Copic! Come and show off your mad art skills at the Creation Station's annual Art Contest. This contest will run throughout the convention, so drop on by the Creation Station art room and create a masterpiece, or bring by art pieces that you've already drawn! Copic has provided inking pens and markers for use in the Creation Station, so come by and use ours or bring your own! All entries will be showcased. Prizes will be awarded at the end of the con.
The Art of Creating Manga
Aspiring manga-ka? Curious novice? Learn how to help your manga stand on its own by looking in depth at what defines outstanding manga. Refine and apply the written and visual elements essential to your art and storytelling.
Artist Alley 101
Do you love hanging out in the Alley, and now want to make the leap to setting up an art marketing table yourself? From business aspects (sales tax?) to how to print and display your items, to facing others' biases of what constitutes anime art, Artist Alley veteran Cassie Richoux will give you a head start.
Art-into-Fic Contest
So much of fanfiction is inspired by fan art, and vice versa. This contest is an open invitation for writers to be inspired by the art being created in the Creation Station throughout the con and write the pictures' 1000 words. This contest is on-going, so feel free to drop by the rooms any time to participate.
Cel Painting
Have you ever looked at hand-painted cels, and thought, I could do that? Well, now you can! Learn how to paint a cel from scratch, from adding the outlines to properly layering paint colors. And you'll head home with the beginnings of your own cel to show off to friends and family!
Chibi Art Contest
Anime at its cutest! Chibis are a part of every fan creator's repertoire, so please come by the Creation Station and draw your cutest chibi for this on-going contest! The best will be awarded prizes!
Citrus and You
(Age 18+ Only, ID required at door)
Do you enjoy reading and writing adult themed fanfiction? If so, then join the Creation Station in a discussion on the hows and whys of citrus writing and share your experiences! We'll discuss: how to find good citruses, what makes a bad citrus, and when a citrus fic has gone too far. So come with suggestions, ideas and open minds!
Coloring Page Contest
A much-loved part of the Creation Station! Coloring pages by our staff and by Copic are available in the Creation Station, for you to flesh out with our Copic markers and other supplies, or your own—and we're hoping you'll also come use our Copic ink pens to create your own line art! All entries showcased; prizes awarded! Watch for our special Chibi section of this event!
Dolly-Making Workshop
Can't find a plushie of your favorite character? Just make your own! In this event, TheCraftyTitan will give you a crash course on how to make your very own plushies that you can dress and decorate as you please. We'll supply the materials at the Creation Station; all you need to bring is an imagination! Standing room only at its previous Kumoricon incarnations, there's a limit of 25 people per session—make sure to sign up ahead of time at the Creation Station.
Fan Art Caption Contest
In this contest, people will submit fan art and people in attendance will create captions for each work that gets featured. The audience will then vote for the best caption and the person providing the caption with the most votes will get a prize. There'll also be a prize for best overall caption along with one for best art submission.
Fandom Bears
This 2 hour workshop will show you the basics of teddy bear making, and then let you jump right in and customize a bear for your favorite fandom! Using needle felting, as well as soft doll making, sewing, and coloring techniques, we will re-imagine these second-hand stuffed toys into whatever we wish. Level of complexity is up to you! All ages, though we will have pointy objects about. Please bring your own bear if you possibly can, though we will have them available.
Fanfiction 101/102
Ever wanted to explore a story beyond what the author penned? Wanted to get inside a character's head? Maybe you thought that Character A should hook up with Character B? Then fanfiction is for you! Fanfiction; or writing stories based on preexisting characters, settings, or concepts; is a fantastic way of showing the ways your favorite series inspire you. And in Fanfic 101/102, we'll cover how to get started, how to hammer out all your great ideas into something readable, and how to find other writers. And then we'll delve into common pitfalls (including the dreaded Sue!) and how to avoid them, how to network in your fandoms, and the art of the review!
Fanfic Theatre
Fanfiction and cosplay, what could be better? This contest is open to anyone who has ever wanted to see their fanfiction live! Bring a story and some friends and make your fiction come to life!
Fanfiction Bedtime Stories
This event is the Creation Station's flagship. Bedtime Stories is a chance to come and cuddle up with fanfiction authors and get your fic fix before bed. Or for writers, this is your chance to share your works with the world and get immediate response. Everyone is welcome, even if you just want to sit and listen! So come in your jammies with your favorite blanket for the Creation Station's favorite event!
Fic-into-Art Contest
So much of fanfiction is inspired by fan art, and viceversa. This contest is an open invitation for artists to observe the fics being written in the Creation Station throughout the con and illustrate the story. This contest is on-going, so feel free to drop by the rooms any time to participate.
From Anime to Anthro: Furrying Your Art
Are you interested in drawing anthropomorphic artwork? Come learn how to adapt your anime-styled art into furry art. We'll examine different styles and learn some tips from someone who has made the jump herself!
Life Size Art
Creating life sized art can be a daunting task. Learn some tips and tricks for creating large scale artwork and get some hands on experience and tips.
Layer Mask—Photoshop
A quick step by step instruction on using layer masks to make a cleaner picture in Photoshop.
NaNoWriMo
Have you been putting off writing the Great American Novel? November is Nation Novel Writing Month (NaNoWriMo) where authors take up the challenge of writing 50,000 words in 31 days. Come and find out the trials and tribulations of sprint writing and share the experiences with those who've won!
Non-Canon Pairings in Fanfiction
What could be better than fanfiction about characters you love? Fanfiction about characters you'd love to see together! What's that—they're not an item in the show? Doesn't matter! In Non-Canon Pairings, we'll discuss
what makes a pairing work, how to play matchmaker to the lucky couple, and more!
Pairing Dynamics
What makes a pairing work? And what makes it a believable pairing? Pairing Dynamics will go over these questions and more to explore the chemistry between your favorite pairings.
Pocky Club Mascot Art Contest
Inspired by the doujinshi fads the OS-Tans and Mecha Musume, Pocky Club is sponsoring an art contest to see who can capture the Spirit and Look. The contest spans five flavors of Pocky. All entries must be turned in by 8:00 PM Sunday Night with prizes in the morning. Help create the new look of Pocky Club.
Professional Grade Markers
Do you ever wonder how your favorite manga-ka make their color pictures look so good? This is a chance to take the mystery out of the artistry. Come and learn how to use professional grade markers in your own home withthe Creation Station artists.
Putting it in Print
For all you creative individuals out there who are brave enough to self-publish and want to learn how. This is for web comic artists, fiction and non-fiction writers, as well as the curious book lover. Learn some strategies about how to put your masterpieces together and what to do once you have them in hand. Panelist Cassie Richoux has her master's degree in publishing, and she self-publishes her own series of 'zines, called the Otaku Survival Guides.
Scenes from a Hat
A Creation Station classic since 2005! Scenes from a Hat is a fanfiction, fanart, and fan improvisational theater contest wherein participants are challenged to produce a piece of written, drawn, or performed fanwork inspired by a written prompt.
Story, Story, DIE!
A Creation Station classic since 2003! Story, Story, Die! is an improvisational storytelling game where anything goes. Humorously competitive, SSD! is a blast for anyone who participates and a hoot to watch! SSD! culminates with the Ultimate Showdown, an all-in multi-fandom crossover collaboration!
Unsung Hero (Secondary Characters In Fandom)
Main Characters get all the glory, especially in fanfiction. But what about those background characters, the ones that so little are known about? We'll give you a breakdown of how to write for these lesser-known heroes and give them some well-deserved love.
Webcomics 101: Let's Get Started
A basic rundown on how to start a webcomic, running from info on starter sites, promotion, acceptable scale and loading time for your media, and just the plain, down and dirty basics.
World of Publishing
Wondering how a book makes it into the world of traditional publishing? We're talking the big guys here, from Scholastic to Tokyopop. Even more so, what happens to your book once it's accepted? Join panelist Cassie Richoux as she helps you understand the path your book will take and what you as the author or artist can do to help it along its path.
Creation Station
Come join your fellow creative otaku at the Creation Station! Evolving from a fanfic panel and contest at Kumoricon 2003, the Creation Station now spans two rooms and serves as *the* place for writers, visual artists, improv performers and their fans to hang out at Kumoricon, whether listening to panels, reading, writing, or performing fanfic, or trying out new art supplies and techniques.
How to Mini Panels
New to the Creation Station's programming this year, our experienced artists and authors will be offering a selection of "How-to" workshops for those who are looking to learn how to draw in an anime/manga style, write fanfiction, or looking to improve their work. Stop by for these half hour panels for a fun and educational experience! Workshops will be available for the following:
Art
Anime eyes
Anime faces
Anime body (male and female)
Drawing hands
Superdeforming Your Art (How to draw Chibis)
Movement
Clothing
Hair
Shadow
Character development in art
How to stage a comic panel.
Writing
Writing plot
writing dialog
Basic grammar
Basic Character Development
Writing a short story/drabble
Multi-chapter writing
How to write Original Characters
Along with these writing offering there are also three panels on betaings (proofreading/editing) with the Creation Station room founder (and professional editor) Ellen!
Former Creations
"I could say the same to you," he replied, cheekiness apparent in his voice.
"Ah, but I'm a patron," I replied, "I thought you'd be working behind a desk somewhere…"
"Well, when your family disowns you…" "Yes, I suppose so…" I half expected a certain amount of regret in his eyes at the statement, but only found a proud…defiance, for lack of a better word, shining there.
"Besides, it could be worse," he sighed wistfully. "But I can't complain, its better than playing the calliope." That got a full chuckle from me.
"So the rumors are true. You did run off with the circus!"
"Yes, complete with a loving clown, but the moving got to me, so I settled. They rest here in the off-season."
—piano man (Gundam Wing)
by Chibi Hentai-Chan
She sings with more passion than I ever saw in Maria—the other singer, that is. But where Maria comes from a pampered Jidoor background, Celes has truly lived. She's been there in the thick of things, and gone through things that even the other Returners could not imagine. The experiences of her life shine through in her song. I've told her more than once that her story would make for excellent theatre, but she just shakes her head. Perhaps I'll write one for her, though, just to see how she likes it.
—Ballgown Brunhilda (Final Fantasy VI)
by blackjack gabbiani