Guests of Honor
Tommy Yune
Robotech – Creative Director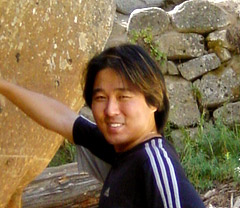 Tommy Yune has worked for over a decade in the comic book and video game industries. His early game development experience includes character design of the pioneering 3D fighting game FX Fighter for the Nintendo Super FX chip and conceptual design of the award-winning Journeyman Project series. He also wrote and illustrated hit comic book titles such as Speed Racer, Racer X, Robotech, and Danger Girl: Kamikaze which were published by DC Comics' Wildstorm and Cliffhanger labels. His first work in feature animation was creating the computer-generated opening sequence of Kevin Altieri's Gen13.
Tommy grew up on a steady diet of anime, watching as much Prince Planet, Gatchaman and Casshan as he could in Asia and the United States. Then he shunned television and went back to being a responsible student to the delight of his parents. However, right before entering the UCLA School of Engineering, Robotech brought anime back into his life and he eventually found himself at the Art Center College of Design instead. His parents wept.
Tommy first worked in an official capacity for the Robotech universe by helping design Robotech.com for its launch in 2001. He has since come aboard as Harmony Gold's creative director and oversees new development, including Robotech: The Shadow Chronicles which completed production in 2006.
Scott Glasgow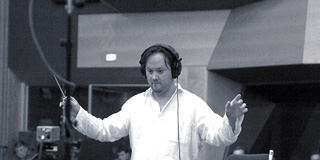 Award winning composer Scott Glasgow has been living and working in Hollywood since 2001 after moving from San Francisco where he earned his Masters from the San Francisco Conservatory of Music. In 2001, Scott was awarded the ASCAP fellowship to study film scoring at the Aspen Music Festival with John Corigliano and record with David Zinman's Conducting Orchestra twice. In 2002, Scott was also a finalist in the Turner Classic Film Scoring Contest. In the past couple years, Scott has worked with film composers as varied as Christopher Young (Spider-Man 3), Bruce Broughton (Silverado), Elia Cmiral (Ronin), Jeff Rona (Mothman Prophocies), Michael Levine (Cold Case) and Philip Giffin (BoomTown). While in San Francisco Scott worked as an assistant to Michael Tilson Thomas (Conductor of the San Francisco Symphony) summer of 1998 and studied conducting with Denis deCoteau of the San Francisco Ballet which allowed him to work on Elliot Goldenthal's "Othello". Also during the time in San Francisco, Scott worked up at the George Lucas Companies (LucasArts & Sykwalker Sound). Before that Scott has seven years working at Classical Record Labels such as harmonia mundi, Sony Classical, EMI classics, Delos International and other Classical Record Labels. As for "concert music", Scott has written a diversified collection of music for chamber groups (piano trio, wind quintet, solo pieces), opera, orchestra, choir and other mixed ensembles. He was also involved as one of the primary composers of the Music Theater Collective which was a non-profit organization in San Francisco that put on concerts for young composers. Scott has worked in many post-production studios (Skywalker Sound, Fantasy Studios and Sony Pictures Studios) and owns his own powerful home studio running multiple computers (ProTools & Gigastudio). He has been hired on many occasions to build studios or work for other major film composers. Scott has also been through the prestigious ASCAP Film Scoring Program in 2004 which culminates in a recording session at the famed Newman scoring stage at 20th century fox with some of the best players in LA. Scott currently resides in the Hollywood where he pursues his career.
Composer – Robotech: The Shadow Chronicles, The Gene Generation, Hack!, Bone Dry
Music score staff – Spider-Man 2, The Grudge
Richard Epcar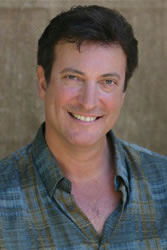 Richard Epcar is well known to anime fans, starting with the original Robotech series—in which he played Ben Dixon, Lunk, Gruel, and now Capt. Vince Grant in the new original animated feature, Robotech: The Shadow Chronicles, which he also directed.
He is the voice of Batou in the Ghost in the Shell movie, game, series, Ghost in the Shell: Stand Alone Complex, Solid State Society and Ghost in the Shell 2: Innocence, which he also adapted and directed into English.
Most recently he can be heard as Zangetsu and Koga in Bleach, Inspector Lunge in Monster, Bobobo-bo Bo-bobo on Cartoon Network, and Mr. Noisy on the The Mr. Men Show, Ghost Slayer Ayashi, Lucky Star, and Manda in Naruto.
Other shows he directed are the Lupin the Third series doing the voice of Jigen, Noein voicing Kuriyama, the first season of Digimon doing Etemon, Myotismon and Apemon and now doing Merukimon, the series Fighting Spirit and the game Victorious Boxers: Revolution doing the voice of Kamogawa in both, Patlabor III, The Secret of Mamo, Toy Warrior, Power Rangers doing many monster voices and the CGI series Zentrix.
He wrote for Transformers and did the voice of Armorhide. He is the lead in the new original animated series, Avenging Apes of Africa. He directed and played Moe in The Reef, an original animated movie with an all-star cast.
Some of you will know him from X-Men as Gladiator, Ninja Scroll as Lord Himuro Gemma, Serial Experiments Lain, Ghost Slayer Ayashi, Shining Star, Trigun, Wings of Honneamise, Fist of the North Star, Fushigi Yuugi as Mitsukake, Guld in Macross, Capt. Harlock, Curious George, Steroko, Mac in Teknoman, Bastard, Street Fighter, Daigunder, GTO, Samurai X, Rurouni Kenshin as Seijuro Hiko, Macron, Macross I, II, III, Macross Plus, Eagle Riders, Flint the Time Detective, Mon Colle Knights, Gundam, Mobile Suit Gundam, Witch Hunter Robin, The New Speed Racer as Racer X, Count of Monte Cristo and Cyber Soldier 009 as Black Ghost, to name just a few.
He was named Favorite Actor by DVD VisionJapan.
Some of the games you've heard him on are: Star Wars: Empire At War, Kingdom Hearts 2 as Ansem / Xehanort, Xenosaga I, II and III as Ziggarat 8 or Ziggy, .Hack I, II and III, Blue Dragon, Supreme Commander as Colonel Arnold, Victorious Boxers: Revolution, Paraworld, Black Hawk Down, Robotech Invasion, Splinter Cell 4 & 5, Ghost Recon, Samurai Warriors, Dynasty Warriors, Warcraft III and World of Warcraft, Jade Cacoon, Galerians, Street Fighters, and Star Ocean 3.
Some games he's directed are Blue Dragon, Shadow Hearts II, Enemy Territory Quake Wars, Lost in Blue, Unreal Tournament 3, Lupin III, Fighting Spirit, Vegas, Smack Down vs. Raw 2007, JackAss the game, Victorious Boxers: Revolution, Dead Head Fred and co-directed Unreal Tournament 3.
Live action foreign films that he has adapted and directed into English are many, including Academy Award winners Cinema Paradiso, Belle Epoque, Eat, Drink, Man, Woman, Women on the Verge of a Nervous Breakdown, Fencing Master, Widow of St. Pierre, Betty Blue, The Emperor and the Assassin, Amores Perros, Mission Kashmir, Azumi, Patlabor III, The Returner, Omyoji, Oldboy, Shiri, and Fearless, with Jet Li, to name a few.
As an actor he's recurred on Days of Our Lives and General Hospital. On film he co-starred in Memoirs of an Invisible Man with Chevy Chase and Sam Neill, and just starred in a short film entitled Three Putts. On television he's done several shows, including Columbo, Diagnosis Murder, Guns of Paradise, Beverly Hills 90210, Matlock, Who's the Boss? and Cheers.
He also does tons of voice work on many shows including: Resident Evil 3, Ugly Betty, Gilmore Girls, Jag, Devil's Rejects, Diagnosis Murder, Xena & Hercules, Gladiator, Independence Day, Inspector Gadget, Seven, Rumble in the Bronx, Man in the Iron Mask, Rounders, Crime Story, Hell Raiser III & IV, Hard Target, Operation Condor, Hopalong Cassidy, ER, Nash Bridges, Babylon 5, and many others.
As an International Supervisor for Universal Pictures and DreamWorks, Richard's work has taken him all over the world supervising the foreign dubs and mixes of feature films such as: Gladiator, Madagascar, Galaxy Quest, Chicken Run, El Dorado and the 20th Anniversary release of E.T..
Ellyn Stern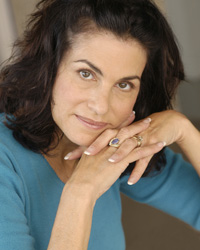 Ellyn Stern began acting at the age of 13. She is a classically trained actress known for both her dramatic and comedic roles. Her career spans from film to television to stage.
Ellyn Stern has spanned a large and versatile range of characters in animation. She started in anime with the original Robotech series—in which she played several characters. Most recently she can be heard in the forthcoming game Blue Dragon as Maru's and Jiro's Mom. She voiced the crazy exotic dancer on the Ugly Betty English version of the tele-novellas. She can also be heard as Yu's Mom on Noein and Jack's Mom in Mar. She voiced Haraway, the tough CSI doc in Ghost in the Shell 2: Innocence, Rosalind in Armitage III, Himeno in Fight!! Spirit of the Sword, Sayaka in Mental Fighter Miku, Moru in Vampire Princess Miyu, and Hiroshi's Mom in Zenki. Other shows she's voiced include: Zentrix, Mini Pato, Digimon, Bobobo-bo Bo-bobo, Parome in Genma Wars, in which she did a variety of characters. She also voiced Mobile Suit Gundam – The Movie Trilogy Metal Fighter Miku, Lupin the 3rd, Patlabor 3, Onmyoji, Wings of Honnesmise as Rosalind, Samurai X (which she also co-directed), The Little Punk in which she played most of the female roles, Honey Bee Hutch, Wisdom of the Gnomes, Macross I, II, III, Tom Sawyer as Aunt Polly, Captain Schnauzer as the Frog, Gigi as Madame Alvarez and Fighting Spirit, to name just a few.
Some of the games you've heard her in are Shadow Hearts II as Veronica, Paraworld as Ada, Sylpheed, Bushido Blade 2, Inherit The Earth, and Abby.
She is currently co-directing a very big game, whose name can only be revealed to the CIA.
Some of the games she's directed and voiced are: Aero Wings 1 and 2, Jade Cacoon, Super Magnetic Neo and Galerians.
On film she starred in Jessie's Girls, co-starred in Duchess and The Dirtwater Fox, co-starred in Fatal Charm, Prisoner in the Middle aka Warhead, and The Man Who Loves Women.
On television she's done numerous shows, American Carrott in which she starred with Jasper Carrott of BBC fame, Charlie's Angels, and recurring characters on General Hospital, Santa Barbara and Days Of Our Lives.
She has voiced lead voices in many live-action feature films that have been adapted into English including Academy Award winners Cinema Paradiso, Belle Epoque, Eat, Drink, Man, Woman, Kika, Mostly Martha, Women on the Verge of a Nervous Breakdown, Fencing Master, Widow of St. Pierre, Amores Perros, Mission Kashmir, Iron Monkey, The Emperor and the Assassin, Onmyoji-Ying-Yang Masters, Le Femme Nikita, Tae Guk Gi, Babbette's Feast and Shiri, to name a few.
She starred with her husband Richard Epcar in the hit play Rumors by Neil Simon which had a very successful run in Beverly Hills. They also starred in an episode of Clean Sweep together.
She starred as Jacqueline Kennedy at the Kirk Douglas Theatre, in We'll Never Be Young Again.
She is currently set to star in one film called The Other Way, and another called Electronica 2. Recently, she starred in 3 films: Both Thumbs, Eldad, and Ima. She is set to star in A Doll's Life—filming begins next year.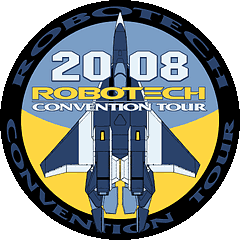 Tommy Yune, Scott Glasgow, Richard Epcar, Ellyn Stern
Kaja and Phil Foglio
Girl Genius – writers and artists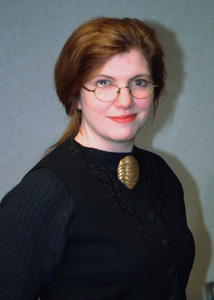 Kaja Foglio is a Seattle-based writer, artist and publisher. She founded Studio Foglio, LLC in 1993 as a venue for her Magic: The Gathering art prints, but quickly expanded into publishing. She co-writes the comic series Girl Genius with her husband Phil, and is the chief graphic designer and web mistress for Studio Foglio and Airship Entertainment, and masterminded their stunningly successful transition to webcomic form. You can read Girl Genius comics online at www.girlgenius.net.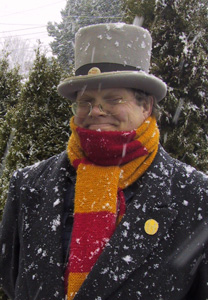 Phil Foglio won the Hugo Award for Best Fan Artist back in 1977, and is still waiting for the wealth and unlimited power he was told this would bring. In the meantime he has made a career as a writer and artist because he liked the idea of commuting fifty feet to his office. Over the years he has worked in the fields of science fiction, comics and gaming. His current project is the comic book series Girl Genius, which he works on with his wife, Kaja. His hobbies include travel, gardening and waiting.
Carl Horn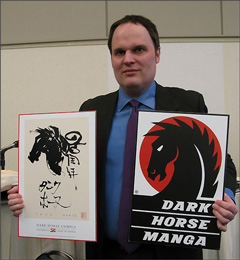 Photo by Deb Aoki, manga.about.com
Carl Gustav Horn is a manga editor at Portland's own Dark Horse Comics (celebrating its 20th anniversary of manga publishing this year!) including such works as CLAMP's Clover, Kosuke Fujishima's Oh My Goddess! and Eiji Otsuka and Housui Yamazaki's The Kurosagi Corpse Delivery Service. A former editor at Animerica and Pulp magazines, he has worked in the U.S. anime and manga industry since 1993, and was a co-author with Patrick Macias on Japan Edge, the first book on otaku culture to be reviewed in the mainstream media. He has contributed to the U.S. DVD releases of Appleseed: Ex Machina, Gunbuster, Gunbuster 2, Royal Space Force, Patlabor 2, and Jin-Roh, and has provided commentary on the field to Weekly Comic Morning, Square Jump, Newsweek Japan, the Nihon Keizai Shimbun, AERA, Clarín, The Los Angeles Times, The Hollywood Reporter, NPR, and Wired.
The Anime Hunters
They come from the city in the desert. They have traversed mountains, rivers, and had many bathroom stops. They have come, to entertain you! They are The Anime Hunters!
Dane (Yatta Dante) and Zach (Yatta Cloud), the hosts of the well recognized comedy group, The Anime Hunters, have been attending Kumoricon since 2004. Along with fellow members Jeremy (Random Dancing Kid) and Cassie (Chibiroth) They have performed multiple skits, hosted two panels, and host an online comedy show. And now they are back to bring entertainment to Kumoricon!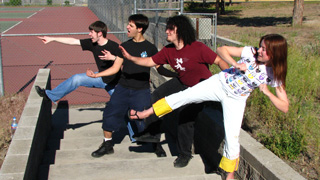 Greg and Elizabeth Dean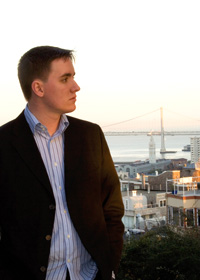 Greg Dean has a very hard time focusing. In the past few years, he's worked as a small plane refueler, a personal assistant, a graphic designer, a web designer, a culinary student, a cook, and of course, a cartoonist. His hobbies range from making chainmaille to writing about himself in the third person. Think of him as a renaissance man, sans renaissance. So, a…man.
Greg has been writing and illustrating his online comic, Real Life since late 1999, making it the longest he's ever paid attention to just one thing. For those who may not have heard of it, (SHAME on you!) Real Life is a semi-autobiographical comic about the author and his friends. What's meant by semi-autobiographical? Well, it deals with such subjects as going to work or school, road trips to Michigan, and building a giant orbital space station of death. Which is absurd, because Greg's never even BEEN to Michigan.
Greg has recently graduated from the California Culinary Academy, so in addition to drawifying things, he's now certified to cookify things as well. A shame they didn't have an English course at the academy.
Elizabeth is the other side of this team. Although she and Greg hadn't met by the time the comic was created, she has quickly made herself a major role in the comic's workings. She does just about everything except for draw the comic herself. Greg and Elizabeth worked so well together as a team that they decided to get married as well.
Kirk Thornton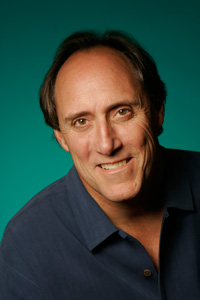 Kirk Thornton returns to Kumoricon as a guest for the third year in a row, after attending Kumoricon, his first anime con, as a guest in 2006. A native of Oregon, he worked his way into anime taking the traditional path: classical actor training (University of Washington), Oregon Shakespearean Festival, New York off Broadway and regional theatre, Los Angeles film and television, and dry cleaners where he ran into an anime director. 18 years in the trenches and some of the roles he has to show for it are Jin (Samurai Champloo), Hiei (Yu Yu Hakusho), Tazuna (Naruto), Saidoh (Bleach), and Gabumon and Mummymon (Digimon). Several of the projects he can currently be heard on are Bobobo as Don Patch, Haré+Guu as Lazy, GUNxSWORD as Claw, and various bad guys in Idaten Jump, The Prince of Tennis, and Zoids. He has just finished work on Planetes as Hachirota, Ghost In the Shell: Stand Alone Complex as Kuze, Gankutsuou: The Count of Monte Cristo as Baptistan and Caderousse, and IGPX as Mark. Other credits include Gungrave (Brandon Heat), Blackjack (Blackjack), Kikaider (Hattori), Dual (Dr. Sanada), Duel Masters, Bedaman, Last Exile, Stellvia, Vandread, Heat Guy J, Love Hina, Wolf's Rain, Akira, Fushigi Yuugi, and Rurouni Kenshin.
His voice has also appeared in video games, such as Kingdom Hearts II (Saïx), Resident Evil Outbreak, Mission Impossible, .hack, Scaler, Company of Heroes, Tales of the Abyss, Call of Duty 3, and TimeShift.
Kirk has directed the English dubs of S-CRY-ed, Gad Guard, Cosmo Warrior Zero, Tsukihime, Mars Daybreak, Otogi Zoshi, and Destiny of Shrine Maiden, holding the lead script adapter and story editor positions for all of them. He is currently co-directing Bleach.
Video games that he has directed include Enchanted Arms, Rogue Galaxy, Samurai Champloo, and Time Crisis 4. He's just finishing up a whirlwind road tour chasing down wrestlers in a mobile recording studio and directing them in the WWE Smackdown! vs. RAW 2008 video game.


The Slants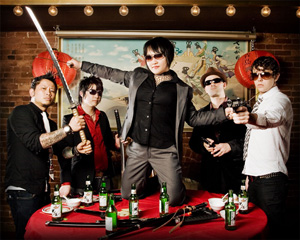 The Slants return to Kumoricon for 2008, where they made their anime convention debut in 2007!
The Slants are an Asian dance/rock band from Portland, OR, formed in 2006 by members of The Stivs, Son of Rust, and Evening at the Black House. Collectively, the members have had over 2500 live performances, and have worked with legendary producer Jack Endino (Nirvana, Soundgarden, Murder City Devils), as well as shared the stage with Joey Ramone, Nine Inch Nails, and members of Social Distortion, NOFX, and Bad Religion. The band has also produced remixes for Bjork, The Cure, and Information Society.
Their music is a cacophony of melodic rock intricacy tempered by darker dance themes with anthemic choruses and shattering hooks reminiscent of groups such as The Faint, Depeche Mode, Daft Punk, and Joy Division—except with an Asian spin. Perla Cadena of Sony BMG Music Entertainment claims "If you like danceable rock or anything Asian, you'll love The Slants!" The band is currently writing and recording for their first release (to be scheduled in summer 2007), which will be followed by aggressive touring and promoting.
The Slants are a hardworking band: every show is supported with full Internet advertising, listings and releases in the weekly papers of every city they play in, and for hometown shows there is always unprecedented saturation with posters and flyers. Their energy carries through not only on recordings, but live performances as well: as founder Simon Young said, "usually at every show, one of us ends up bleeding" (Pretty Vacant Zine).
Visit The Slants online at www.theslants.com.