Guests of Honor
Voice Actors/Directors
Sean Schemmel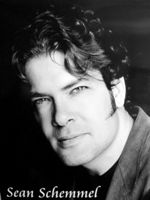 Sean Schemmel gets paid to stand in a sound proof padded room and make wacky voices all day—with good reason. He's good at it. Ever since he was discovered doing so at an undisclosed mental institution, Sean has been gainfully employed as a voice actor for some of the top anime titles in history. He is most noted as the voice of Goku in the internationally acclaimed anime series Dragon Ball Z, Dragon Ball, and Dragon Ball GT. Other notable roles include Amidamaru and Rio in Shaman King, Tetsugyu in Giant Robo, and Onsokumaru in Ninja Nonsense. Current projects include Dr. Vellian Crowler in Yu-Gi-Oh! GX, Chortles in Viva Pinata, Maxxor in Chaotic, and Gonard in Animation Collectives' hugely popular Kappa Mikey. Sean has also adapted for English and directed the following anime series: Space Pirate Mito, Sadamitsu: The Destroyer, Midori Days, and Ah! My Goddess. Sean currently resides in New Jersey, and in his spare time enjoys playing the French Horn, writing electronic music and moving heavy objects with his mind.
Kirk Thornton
Kirk Thornton came to Kumoricon (his first con as a guest) last year and couldn't wait to come back. A native of Oregon, he worked his way into anime taking the traditional path: classical actor training (University of Washington), Oregon Shakespearean Festival, New York off Broadway and regional theatre, Los Angeles film and television, and dry cleaners where he ran into an anime director. 18 years in the trenches and some of the roles he has to show for it are Jin (Samurai Champloo), Hiei (Yu Yu Hakusho), Tazuna (Naruto), Saidoh (Bleach), and Gabumon and Mummymon (Digimon). Several of the projects he can currently be heard on are Bobobo as Don Patch, Haré+Guu as Lazy, GUNxSWORD as Claw, and various bad guys in Idaten Jump, The Prince of Tennis, and Zoids. He has just finished work on Planetes as Hachirota, Ghost In the Shell: Stand Alone Complex as Kuze, Gankutsuou: The Count of Monte Cristo as Baptistan and Caderousse, and IGPX as Mark. Other credits include Gungrave (Brandon Heat), Blackjack (Blackjack), Kikaider (Hattori), Dual (Dr. Sanada), Duel Masters, Bedaman, Last Exile, Stellvia, Vandread, Heat Guy J, Love Hina, Wolf's Rain, Akira, Fushigi Yuugi, and Rurouni Kenshin.
His voice has also appeared in video games, such as Kingdom Hearts II (Saïx), Resident Evil Outbreak, Mission Impossible, .hack, Scaler, Company of Heroes, Tales of the Abyss, Call of Duty 3, and TimeShift.
Kirk has directed the English dubs of S-CRY-ed, Gad Guard, Cosmo Warrior Zero, Tsukihime, Mars Daybreak, Otogi Zoshi, and Destiny of Shrine Maiden, holding the lead script adapter and story editor positions for all of them. He is currently co-directing Bleach.
Video games that he has directed include Enchanted Arms, Rogue Galaxy, Samurai Champloo, and Time Crisis 4. He's just finishing up a whirlwind road tour chasing down wrestlers in a mobile recording studio and directing them in the WWE Smackdown! vs. RAW 2008 video game.


Musical Guests
A-Key Kyo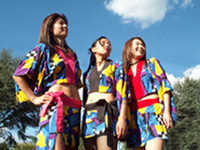 A-Key Kyo is a cover band specializing in J-pop and anime cover songs. Their outstanding performance at Uwajimaya's Sakura Festival earned them a place on the Kumoricon stage in 2006 and they are returning to Kumoricon for a second year.
A-Key Kyo band was founded in early 2003 in Portland, OR by five Japanese girls. They play Japanese pop, rock, and other genres. After two girls left, three guys joined the band. They play at several festivals featuring Japanese culture, such as Japanese Festival (at Uwajimaya Beaverton / sponsored by jaso), Sakura Festival (sponsored by Uwajimaya Beaverton), Mochitsuki Festival, and more.
Misa, one of the band's members, tells us, "People love us because we play Japanese songs, and our motto, 'be happy and be healthy'. I believe we are rare 'anti-drug band'. Haha!"
The Slants are an Asian dance/rock band from Portland, OR, formed in 2006 by members of The Stivs, Son of Rust, and Evening at the Black House. Collectively, the members have had over 2500 live performances, and have worked with legendary producer Jack Endino (Nirvana, Soundgarden, Murder City Devils), as well as shared the stage with Joey Ramone, Nine Inch Nails, and members of Social Distortion, NOFX, and Bad Religion. The band has also produced remixes for Bjork, The Cure, and Information Society.
Their music is a cacophony of melodic rock intricacy tempered by darker dance themes with anthemic choruses and shattering hooks reminiscent of groups such as The Faint, Depeche Mode, Daft Punk, and Joy Division—except with an Asian spin. Perla Cadena of Sony BMG Music Entertainment claims "If you like danceable rock or anything Asian, you'll love The Slants!" The band is currently writing and recording for their first release (to be scheduled in summer 2007), which will be followed by aggressive touring and promoting.
The Slants are a hardworking band: every show is supported with full Internet advertising, listings and releases in the weekly papers of every city they play in, and for hometown shows there is always unprecedented saturation with posters and flyers. Their energy carries through not only on recordings, but live performances as well: as founder Simon Young said, "usually at every show, one of us ends up bleeding" (Pretty Vacant Zine).
Visit The Slants online at myspace.com/theslants.
View a trailer video of The Slants: Youtube link, download [WMV, 3.6MB]
Webcomic Artists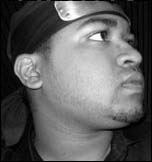 Mohammad F. Haque draws Applegeeks and maintains the website. He also works full-time, at a firm in D.C. as a designer, illustrator, and programmer. Hawk's artistic influences run the gamut, but there is a definite mainstay in American comics—Spiderman and Batman are two of the obvious ones. He has received an award nomination from CGTalk, the popular online digital art forum. Hawk has also done work for a wide range of people, mostly coloring: the Penny Arcade CCG, Megatokyo's Miho poster, and the cover of Ctrl Alt Del: Vol. 1. He has also illustrated short graphic stories Seven and Disconnect in the graphic novel anthologies Disposable Parts and City Limits, respectively. Mohammad is also a college graduate, having gained his degree from the University of Maryland, College Park. His personal website can be found at www.hawkstudios.net, which features a wide range of work.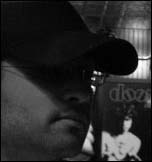 Ananth Panagariya writes Applegeeks and other comic scripts in his spare time. His interest has oscillated variously between American comics, anime, manga, film, and more recently, American television (with the advent of shows like LOST). He is currently working on a novel, and is also an artist himself, able to draw with both real and digital media. He graduated from the University of Maryland, College Park in May 2005, and has since been working in the creative industry—first in VA, and more recently at a firm in D.C. as a designer, illustrator, and most recently animator. He has written graphic short stories for two graphic novel anthologies: the stories are Seven, Disconnect, and Transmigration—the first of which appeared in Disposable Parts, the last two appearing in City Limits. His personal website is now a writing blog that can be found at www.ahpcreate.com.