Hotel Information
Kumoricon 2009 moves to the heart of downtown in the Hilton Portland and Executive Tower, featuring two towers occupying one and a half city blocks. Spacious hallways and gathering areas complement our largest event space, largest main events room yet, and a view of the city from the Kumoricon lounge on the 23rd floor.
Contents
Be sure to scroll down the page to see our newly-added information:
Hotel Rates
Our hotel features discounted rooms for attendees and an additional discount for staff.
If you need to make a reservation by phone, please the use Group/Convention Code KUM to receive the attendee discount. This code is automatically used if you reserve using the above link.
Attendee rates:
| Room Type | Single Rate | Double Rate | Triple Rate | Quad Rate |
| --- | --- | --- | --- | --- |
| King Bed | $119 | $119 | NA | NA |
| Two Double Beds | $119 | $119 | $129 | $129 |
| Executive Tower, Two Double Beds | $139 | $139 | $149 | $149 |
The staff room rate is $99 (two beds, up to four people).
For the staff discount, please contact hotel@kumoricon.org. Due to limited availability of staff rooms, staff room reservations are coordinated through the Facilities Liaison, and staff may be required to share a room with other staff to receive the staff discount.
Hilton Portland and Executive Tower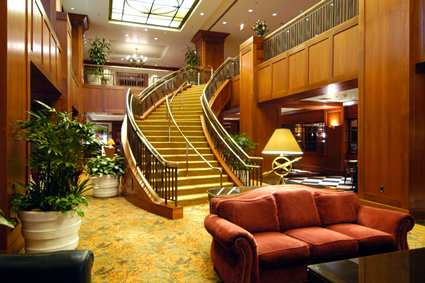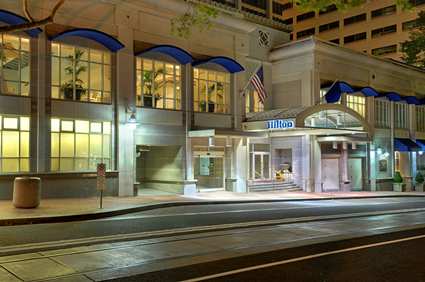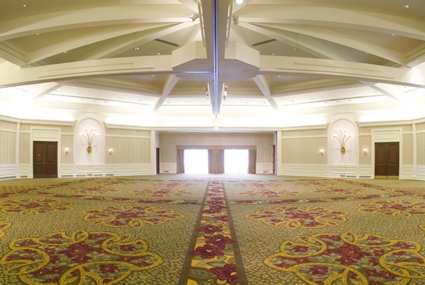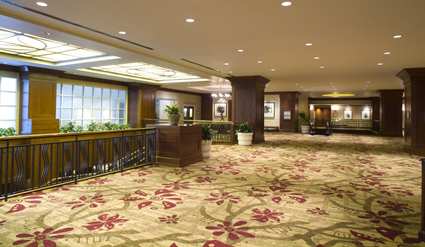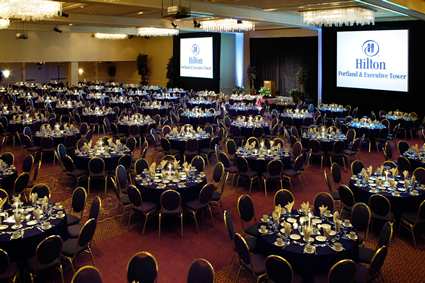 921 SW 6th Ave
Portland, OR 97204
Tel: 503-226-1611
Fax: 503-220-2565
Web site
Parking Tips
The hotel's parking in the Executive Tower building is available at a rate of $20/night, with in and out privileges.
Many other parking lots are available in the area, marked on the area map (below).
Some less expensive nearby parking lots:
4th and Yamhill (Smart Park), up to $12/day, 3 blocks easy, block "27″ on area map
3rd and Alder (Smart Park), up to $12/day, 5 blocks away (3 north, 2 east), block "13″ on area map
6th and Alder, $18/night, 3 blocks north, block "3″ on area map
Event Map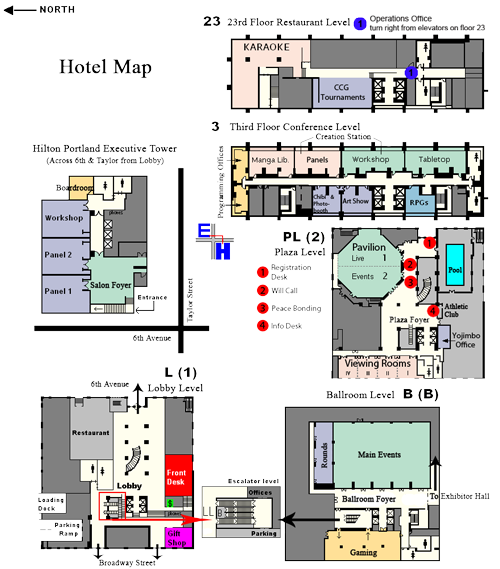 Area and Food Map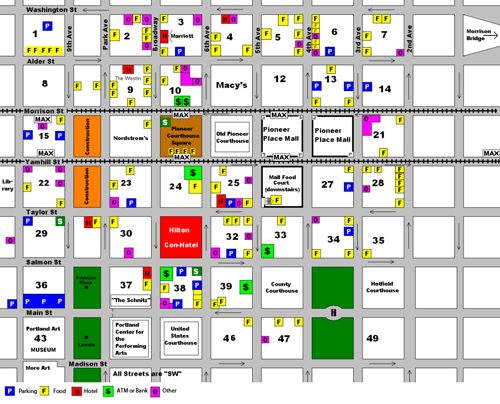 | | |
| --- | --- |
| 1. | Food Carts |
| 2. | North – Shutterbug, Coffee Plant, Documart copy shop |
| | East – Hunan Restaurant, Oregon Wines, Teuscher Chocolates of Switzerland |
| 3. | North – Peet's Coffee |
| | South – Great Harvest Bread company |
| | East – Office Depot |
| | West – Marriott Hotel |
| 4. | North – Liqour Store, Hotel Monaco |
| | South – Red Star Tavern Roadhouse |
| | West – Subway, Daphne's Greek Cafe |
| 5. | North – Greek Cuisina, Kelly's Olympian bar |
| | East – Kebabs, Mini-Mart, Rialto Bar and Pool Room |
| | West – Bikini Coffee Company |
| 6. | North – Javaman Coffee |
| | South – Central Drug |
| | West – Aroy Thai, Rovent Pizzaria, 4th Avenue Convenience & Smoke Shop, Geraldi's Italian, Bon Appetit Sandwiches |
| 7. | North – Lava (bar), Metro Pizza & Bento |
| | South – Kinko's/FedEx |
| | West – Cafe Bonjour, Morning Star Cafe |
| 8.5. | West – Rice Junkies and Subway |
| 9. | North – The Westin hotel, Portland Coffee House |
| | South – See's Candy |
| | East – Baskin & Robin's 31 flavors, |
| | Red Coach Restaurant |
| | West – Daily Grill, Brasserie bakery |
| 10. | North – Rite Aid, Moonstruck Cafe |
| | South – Well's Fargo, First Republic Bank ATM |
| | East – Rite Aid |
| | West – Koji's Restaurant |
| 11. | MACY'S Department Store |
| 13. | North – Los Fondas |
| | South – Buffalo Wild Wings, Alessandro's |
| 15. | North – Busch Garden Sushi |
| 16. | Nordstrom |
| | East – Coffee Shop |
| 17. | Pioneer Courthouse Square |
| | Starbucks and various food carts |
| 18. | The Historic Pioneer Courthouse |
| 19. | Pioneer Place Mall |
| 20. | Pioneer Place Mall |
| | Todai's Sushi, Regal Cinemas, Moonstruck Chocolates |
| 21. | North – Rock Bottom Brewery |
| | South – Yamhill Pub |
| | East – BORDERS |
| 22. | North – Art Media, Toys |
| | East – Guild Theater, Pastini restaurant |
| | West – Virginia Cafe |
| 23. | North – Pizza Schmizza |
| | West – Elephant's Deli, Regal Cinema |
| 24. | North – Chase Bank |
| | East – Espresso Bar, Fritz Avani Cafe |
| 25. | North – Ben & Jerry's Ice Cream, |
| | South – Hilton Executive Tower (Panels) |
| | Glowing Greens mini golf, Qdoba Mexican Grill |
| | East – Michelle's on Fifth convenience store |
| | West – Porto Terra |
| 26. | Southeast Downstairs – Pioneer Place Food Court |
| 27. | North – Macaroni Grill |
| 28. | North – Chipotle, Subway, Envy/Eclactic (lounge/bar/restaurant) |
| | East – Club Calabash, Gandhi's, Pho PDX, Salad World |
| | West – UPS Store |
| 29. | East – Starbucks |
| | West – Liqour |
| 29.5 | North – Paramount Hotel |
| | East – Dragonfish Restaurant |
| 30. | North – Taco Del Mar |
| 31. | HILTON – KUMORICON |
| 32. | North – Pizza Schmizza, Javaman Coffee, Carl's Jr. |
| | East – Radioshack, Happy Bowl bento |
| | West – Nike Store |
| 33. | North – Quick Cuisine |
| | West – Wells Fargo |
| 34. | North – Ritz Camera |
| | Southwest – City Coffee |
| | East – La Terrazza, Bangkok Palace |
| 35. | West – The Lotus cocktails |
| 37. | North – Heathman Hotel |
| | East – Heathman Restaurant |
| | South – Arlene Schnitzer Concert Hall |
| 38. | North – West coast bank |
| | South – Broadway Theater |
| | East – Mcdonald's, Subway, Superdogs, Starbucks |
| | West – Oliver's Bar & Grill |
| 39. | Southwest – Cafe Viale, Melting Pot Fondue Restaurant |
| | East – Bank of America |
| 40. | Multnomah County Courthouse |
| 42. | Hatfield State Courthouse |
| 43. | Portland Art Museum |
| 43.5 | Park Blocks |
| 44. | Portland Center for the Performing Arts |
| 45. | United States Courthouse |
| 46. | East – Seattle's Best coffee |
| 47. | North – Portlandia Cafe |
| | Northeast – Cafe |