Guests
Welcome to the Guest Bios area for Kumoricon 2006!
This area will be expanded as new guests are added. Currently, we would like to welcome:
Tiffany Grant
Kirk Thornton
Brad DeMoss
Greg and Elizabeth Dean
Bakazoku
Piano Squall
A-Key-Kyo
Scroll down for bios for each.
Tiffany Grant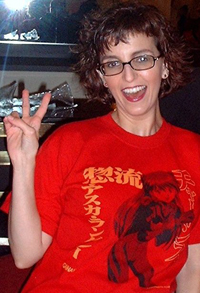 Tiffany Grant is very happy to be attending Kumoricon. Best known as Asuka from Neon Genesis Evangelion, Tiffany was the first voice actor hired by AD Vision back in February 1994.
Since then, she has voiced characters in well over 700 TV episodes, OVAs, and movies, including Marta in Fullmetal Alchemist, Laplamiz in Macross, Shizuru in Godannar, Satella in Chrono Crusade, Kome in Blue Seed, Madame President in Golden Boy, Becky in Gunsmith Cats, Chocolate in Sorcerer Hunters, Dug Fin in Dragon Half, Kaorin in Azumanga Daioh, Gema in Panyo Panyo Digi Charat, Altena in Noir, and Dr. Tsukumo in Wandaba Style. Her voice can also be heard in the video games Deus Ex: Invisible War and Unlimited Saga.
Ms. Grant has written the English dubbing scripts for TV series Angelic Layer, Sister Princess, Hello Kitty's Animation Theater, Maburaho, Godannar, and the live-action Korean action/comedy Jungle Juice as well as having adapted scripts for several of ADV's subtitled projects including fan favorite Miyuki-chan In Wonderland and the live-action film Tokyo—The Last Megalopolis.
Non-anime work includes the movie Arlington Road (with Jeff Bridges), and the independent films Four Deep and Laughing Boy (she has DVDs!) which has played to enthusiastic film festival and convention audiences in numerous cities including Chicago, New York, and L.A.
Tiffany has years of experience in theatre, commercials, industrial films, and many other odd jobs too numerous to mention. She also has an incurable Hello Kitty addiction! For more information, please visit tiffanygrant.eva-r.com
Kirk Thornton


A native Oregonian who grew up in this area and went to Aloha High School outside of Beaverton, you may know him as the voice of Jin (Samurai Champloo), Hiei (Yu Yu Hakusho), Tazuna (Naruto), or even Gabumon (Digimon). The man of many "AKAs", Kirk Thornton, is making his convention debut at Kumoricon! Kirk's impressive career started in 1972 with Panda Kopanda, under the name Sparky Thornton.
Kirk has also worked as a voiceover for video games, such as Kingdom Hearts II, Resident Evil Outbreak, Mission Impossible, and .hack, and has just completed work on Company of Heroes, Tales of the Abyss, Call of Duty 3, and TimeShift. His live-action series include Mighty Morphin' Power Rangers, V.R. Troopers, and Beverly Hills 90210, to name a few.
Kirk has directed the English dubs of S-CRY-ed, Gad Guard, Cosmo Warrior Zero, Tsukihime, Mars Daybreak, Otogi Zoshi, and most recently, Destiny of Shrine Maiden, holding the lead script adapter and story editor positions for all of them.
He has just finished work on Bo-Bobo as Don Patch, Haré+Goo as Lazy, Planetes as Hachirota, Ghost in the Shell: Stand Alone Complex as Kuze, and The Count of Monte Cristo as Baptistin and Caderousse, and continues working on IGPX as Mark. At one point last summer he was juggling voices on 14 different series at once. A few of his other credits include Gungrave (Brandon Heat), Kikaider (Hattori), Dual (Dr. Sanada), Gad Guard, Duel Masters, Last Exile, Stellvia, Vandread, Heat Guy J, Love Hina, and Rurouni Kenshin. He is also currently working on a secret project for Sony Playstation and with any luck will have a few promo discs with him to be given away at Kumoricon.
Brad DeMoss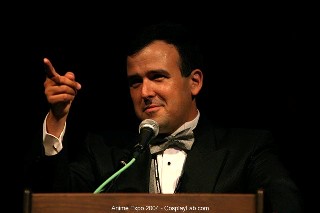 Brad DeMoss first put music and animation together in 1989, but didn't begin competing in anime music video contests until 1997. Since that time, he has won awards at conventions all over the country, and is responsible for the first successful collaborative AMV project, "The DDR Project". Most recently, he won Best of Show at Anime Expo 2006 for "Signal to Noise".
In addition, Mr. DeMoss's voice talents can be heard in Nazca, Amazing Nurse Nanako, Neia_7, and Spirit of Wonder.
Most recently, Mr. DeMoss has been an MC at Project A-Kon, Kazecon, Anime Overdose, Anime Expo, and of course, Kumoricon.
Greg & Elizabeth Dean
Greg Dean has been interested in cartooning for much of his life. In elementary school, he volunteered to do a one-panel comic in the school newsletter, inspired by Gary Larson's The Far Side. When he was in junior high, he began writing and illustrating parodies of popular culture icons, as well as coming up with original characters. However, he was never truly serious about comics until he started Real Life.
Real Life Comics began on November 15, 1999. Greg Dean had just graduated from high school, and was looking for ways to keep himself occupied. Greg thought about taking his previous cartooning experience and bringing it to the Internet, but lacked tools like a scanner or drawing tablet, and was initially disappointed. However, when he began to learn to use Adobe Illustrator at his job with the California Trade and Commerce Agency, he realized that he could draw a comic entirely on the computer and put it online relatively easily.
Of course, he needed an idea. Most of his old parodies and characters were dated, and didn't seem "catchy" enough for people to read. Then one day while hanging around with his friends, he realized that some of the conversations that ensued were funny to just about anyone. Greg looked at the calendar to find out when the next Monday was, banged out a site design, and on the 15th, Real Life Comics hit the Internet feet first.
Elizabeth is the other side of this team. Although she and Greg hadn't met by the time the comic was created, she has quickly made herself a major role in the comic's workings. She does just about everything except for draw the comic herself. Greg and Elizabeth worked so well together as a team that they decided to get married as well.
Bakazoku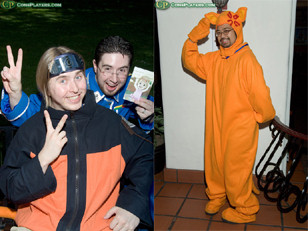 What is Bakazoku? A roaming pack of wildebeests that perform show tunes? No! Bakazoku is a comedy cosplay troupe from the Seattle/Tacoma area well known for its humor and hijinks. Founded in the late 90s by Joe Jennings, Bakazoku has entertained many thousands of con-goers with its comedy stylings and off-the-wall humor.
Best known for their improv cosplay skits, the members of Bakazoku get the crowd going with their comic antics and love to make people laugh on and off the stage. They've been with Kumoricon since the beginning and they're back again for more cosplay hilarity. Members include Joe Jennings, Jeremiah Rosario, Brian Boudreaux, and Lizzie Peterson.
Piano Squall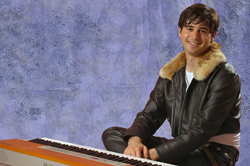 Piano Squall, the Final Fantasy-cosplaying pianist, has performed video game and anime music concerts in New York, Washington, Massachusetts, Connecticut, Colorado, Pennsylvania, Maryland, Missouri, Georgia, and Florida. In 2005, Piano Squall appeared as a musical guest at the anime convention Otakon, where he performed for an audience of three thousand people.
Piano Squall is an active supporter of charity and donates all of the money he makes from concerts to The National Multiple Sclerosis Society—an organization fighting to end the devastating disease that killed his grandmother. To further his personal efforts, Piano Squall provides benefit Concerts that have raised money for a wide variety of charities, including The National Multiple Sclerosis Society, Baltimore Reads, The Matthew Foster Foundation, The Maryland Food Bank, and Tsunami Relief. Highlights include the 2004 Villa Julie College Benefit Concert, which raised nearly three hundred pounds of food for the homeless in a single evening.
Concerts in 2006 are schedule at A-Kon, Sakura-Con, Anime Mid-Atlantic, Tekkoshocon, Ikasucon, ConnectiCon, Anime Festival Wichita, Anime St. Louis, Yasumicon, Kumoricon, Shimakon, Llamacon, Nohcon, and Villa Julie College.
Visit Piano Squall online at www.PianoSquall.com
A-Key-Kyo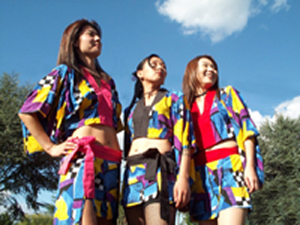 A-Key-Kyo is a cover band specializing in J-pop and anime cover songs. Their outstanding performance at Uwajimaya's Sakura Festival earned them a place on the Kumoricon stage.
A-Key-Kyo band was founded in early 2003 in Portland, Oregon by five Japanese girls. They play Japanese pop, rock, and other genres. After two girls left, three guys joined the band. They play at several festivals featuring Japanese culture, such as Japanese Festival (at Uwajimaya Beaverton / sponsored by jaso), Sakura Festival (sponsored by Uwajimaya Beaverton), Mochitsuki Festival, and more.
Misa, one of the band's members, tells us, "People love us because we play Japanese songs, and our motto, 'be happy & be healthy'. I believe we are rare 'anti-drug band'. Haha!"