Guests of Honor
Lauren Landa
Voice Acting Guest of Honor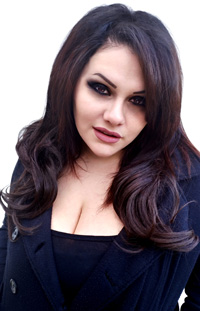 Born and raised in Los Angeles, California, Lauren first began acting at the age of 11 in the stage production of Annie, and continued with shows including Rodgers and Hammerstein's Cinderella, Bye Bye Birdie, and Comic Potential. She was Assistant Director for stage productions such as Stephen Sondheim's Merrily We Roll Along, Bat Boy: The Musical, as well as the Greek comedy, Lysistrata.
Within the world behind the mic, she is most known for roles such as the ninja beauty Kasumi in Dead or Alive 5; the sexy Litchi Faye Ling in the popular fighting game BlazBlue: Calamity Trigger, as well as its sequels, BlazBlue: Continuum Shift, Continuum Shift Extend, and Chronophantasma; the badass Kyoko Sakura in Puella Magi Madoka Magica; the enthusiastic Yan Leixia in Soul Calibur V; the deadly Little Queen in Tales of Graces; the valley girl racer in pink, Boiboi, in REDLINE; the adorable zombie Squigly in Skullgirls; kind-hearted Leia in Tales of Xillia; the innocent Chubo Sonken in Ikki Tousen: Great Guardians; the quiet Annie Leonhart in the hit anime series Attack on Titan; One in Drakengard 3; Nora in Noragami; and most recently, the voice of Sailor Neptune in the Viz dub of Sailor Moon and Nio in Riddle Story of Devil.
She has also had several other roles in anime and video games such as Leeza (Blazing Souls Accelate), Arf and Chrono Harlaown (Magical Girl Lyrical Nanoha), Kirche von Zerbst (Familiar Of Zero), Aegil, Cotton, and Sasha (Rondo of Swords), Lila (Summon Night: Twin Age), Rina (Luminous Arc 2), Yoko (Sakichi Sato's Tokyo Zombie), Syfy channel's anime adaptation Monster, and more!
Erica Mendez
Voice Acting Guest of Honor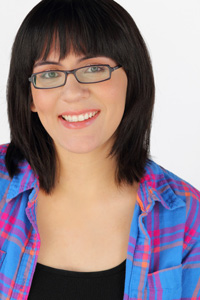 Erica is a Chicago-born voice actress who is currently living in Los Angeles. She has been a fan of animation and video games since she was very young. Not only does she still watch/play them… but she gets to bring characters to life in them. She has been very fortunate to play some fan favorite characters, such as: Ryuko Matoi in KILL la KILL, Gon Freecss in Hunter × Hunter, Aladdin in Magi: The Labyrinth of Magic, Yuuki Konno in Sword Art Online II, Sailor Uranus in the new Viz Media dub of Sailor Moon, Akko in Little Witch Academia, Diane in Seven Deadly Sins, Nico Yazawa in Love Live!, and Mash Kyrielight in Fate/Grand Order.
You can also hear her in OK K.O.! Let's Be Heroes, Fate/Apocrypha, Your Lie in April, Anohana, Erased, Glitter Force Doki Doki, Gosick, Gundam: Iron-Blooded Orphans, Gundam SEED (2017 dub), Yuki Yuna is a Hero, A Lull in the Sea, Tales of Berseria, Fire Emblem Warriors, Fire Emblem Heroes, Puyo Puyo Tetris, Danganronpa: Ultra Despair Girls, Danganronpa V3, Fairy Fencer F, Street Fighter V, Dead or Alive 5 Last Round, Akiba's Beat, Trails of Cold Steel II, Dust: An Elysian Tail, Pac-Man and the Ghostly Adventures, and more.
Voice acting isn't the only way she keeps herself busy. She has also ventured into the land of script adaptation and has done work on Little Witch Academia, Sailor Moon SuperS, and Fate/Apocrypha.
Visit ericamendezvoice.com to check out her full list of credits. She has no intention of slowing down, so you can keep up with Erica's role announcements and incoherent rambling by following her on Twitter: @tsunderica
Jād Saxton
Voice Acting Guest of Honor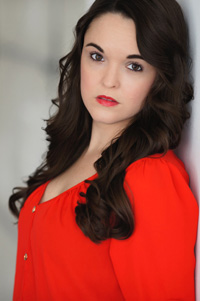 Jād (jade) Saxton is a voice actor and ADR director with over 150 roles in anime and video games. She is best known for her roles as Kanna in Miss Kobayashi's Dragon Maid, Carla in Fairy Tail, Yuki in Wolf Children, Young Nico Robin in One Piece, Koneko in High School DxD, Hatchin in Michiko & Hatchin (Toonami), Faris in Steins;Gate, Haruna in Is This a Zombie?, Sena Kashiwazaki in Hagani, Adélie in Space Dandy (Toonami), Mira in Dimension W (Toonami), Nona in Death Parade, and Akatsuki in Log Horizon.
As a Funimation ADR director, Jād has helmed the loveable Interviews with Monster Girls, Touken Ranbu – Hanamaru, and The Silver Guardian!
She also lends her voice to video games playing Maeve in Paladins, Expelled Hel in Smite, and as a Time Patroller in Dragon Ball Xenoverse 1 & 2.
Recent anime roles Jād is excited about: Guri in Love Tyrant, Kendo in My Hero Academia, Kirie in Himouto! Umaru-chan, Naka in KanColle, Jean Rowe in Code Geass: Akito the Exiled, Matome in Akiba's Trip, Garnet in Puzzle & Dragons, Mil in Monster Hunter Stories RIDE ON, Kotone in Keijo!, Ruruka in Danganronpa, Lilac in Servamp, Senri in Chaos;Child, Wanchoi in The Silver Guardian, Sophie in Izetta: The Last Witch, Eraser in Handa-kun, Ximena in Garo the Animation, Mary in Grimgar, Ashes and Illusions, Lisa in Terror in Resonance, Constance Raveau in Gangsta, Yoriko in Tokyo Ghoul, and Un in Show By Rock!!.
Oldies but goodies: Perrine in Strike Witches, Jacqueline O. Lantern Dupré in Soul Eater, Eve Genoard in Baccano!, Masako in Ghost Hunt, Ai Hibiki in Rolling Girls, Ringo in No-Rin, Miku in Date A Live II, Ludmila in Lord Marksman and Vanadis, Sio in Nobunagun, Jeanne D'Arc in Rage of Bahamut: Genesis, Onikiri in Kamisama Kiss, Komissa in Psycho-Pass, Fam in Last Exile: Fam The Silver Wing, Tsukumo in Karneval, April in Mass Effect: Paragon Lost, Karin in Shangri-La, Komoe in A Certain Magical Index, Mayu in B Gata H Kei – Yamada's First Time, and Mimi Usami in Okami-san and Her Seven Companions.
Kieran Strange and WE ARE THE CHAOS
Musical Guest of Honor
He's been compared to David Bowie, Tony Stark, Ramona Flowers, Hawkeye, and Tank Girl—but IRL he's Kieran Strange, a quirky and powerful young multimedia artist blending pop sensibilities, dynamic guitars, and high-energy live rock shows into his own brand of geeky British pop-punk. At the age of seventeen, he left behind his parents, family, and sleepy English fishing village in order to chase his dream of making music. He traveled to Vancouver, Canada, where he now resides, writing and performing songs about relationships, resistance, and RPGs.
Standing firmly as a voice for the different and the discarded, Kieran came out publicly as genderfluid in 2014 with the release of the Tear Down The Wall music video. After discovering more about his own gender identity whilst working with the crew of The Switch LGBTQ+ sitcom (currently playing on OutTV), he changed his pronouns from "she" to "he" in the summer of 2016 when he publicly adopted the "transgender man" identity.
These days, he always makes sure he is open, outspoken, understanding, patient, and passionate in his beliefs; some of the causes he fights for are LGBTQ+/SAGA issues and rights, feminism, autism awareness, racial equality, refugee and immigrant rights, and many forms of mental health and suicide prevention awareness.
In his time as an independent musician, the bedheaded geek has toured across three continents and multiple countries (including Canada, Japan, UK, and USA) and released two EPs: Adamantine Heart (2013) and Last Hero Standing (2015). This summer, he and his new musical project WE ARE THE CHAOS are planning to release a concept album possibly tied in with Kieran's latest release: the first full-length novel in an urban sci-fi series with LGBTQ+ and political aspects, drawing inspiration from fandoms such as DC and Marvel comics and television, Sherlock, Supernatural, and more. The book, Black Tie by Kieran Strange, is now available on Amazon both in e-book and paperback form—grab one now, and get it signed by him at the con!
Marisha Ray
Guest of Honor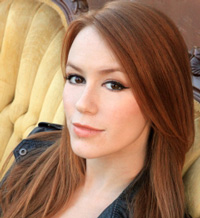 Marisha Ray (actor, host, writer, producer) has often been described as a geek girl, game enthusiast, uber-nerd, and pretty much any other variant. The creative director of Geek & Sundry, you can see and hear her work on such shows as Critical Role (Keyleth), Batgirl: Spoiled (Batgirl/Stephanie Brown), Super Power Beat Down (Host), School of Thrones (Mellisandre), Proxy: A Slender Man Story (Jess), Walk of Shame (Not a Working Girl). You can hear her voice in Persona Q and Persona 4 Arena Ultimax (Margaret), Warmachine: Tactics (Haley, Deneghra, Feora, various) and Akiba's Trip (various).
At a young age, Marisha had an itch for performing. She got her start in theater on the east coast performing in New York, Chicago, and Orlando. She took her education, unlike most other things, very seriously, training at companies such as the American Academy of Dramatic Arts, Point Park University Conservatory of Performing Arts, Governor's School for the Arts, and LA Connection Comedy Theatre.
Since arriving in Los Angeles in 2008, Marisha has worked with such networks as Spike TV, Hallmark Channel, and MTV. She has quite the knack for comedy, being an ardent improv performer, as well as writing and producing a lot of her own comedic sketches and web series. Marisha is also an avid video gamer. At the age of three, she could beat anyone in a round of Mario Bros., including her father. She carries this love for video gaming into much of her hosting, comedy, and writing career. Despite all that, Marisha feels like she still needs to do more good, so she spends every Tuesday doing charity work solving people's problems on her podcast: The Quasi-Psychologists.
Matthew Mercer
Guest of Honor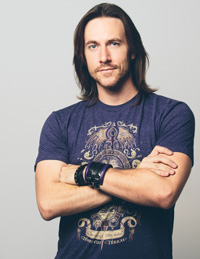 Matthew Mercer is a Los Angeles-based actor/voice actor known primarily for his roles in animation and video games. His extensive training in theater, improv, and being a life-long hardcore gamer helped prepare him for such projects and characters as McCree in Overwatch, Cor Leonis in Final Fantasy XV, Leon Kennedy in Resident Evil 6 and Resident Evil: Damnation, Captain Levi in Attack on Titan, Trafalgar Law in One Piece, Leorio in Hunter x Hunter, Aloth and Edérin in Pillars of Eternity, Gangplank in League of Legends, Trey in Final Fantasy Type-0, Abe the Trapper in Evolve, Tim Drake/Robin in Batman: Arkham Knight, Kanji Tatsumi in Persona 4 Arena Ultimax and Persona Q, Prince Demande in Sailor Moon, Jotaro Kujo in JoJo's Bizarre Adventure: Stardust Crusaders, Aikuro Mikisugi in Kill la Kill, Kiritsugu Emiya in Fate/Zero, Human Male Guardian in Destiny, Anarky in Batman: Arkham Origins, Alvin in Tales of Xillia and Tales of Xillia 2, Chrom in Fire Emblem: Awakening and Super Smash Bros., Sinbad in Magi, Kuroh Yatogami in K, Rexxar, Nefarian, and Ragnaros in Hearthstone: Heroes of Warcraft, Rehgar in Heroes of the Storm, Kilrogg and Rexxar in World of Warcraft: Warlords of Draenor, Iron Man/Tony Stark in Iron Man: Rise of Technovore and Avengers Confidential: Black Widow & Punisher, Tygra in Cartoon Network's Thundercats, and many other projects you are welcome to look up online.
Matthew is also known for his on-camera and production work, having directed the hit web series There Will Be Brawl (where he also played Ganondorf, Kirby, and Meta Knight), as well as directing the viral hit School of Thrones. He can also be found portraying the villainous Necromancer Szorlok in the upcoming fantasy film series Mythica.
Matthew is the Dungeon Master for the hit Twitch show Critical Role on Geek & Sundry, where he runs a group of other accomplished voice actors through a campaign of Dungeons & Dragons LIVE every week at 7pm PST.